The language of ivrit ( עברית ) Genesis 16, Video #1
Welcome to my Hebrew reading & language series.
Genesis 16:1-3
We saw the fire of God passing through the blood in order to sign the covenant last week.
Now we are looking at Abram's wife trying to rush the promise of children.
His wife gave her servant to Abram in order to have a child as we enter chapter 16. Our lesson this week also includes a clip from the Hebrew movie related this passage.
Listen, repeat, and see the English under the Hebrew in order to start learning vocabulary. Thank you for stopping by and studying with me.
---
Today's reading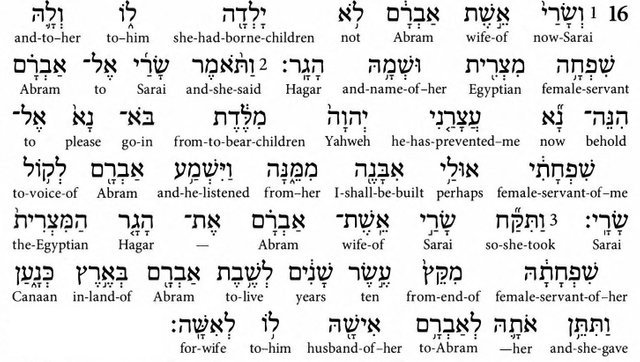 Here is the video link.
Please have a look and read with me in Hebrew.
Info on each letter starting at the beginning
If you are just starting, my lessons are all here starting at Alef, adding vowels (the dots and lines) as we go. I explain the meaning of each letter and its numerical value. Just go to my blog and scroll to the bottom or click here
Get your Hebrew Bible now!
Click here to obtain the book we are using. It is a free download or browser usable.
Thanks for watching.
Shabbat Shalom