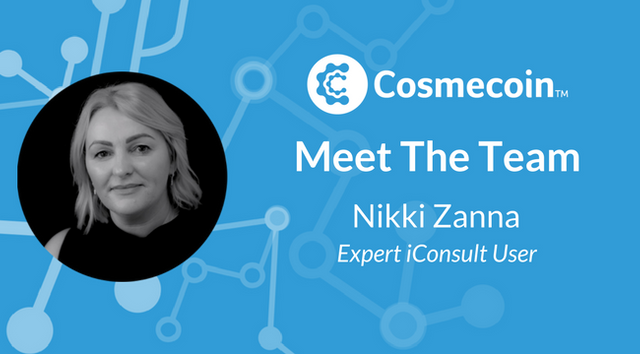 Nikki Zanna RN, NIP, is a Registered Nurse with over 2 decades of clinical experience and has specialised in Aesthetics since 2010 when she founded Halo Aesthetics Cosmetic Skin Clinic in Milton Keynes. She is dedicated to best practice, patient safety and high quality aesthetic treatments. Nikki has been involved in the clinical development of iConsult since its launch and uses the system in her clinic on a daily basis to aid consultation and record keeping. She is a member of the British Association of Cosmetic Nurses, is a Save Face accredited practitioner and regularly writes and reviews clinical papers for the Journal of Aesthetic Nursing.
Here's what Nikki had to say about joining the Cosmecoin advisory board:
"I was introduced to iConsult in 2013 by its founder, Richard Crawford-Small and I was so excited by what this system could offer my Aesthetic Practice that I volunteered to help develop the tool from a clinical user perspective.
Since then I have been involved in the evolution and improvement of iConsult from it's infant form in v1.0 through to it's current state and continue to use the system in my clinic on a daily basis. iConsult provides me with a state of the art Client Relationship Management tool which not only captures client data and keeps it secure but also assists me in creating an exceptional consultation experience for my clients, engaging them in their own treatment planning and recording their progress through notation and photographic entries.
I am very excited to be involved in taking iConsult to the next level with the incorporation of Blockchain technology which will revolutionise the way aesthetics practitioners and patients interact. The relationship I have with my patients is a very special one, with trust, safety, quality and transparency at its core. iConsult and Cosmecoin will be instrumental in my practice in realising these ideals and building a community where all parties are valued and rewarded and I look forward to sharing this experience with other aesthetic clinicians."
Nikki Zanna, LinkedIn: https://www.linkedin.com/in/nikki-zanna-633a91139/
DISCLAIMER:
Neither this document nor anything contained herein shall form the basis of, or be relied upon in connection with, any offer or commitment whatsoever in any jurisdiction. Any offer to acquire tokens will be made, and any investor should make its investment decision solely on the basis of the information that is contained in the information memorandum to be published by iConsult Software Ltd in due course in connection. Copies of the information memorandum will, following publication, be available at www.cosmecoin.io.
These materials are not an offer of securities for sale in the United States. The securities to which these materials relate have not been registered under the US Securities Act of 1933, as amended (the "Securities Act") or the securities laws of any state or jurisdiction of the United States. Accordingly, these securities may not be, sold, pledged, assigned, delivered or otherwise transferred, exercised or redeemed, at any time, within the United States or to, or for the account or benefit of, U.S. Persons. There will be no public offering of the securities in the United States.