Hello my fellow cheesy puffs :)
How are you today? I must admit that I feel more and more healthy and awesome and I believe my diet is kicking in. As I already wrote in the previous posts, I am on an LCHF (low carb, high fat) diet and I already lost 3 kgs / 6.6 lb in a month and a half. Except awesome feeling of feeling healthy and strong, I want to lose weight slowly because I want to give my body a chance and time to adapt as it should.
So I started to prepare my meals rich with vegetables and fruits. My typical diet was based on meat, and now I eat meat in the ratio of maybe 30%. I found a way to combine fruits and eggs for example. I also made this experiment with pineapple, apple, and soft cheese which simply amazed me.
---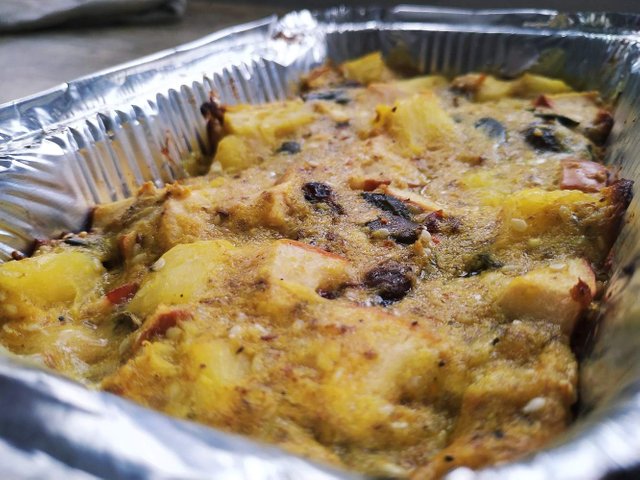 ---
First I'll write a recipe with explanation and time management, I'll post some explanation on why I even baked this. Also, I want to show you my hair renovation and introduce my friend Jelena Hrdzic here to this community in the hope that one day she will join us too and share her ideas with us :)
So let us begin!
The ingredients of this lovely baked dish are: Soft cheese, pineapple, apple, pumpkin and flax seeds, turmeric, honey, raisins, black pepper, chili flakes, psyllium, cumin, cinnamon and I think that's it.
---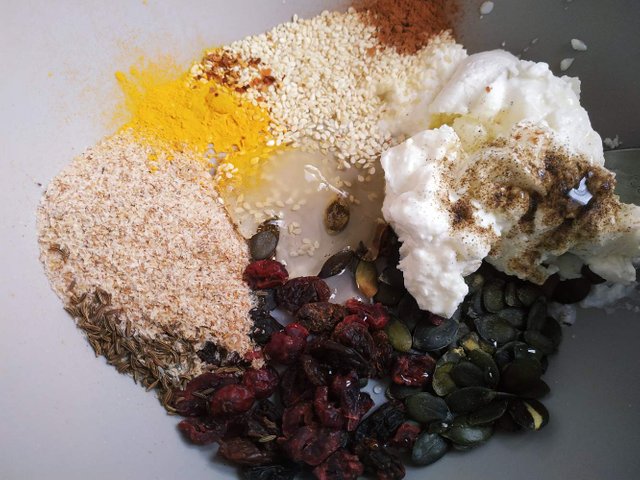 ---
It came as an idea because I got bored with 70% cacao chocolate. I wanted to find something that will be healthy and sweet because I like sweet meals a lot and now I have not much of a choice than to learn healthy ones. I want to be able to make some awesome LCHF cakes and maybe someday I'll manage to do that. If I succeed, I'll share it with you of course.
Maybe we should start with the recipe because I'm already drooling all over again :P
---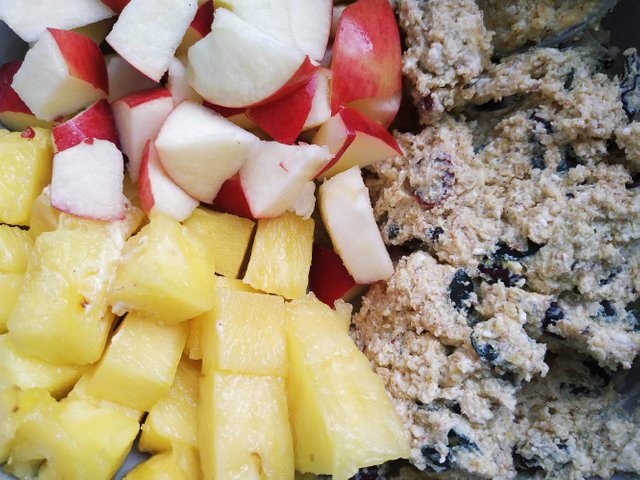 ---
MAIN INGREDIENTS:
3 spoons of any soft cheese (not salty or spiced)
3 spoons of chopped pineapple
1 chopped apple
1 spoon of psyllium
1 spoon of sesame seeds
1 spoon of raisins
1 spoon of pumpkin seeds
---
SPICES:
1 tbs of turmeric
1 tbs of cumin
1 pinch of black pepper
1 tbs of honey
1/2 tbs of chili flakes
---
PREPARATION TIME:
10 minutes for chopping and combining, stiring
30 minutes of baking
TOTAL: 40 min
---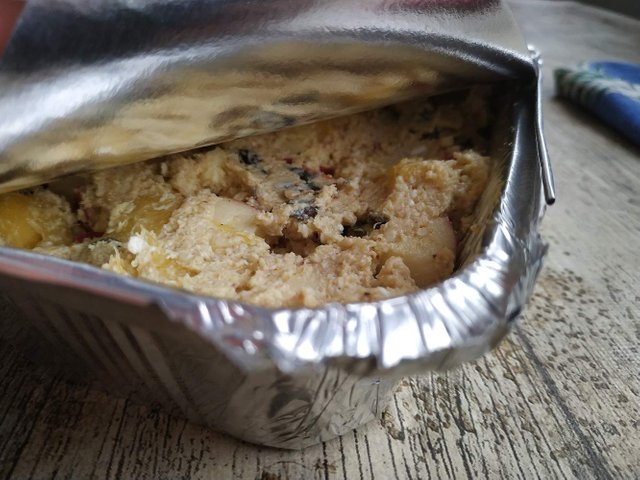 ---
STEP BY STEP :)
First, I preheated an oven on 180 C / 356 F

I chopped pineapple and apple into half cm / 0.2 in squares

In a bowl I mixed chopper fruit, soft cheese and everything else on the list.

I put the mixture in an aluminium bowl and put it in the oven

When baked, put a generous spoon in the plate and cover it with butter

Enjoy!! Yum yum yuuum :)
---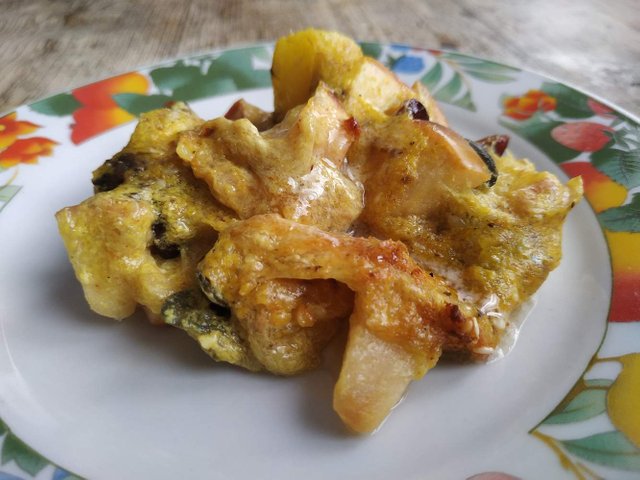 ---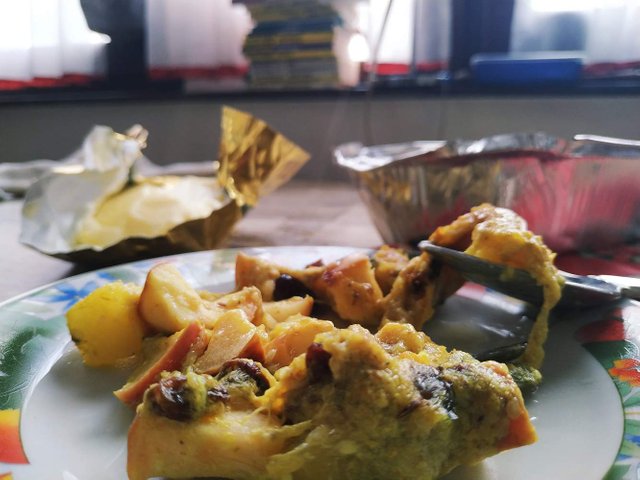 ---
I hope you've enjoyed this little cooking experiment of mine. Also, if you maybe do this at your home, feel free to share a picture and your opinion here with us. Tumeric ruined a bit my pictures but I hope you know that this has been very delicious for me. It was sweet and savory and even bitter a little bit.
TIP: If you don't like bitter aftertaste just don't put turmeric and sesame seeds in the mixture. I love it!
---
And I think that it is time to tell you all about my friend Jelena Hrdzic who is my buddy and my lovely hairdresser. She is a working, creative, awesome at her job girl. She made one of my dreams come true and transform my hair into the sea :D
---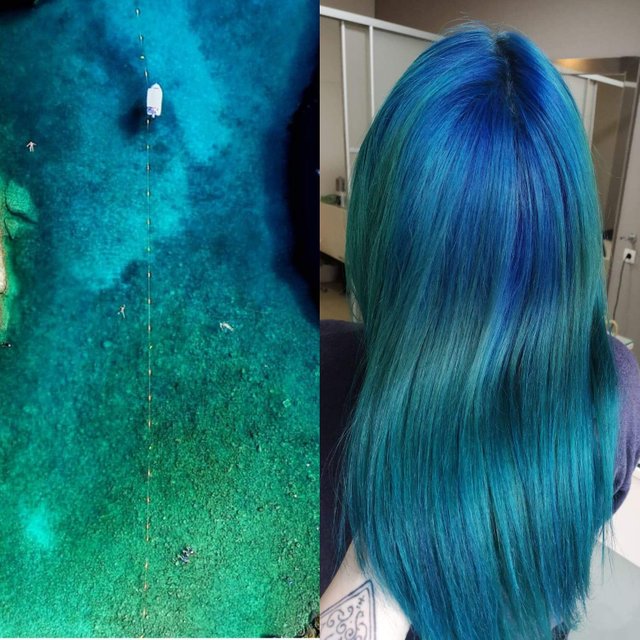 ---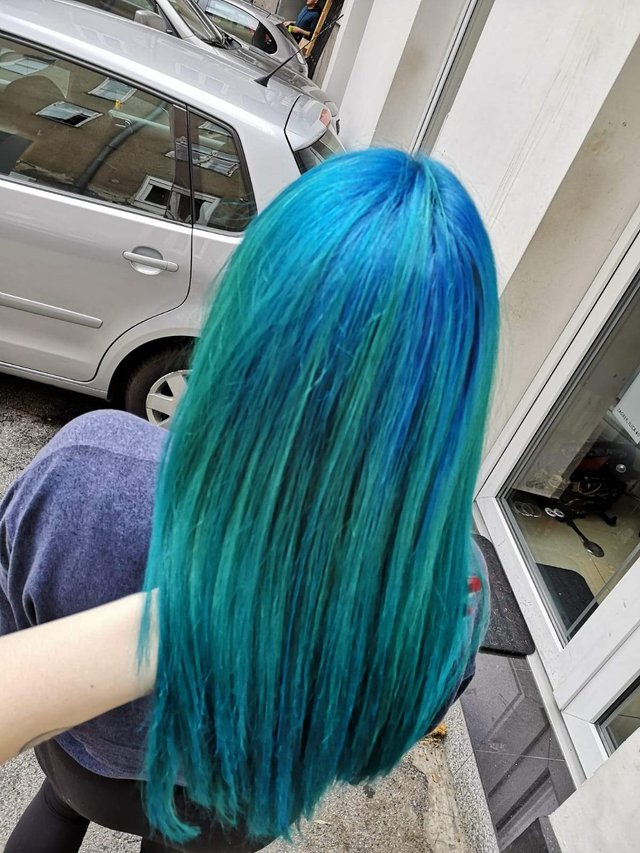 ---
I love these awesome colors. And it has been a month and a half and my hairs still look awesome and it is not dry or anything.
Can we like cheer for her to come here haha :D I know she works a lot but I want her to show you her beautiful work here. She is very committed and gentle and above all, an awesome friend. I can't tell you how many laughs we shared. We also went together to Korcula Island and had fun fun fun there. It was 2 years ago and we're still telling stories to put friends about that trip and her Croatian flipflops that she left there.
I guess I found a long period friend because she really inspires me and she put a smile on my face more times than she really intends to. I hope I'll see her here soon.
---
QUESTION
For the end, I prepared a question for you. You know that I love to hear your voice and opinion in my posts and that I am curious about upgrading my cooking skill.
So I want to ask you:
• Can you share some good tips regarding pineapple cooking preparation?
Maybe share some awesome sauce with me.
---
Thanky thanky my fellow Steemians!
Cheers :)
Posted using Partiko Android