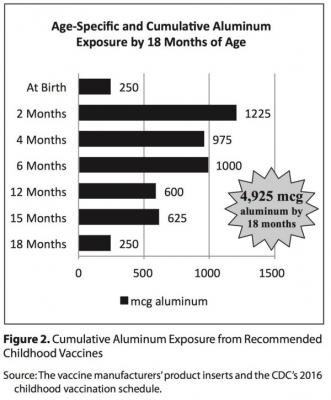 I saw a long and detailed blog post today on the topic of scientific research from the last few years on the likely cause of Autism. I haven't had time to go through the studies that are quoted in it and do due dilligence on the claims, however, so far it looks to be a very important collection of information.
The very short version is that the author of the post has a son who is autistic and has been searching for answers for years. He is clearly an intelligent man, though not medically trained and he makes this clear in the blog post. He shares how numerous studies from apparently top researchers in their fields have concluded that there is either total certainty or high likelihood that the presence of aluminium in vaccines (used as an adjuvant to trigger the recipient's immune system into overdrive) are partially responsible for the high levels of autism we are seeing.
The studies describe a mechanism by which nano-particles of aluminium are carried into the brain via the immune system and from there they cause havoc. I was aware of studies that had shown unexpected concentrations of aluminium in specific brain areas of autistic people during their autopsies, but this is the first time I have seen such a wealth of studies and data put together in this way.
I highly recommend anyone who is interested in this topic to take the time to read through his post.
If found the testimony of British researcher Dr. Exley to be particularly interesting:
This touches on so many key topics relating to health, both of people I know and of myself too - that I will be putting a lot more time into this in the near future.
Wishing you well,
Ura Soul
---
This post was originally published at Ureka.org: Earth Heart Community.