Recipe: Elderberry Elixir - Immunity Tonic
This recipe is a wonderful preventative for colds and flu. I prescribe it every year to patients who want an alternative to the flu shot. It's especially good for kids since it tastes like a fruity dessert.
Ingredients:
-1/2 cups elderberries
-1/2 cups elderflowers
-16 fl. oz. real maple syrup
-water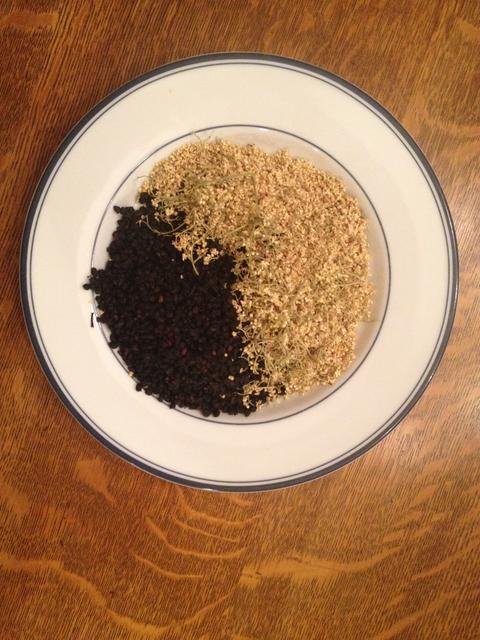 Equipment:
-one 2 quart sauce pan
-one 1 quart mason jar
-one sieve
-one extra pot (for straining)
Soak the elderberries and elderflowers together in a 2 quart sauce pan. 10 minutes. If the elderflowers still appear dry, re-submerge and repeat.
Bring to a boil, and allow to simmer for 30 minutes. Reduce to 16 fl. oz – though it will be hard to judge how much water remains due to the herbal dregs.

Allow to cool with the lid on.
Strain. If there is more than 16 fl. oz., reduce. If there is less, boil for 5 more minutes with enough water to bring the volume up to 16 fl. oz.

Pour into a 1 quart mason jar pre-filled with 16 fl. oz. of maple syrup.

Dosage:
Every day, gargle and swallow ~2/3 tbsp (2 tsp). It's perfectly safe to have more, though not necessary. The syrup is gargled for 15-20 seconds so that it is in physical contact with the structures of the throat for longer. The gargle is not absolutely essential.
Storage:
Refrigerate. Stir before taking. The maple syrup has two functions. First, it encourages kids (and sometimes adults) to take their medicine. Second, it prevents the growth of microorganisms. However, the maple syrup is heavier than the rest of the medicine, so it will sink. Therefore, in order to keep the syrup fresh, it is important to give it a stir at least a few times per week. If the elixir begins to go bad, reboil to kill any microorganisms present.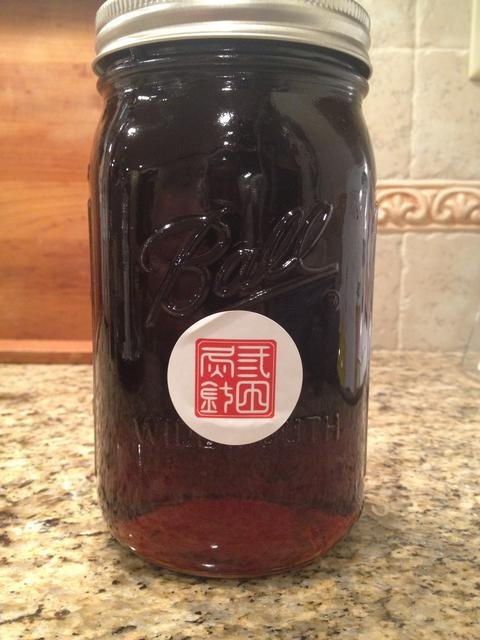 Good health!
-Tianji
http://www.threefieldsacupuncture.com
All images are originals.