"To keep the body in good health is a duty... otherwise we shall not be able to keep our mind strong and clear."
-Buddha
We grew up hearing these things, things like "health is wealth" and yet most of us are not treating our bodies like the temple it is. I think one of the biggest challenges with starting a healthy lifestyle is that the change feels enormous. All that leaf eating and all that workout ever damn day. What if someday I want to eat a burger. Ahhhhh, jail! Must.Not.Change.Lifestyle.
Our brain just backs out big time because it is designed to not let us try new things, especially on a large scale and so we must try and trick it. Start extremely small. Change one little habit. Come aboard and let's change one habit a week. This Monday I will adopt the habit of drinking this particular drink which is insanely healthy and known worldwide for is health benefits!
Lemon-Honey-Ginger Tea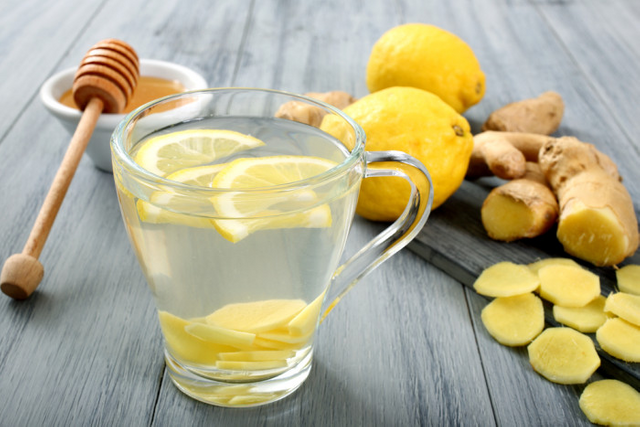 Source:
Let us look at the health benefits of this concoction and see what all the fuss is about!
Citric acid present in the lemon helps in neutralizing free radicals present in our body and help flush out the toxins.

Honey and lemon in hot water has been proven as an excellent weight loss drink as it increases the metabolism, promotes healthy bowel movements hence putting our body in a fat burning mode.

Honey is an excellent energy booster and a great anti-bacterial. A cup of it in the morning will pump you up and give you a great kick-start to the day. It also increases the immunity!

Ginger promotes digestion and prevents nausea and heartburn. It happens to have strong anti-inflammatory properties, it increases secretion of insulin hence helping in keeping the diabetes away. I happen to know that it helps with menstrual cramps as well as I have tried it myself.

Being rich in anti-oxidants this tea gives you a great skin, hair and well overall it gives tons of goodness to your body.
Best time to drink this is in the morning and empty stomach, though you can make this drink and store it in the refrigerator as well. For summer time it's a great drink and a good replacement for all those aerated drinks. It'll keep you cool and energetic through out the day!
How to make: Cut up some ginger and add it to a cup of water and boil this water. You can also add the ginger after the water is boiled if you want a more dilute flavor. To this water add a spoon full of honey and some fresh lemon juice. Easy and quick.
I have decided to give this a go, so join me and let's get healthy together!
---
Information gathered from Source 1, Source 2
Written by @things, 2018. All rights reserved.
---