Did You Know?
WORLDWIDE WE ARE LOOKING AT APPROXIMATELY 350 MILLION PEOPLE WITH DIABETES
*"Diabetes Atlas". International Diabetes Federation.
World Health Organization. "GLOBAL REPORT ON DIABETES". 2016*
WORLD HEALTH ORGANIZATION REPORT HAS CLASSIFIED BACON & SAUSAGE AS CARCINOGENIC TO HUMANS
Aubrey, Allison. "Bad day for bacon: Processed Meats Cause Cancer WHO Says". npr: the salt. Oct. 2015
*"Carcinogenicity of consumption of red and processed meat". The Lancet Oncology. Vol. 16. 2015 *
"IARC Monographs evaluate consumption of red meat and processed meat". World Health Organization International Agency for Research on Cancer. PRESS RELEASE N.240. Oct. 2015
AMERICAN CANCER SOCIETY ENCOURAGES EATING PROCESSED TURKEY AND CANNED MEATS (CRAZY OR WHAT?!)
"Shopping List: Basic Ingredients for a Healthy Kitchen". American Cancer Society
TWO THIRDS OF ADULTS ARE EITHER OVERWEIGHT OR OBESE
*"Overweight and Obesity Statistics". National Institute of Diabetes and Digestive Kidney Diseases *
IN THE US 1 OUT OF EVERY 4 DEATHS IS FROM CANCER
"Statistics for Different Kinds of Cancer". Center for Disease Control and Prevention
All the facts above are taken from the groundbreaking film, What The Health's website
This film has impacted a great number of people to change the way they eat. I watched it with my @rawveganpreneur father and we loved it. It's very educational and there's a lot of facts and truths exposed in the film. There are a lot of scientific backed truths said in the film that really makes you think. You'll hear from vegan athletes and how going vegan has helped them perform physically better.
What The Health uncovers the secret to preventing and reversing chronic diseases and investigates why the nation's leading health organizations don't want us to know about it. With the help of medical doctors, researchers, and consumer advocates, What the Health exposes the deceitful corruption in government and in big pharma. It's no wonder why healthcare bills are at an all-time high and why many people spend their time being sick!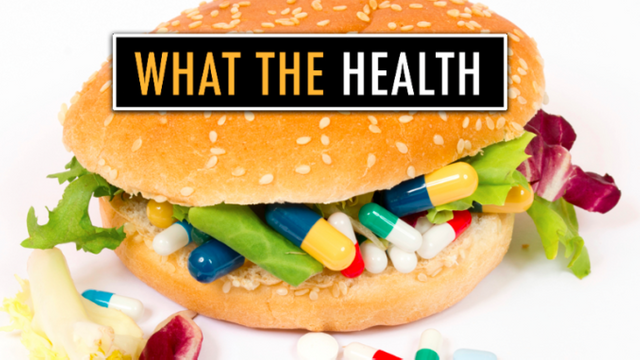 You can learn more about the film here.
Beware of the fake news sites that say that What The Heath "is not a reliable source of scientific information." They are just trying to bring down the entire film because it has awakened people to change their diet for the better. That of course, does not make Big Pharma happy :( There is no money in good health, unfortunately. We can't leave our health in the trust of doctors. They not nor can't secure your longevity. And if they would, they would be killed just like all these holistic doctors have lost their lives.
I'm interested to know, did you watch this film? If you did, did you like it? How did it impact or inspire you to eat a plant-based lifestyle? Let me know in comments below and please share this post with as many people as you can!