Quick Dumbbell Complex ... Get back in shape with me.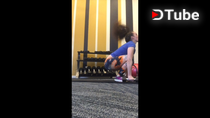 ---
Y'all ... I got out of shape this year due to some health issues. I'm fighting my way back. I was very frustrated with my lack of endurance, and so I decided to try and combine strength and cardio and fell IN LOVE with dumbbell complexes. They're quick, they're easy, and they pack a hell of a punch.
For this series I did two compound exercises. 10 reps of each back to back, one minute of rest and then repeated as a circuit 3 times. Some days I do up to 5 rounds. Good luck!
Use lighter weight than you think you need! You'll be doing 3-5 rounds of this!
1st exercise- Burpee to Curl:
With dumbbells in hand, squat down and bring dumbbells to floor
Jump to plank
Jump back to squat
Stand
Curl weight
Bring arms back down to sides
Repeat
Exercise Two- Squat to press
Bring dumbbells to shoulders
Squat, an honest ass-to-grass squat
Explode up
At top of squat, use momentum to also press weight overhead. Do this seamlessly, not as two movements.
Repeat
So that's what I did today! Join me next week for another complex!
---
▶️ DTube
▶️ IPFS