Burn fat without sport with simple things you do every day!
Are you a lazy person? Or do not you like to go to the gym and do not like sports or do not have time? If your answer is yes, we will help you turn from a lazy person into a more active and physically fit person with simple activities that will help you burn fat without sport.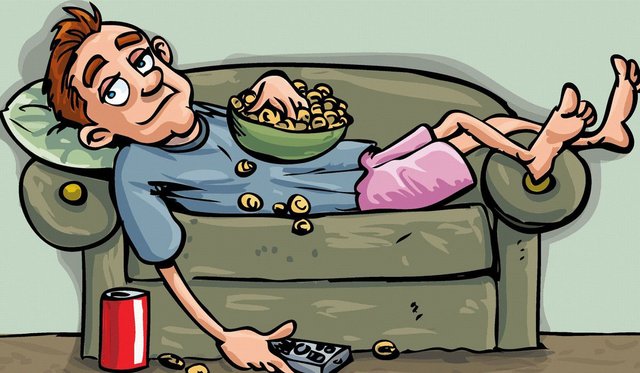 Burn fat without sport
We all know the risks of over-eating in exchange for less exercise for the sport, which can result in diseases such as heart disease, stroke or diabetes, but we still look for the easiest way to exercise without going to gyms.
 So the recommendations have changed radically to suit our lazy print to become a much easier exercise for all people, so that some daily exercise activities like home cleaning and walking have become considered a sport! Therefore, the exercise of any type of sport or activities is of great benefit to the health of those who are lazy or inactive.
The American Heart Association also recommends that inactive people should exercise 3 to 4 times a week for 30 to 60 minutes, 50 to 80 percent of their maximum heart rate.
                      Wrong daily habits
The first problem we face in our daily lives is the nature of our jobs, most of which sit on the desk, in addition to unhealthy food throughout the day, and then go home to sit still, but on computer screens or watching television.
                          The activities help you burn fat without sport
Sports here does not mean running in sports marathons, you can gradually increase your activity rate by 20% per week. The following tips can also be useful for going gyms or other heavy sports as follows:
           Do not use lifts or escalators
  If you are working on the 10th floor you can ride the elevator up to the eighth floor and climb the ladder from there, the stairs may be tired for you, so you can climb on your feet and get off using Of the elevator.
           Car Corner
  Stop looking for the nearest place to park near the entrance, move a little and throw it away so that you can walk a little, it will help you burn calories and get rid of pressure too.
           Transportation
If you take the bus or metro you can go early so that you can get off before your stop a bit, and walk until you reach your destination. 
            Take advantage of your free time
Doing household cleaning, such as floor surveying, changing bedding, sitting or washing clothes, helps pump blood to your heart, burn fat without exercise, and increase your calorie intake.
                      The importance of daily activities
By following the simple tips above, you can make a clear difference in your daily activities and make a difference in your fitness, so whatever you think will help you in the sport and move it, these activities will benefit people a lot even those who have a stable weight or who suffer from excess the weight.
In the end, we participated. Dear reader, will you start these activities now? Or will she remain a lazy person?