Question: How do you deal with stressful situations? (RIGHT HERE, RIGH NOW Part 6)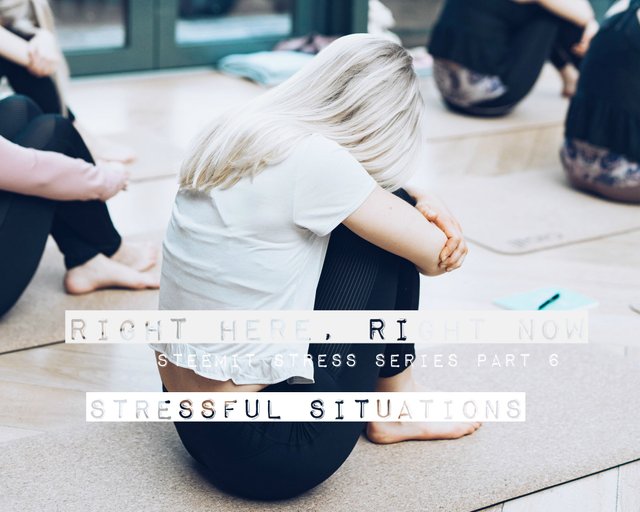 I love when you ask questions! I got this really good one from @jaytaylor (thank you!).
Question
"I'm interested to know how you yourself deal with stressful situations when in a less-than-ideal place, like in the supermarket queue or (shudder! at the thought) when attending family or other gatherings of people: situations where you have to deal with the stress live in-situ rather than retreating to a safe place and being able to calm yourself, if you see what I mean."
Answer
Great question! When we feel stressed is it often in a non ideal place, maybe we are around other people or on our way somewhere and can't get our own privat space directly. This question made me reflect, how do I really handle this type of stressful situations in the moment? Sometimes good and other times not that well is the honest answer ;)
When I handle the stress in a way that is good for me and works I use to:
Focus on the breathe and nothing else. A few conscious breaths can make a big difference and calm the mind a bit to be able to think more clear. I can for example breathe in and count to 4, hold the breathe for 4 seconds, breathe out for 4-5 seconds, retain the breathe for 4 seconds and so on. Or notice how it feel to breathe in and out.
I stop, especially any kind of multitasking. Instead I try to focus on one sense at the time. Like notice sounds or the feeling in my body.
I try to remind myself that when I am stressed, my brain don't work as it should, it's my amygdala "danger center" that is speaking and not my cognitive part. I don't make the best decisions and I get more negative. If possible I try to not make any impulsive decisions. At first I need to make space to think what I need/want to do.
A hard one, avoid social media. It can often get me even more stressed. Flight mode for a while can be a good idea.
I try to see my stress reaction as a sign that I need to change something, identify why I am stressed and decide to take some minutes later to pick some things I do not need to do, can re-schedule or put less effort in to.
After these stressful situations I also try to prioritise my sleep a bit extra because it makes me more sensitive.
Sometimes it can help to listen on some calm positive music (if I am stressed in a store or on the bus for example).
If I am feeling superstressed when I am in some kind situation with family or friends I sometimes also tell them that I am stressed and that I need some extra space. Or I just stay in the bathroom a extra while.
I also have a few sentences that I try to remind myself of which is:
"There is nothing more important than taking care of myself right now. In this tough situation I need to be extra kind to myself" (I often get stressed because I push myself to hard).
"What is the worst that could happen?" I can ask this question several times in a row and think it can de-dramatize the situation. Like "What is the worst that could happen if I don't make this task in time? Ok, someone gets angry. If someone gets angry, what is the worst that could happen?"* And so on.
"What advice would I give to a good friend that is feeling the way I am right now?"
"I have felt this way before and it will decrease." ---
RIGHT HERE, RIGHT NOW - This is Steemit Stress Series
As a part of my goal to help create an oasis of wellbeing on Steemit I will write articles about different aspects of stress and and how to live more mindful. You find all of them here.
Please comment and write your questions below or message me on Steemit.chat @givemeyoursteem . I think it's valuable to share our experiences and discuss different aspects of stress together.
---
How do you deal with stressful situations in the moment?
<3 Moa