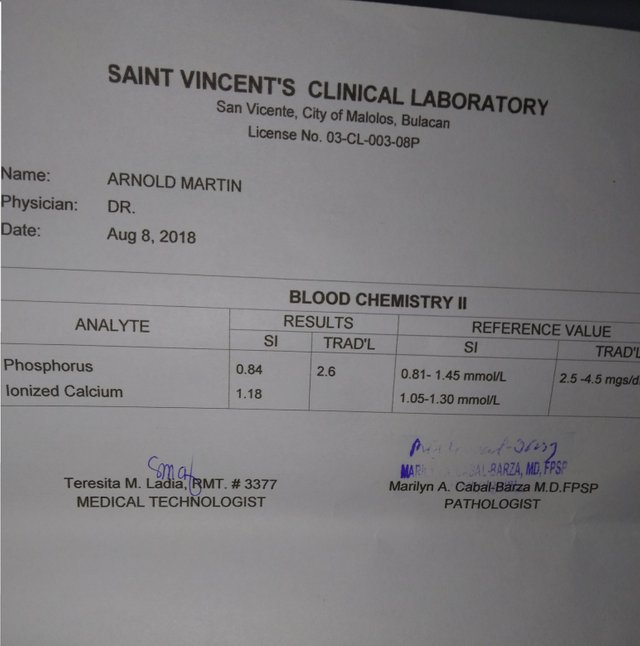 It makes my face smile even though I know that I had a ridiculous smile currently but nonetheless I am so elated and the reason being for the first time I saw my phosphorus and calcium levels in the normal levels. It is a great news because it will affect my parathyroid which I hope that it would positively.
It had been so many years of constant calcium-phosphorus imbalance and my bones finally capitulated and now seeing this lab result is like magic. Somehow my efforts had paid-of thanks from the men and women of steemit that supports, this trophy is for you. I just want these good news to continue in my life.
If my phosphate levels along with Calcium remains to get into those normal ranges then I might not need or at least my doctor will reduce the dosage of my Parathyroid medicine. I loathe on taking that medicine, it just gives me more number of days with a bad disposition.
I could take it for two years if it will completely heal me but it just keeping my head barely over the water. But then again my body pains will improve if I would continue to take it. So I am looking for the best option I know for me which is surgery, to take some or most of my parathyroid glad off so I will just have to contend with controlling and managing my diet.
I can take all the risks behind it just to save myself from an added misery in my life. I am just sensing that the doctor is not believing that I can do it but with a will-power I could do it with the help of God. My striving to get better will pay off soon and I just have to believe and be more brave, I just want to ask God to give me a little more time and the crypo's kindness to me.