Popular food myths largely contribute to our overweight population and poor health for many. Generally most people think they need to have meat with every meal for adequate source of protein. Lifestyle-related diseases are the most common causes of illnesses, but generally speaking, most people assume they're eating relatively healthy.
Most Americans don't quite understand that raw plant foods are the best for our health – they are led to believe that processed foods labeled "low-fat" or "low-carb," artificially sweetened beverages, pasta, grilled fish, and vegetable oil make up a healthful diet..
The typical American diet is made up mostly of disease-causing foods that are acidic, with a high percent of calories from animal products and remainder from processed foods. furthermore, on average Americans drink will at least consume one sugar-sweetened drink each day, while some will eat pretty much anything they want - Including myself sometimes, I can admit it!
This highlights the nutritional misinformation that exists in our society. Americans have not yet grasped the concept of nutrient density and its importance for health and longevity.
Here's a list of the top nutrient dense food.
---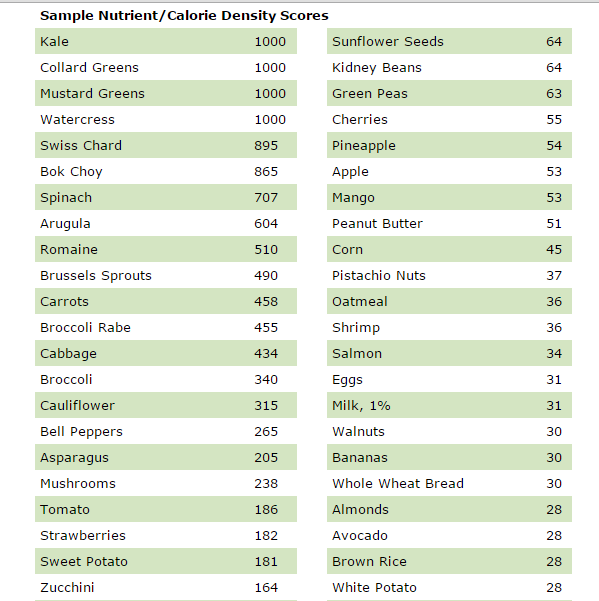 source
---
Essentially the numbers refer to a ratio of nutrient value of many common foods on the basis of how many nutrients they deliver to your body for each calorie consumed. The numbers are arbitrary and should be used as a general guideline to see which foods are relatively 'healthier' compared to others.