It is harmful to clean the ear even when it is relaxing!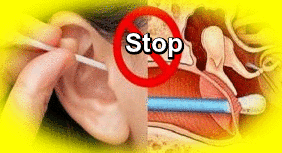 The dirt stored in the ears, which is called 'khail' in straight Bengal. Do you have the habit of cleaning this ear? The news is not happy for you. Because experts are advised to keep 'Push' without having to clean ear (dirt).
If you think, then there may be damage to the dirt of the ear! Or the ears will rub, the headache! This idea is totally wrong. Sabah Uddin Ahmed, a nose, ear, and throat specialist of the Labaid Hospital, said that ear dirt usually does not do any harm.
Rather it protects the ears. The serum, which is emitted from the pylosibesius gland inside the ear, is a cough or 'dirt' which protects the ear from bacterial and fungal attack.
The paleolescence glands in the front of the ear tube, along with the addition of outer dust mills. This resulted in the accumulation of the ear. This is actually part of our body's defense. At the time of the movement, if any kind of insect injected from the outside, it can cause obstacles.
The ears usually turn the outer side when the ear is more accustomed to the ears. Sometimes the kicks are not coming out. In that case, it can be brought out, said Sabah Uddin Ahmed.
However, many times a cough becomes more difficult. It does not easily get out of the ear. In that case, you can gently extract olive oil with the help of soft skin like Cottonbat. It would be wise to take a doctor's advice if needed.
However, it is not right to be tricked into the hookah at ears. Many people cleaned the ears by the side of the road. It is very dangerous! If you want to clean your ears, take help yourself or anyone in your home. But the last word is one-ears - the ears keep itself clean. The song is very useful for ear witch, 'Leave me like me ....