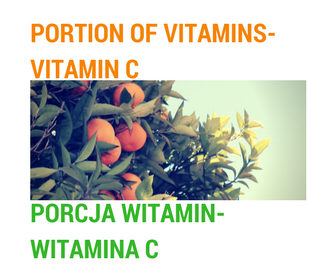 Vitamin C is the most popular and best known molecule among vitamins. It has a multidirectional action in our body, it assist in many metabolic processes and it occur generally in living organisms.
Vitamin C is also called ascorbic acid - it came from the name of the disease, which was caused by a deficiency of vitamin C - scorbutus (lat. scorbutus ).
In contrast to many species of animals and plants, human has no metabolic pathway synthesizing vitamin C. Therefore, this important ingredient we must provide our body with food.
The action of vitamin C is associated with strong reducing properties and the acidic character of this molecule.
In the solid state it is an odorless white powder, relatively durable. However, in the form of an aqueous solution it is sensitive to many factors, ie alkaline and neutral reaction, higher temperature, oxygen, metal ions. Therefore, heating / cooking and oxygen access are the cause of the greatest loss of this vitamin in food.
Vitamin C thanks to its chemical properties is involved in many biochemical processes that take place in our body. Its presence determines the proper course of several metabolic pathways and syntheses. In conditions not disturbed by diseases or other pathogenic factors, 70-80% of vitamin C is absorbed from food.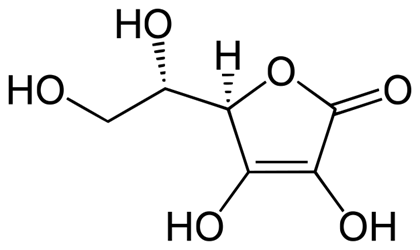 Chemically vitamin C is ƴ-lactone of 2,3-dehydro-L-gulonic acid.
Vitamin C is one of the most popular antioxidant substances. This property allows it to play a protective role in coronary heart disease, coronary vascular diseases and inhibit the negative impact of tobacco smoking on our body.
Very important nowadays and the constantly developed issue of vitamin C action is its inhibitory effect on pro-cancer factors. This action is based on "scavenging" free radicals, which are responsible for changes in DNA leading to carcinogenesis. Free radicals can arise during metabolic changes in the cells of our body or under the influence of external factors such as smoking, stress.
Also in the functioning of the immune system, vitamin C has its share. It increases our immunity by stimulating NK cells, T-lymphocytes, and is involved in immunomodulatory processes and the production of interferon and certain immunoglobulin classes.
An important issue regarding the influence of vitamin C on our body is its participation in the synthesis of collagen. This protein is an essential component of our body, it is found in the skin, teeth, bones, cornea of the eye, connective tissue and cartilage.
Other important functions of vitamin C are also worth adding:
participation in the synthesis of hormones and messengers, eg norepinephrine
metabolism of fats, steroids, certain medications
improvement of non-heme iron (of vegetable origin, less easily absorbed) and calcium - therefore, when supplementing these ingredients, it is worth taking vitamin C additionally
reaction in the regeneration of damaged tissues
blood pressure regulation
diabetic: reduces the level of fasting blood sugar
in hyperglycaemic states, it lowers the level of glucose in the blood
antiallergic and anti-inflammatory action by inhibiting the synthesis of histamine, which is one of the main mediators of the inflammatory process and allergic reaction
prevents the formation of dangerous N-nitro compounds (eg nirtosamines) with a mutagenic effect in the gastrointestinal tract.
The antioxidant effect of vitamin C has been used in food production. Antioxidants added to the food prolong its durability. They prevent unfavorable processes such as rancity fat, oxidation of fruits and their preserves, change of color. The acidifying effect of vitamin C on the environs is important in food preservation. On the labels of food products we can find information about the content of vitamin C under the symbol E 300. The antioxidants are also salts of ascorbic acid. They are also used in the food industry as preservatives with symbols: E 301, E 302, E 304. The effect of ascorbic acid salt on our body is the same as acid. Among the forms of vitamin C that can be found on the market, important memories are the form of ascorbic acid ester. I have not encountered using this compound as a preservative, but this form is highly beneficial to our body as a form of vitamin C supplementation.
Vitamin C has found a wide application in skin care products. In drugstores there are a whole range of cosmetics recommended for various skin problems, including:
wrinkles
vascular skin
post-sun discoloration
complementing the therapy with exfoliating acids
acceleration of regeneration after dermabrasion.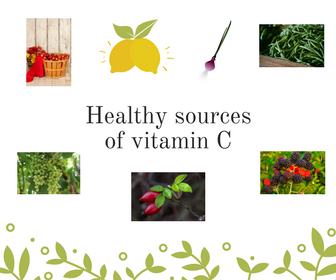 As I mentioned in the previous part of the article, vitamin C must be supplied to the body from the outside in food, dietary supplement or medicine. The best assimilable version will be in fresh vegetables and fruits. The content of vitamin C in individual products varies depending on the season of the year, the country of origin of the raw material. The richest sources of vitamin C are: acerola, paprika, wild rose, citrus fruit, green vegetables (Brussels sprouts, broccoli, peas, chives), potatoes, onions.
An important issue in the consumption of vitamin C is to take care of its least possible losses during processing and storage of food. The way to prevent decomposition is freezing or pickling. During cooking, up to 50% loss of vitamin C may occur. When cooking, consider the good solubility of vitamin C in water. Therefore, it is recommended to cook steamed vegetables to minimize the losses of this valuable ingredient as well as other water-soluble vitamins. The way of its administration is also affected by the loss of vitamin C in food. Any puree, pulp and crushed forms will promote faster decomposition of vitamin C. This is due to the presence in the plant cells of enzymes decomposing vitamin C, which are released during the mechanical processing of food.
Demand for vitamin C depends on age, sex, condition of our body, diseases, lifestyle, and consumption of stimulants. With age, the need for vitamin C increases and it is higher in men than in women. In addition, diseases such as gastrointestinal disorders, cardiovascular disease, atherosclerosis, previous treatments and operations, injuries require increased supply of vitamin C. Smokers, alcohol-abusing, elderly, using certain medications (eg aspirin), nursing women and during pregnancy it is recommended to take additional vitamin C to avoid its deficiency. For a healthy adult man it is recommended to take about 100 mg of vitamin C.
Vitamin C toxicity is not known. The symptoms of too high doses appear in the form of diarrhea. Most often it happens after the adoption of several-dozen grams during the day - in this matter, individual issues are of great importance here. High doses of vitamin C are not recommended in people with sickle cell anemia.
The adoption of high doses of vitamin C is also manifested by the increased content of uric acid excreted by the urinary system. This is applicable in supporting the treatment of urinary tract infections. However, oxalates that are also excreted at the time may cause kidney stones to appear. Increasing the vitamin C dose over the recommended one has no effect on the incidence of this condition. Therefore, the use of 500mg or 5g doses will not increase the possibility of kidney stones.
In recent years, research has begun on the use of vitamin C in the treatment of various types of cancer. These therapies are generally administered by intravenous infusion of high doses of vitamin C (up to several dozen grams per day). There are scientific publications with positive research results in this matter. This gives an encouraging prognosis for the development of cancer therapy based on vitamin C.
Despite the attempt made, I have not exhausted in this article the grateful and broad topic of vitamin C. I hope that although some of you have brought closer to how important this molecule is and I made you think about changing the diet towards ingredients that are a rich source of vitamin C or a change in the preparation of dishes. Increasing the daily intake of vitamin C by up to several tens of milligrams can protect us from many serious diseases in the future.
---
Witamina C jest najbardziej popularną i znaną cząsteczką wśród witamin. Ma wielokierunkowe działanie w naszym organizmie, bierze udział w wielu procesach metabolicznych i występuje powszechnie w żywych organizmach.
Witamina C jest nazywana także kwasem askorbinowym- wzięło się to z nazwy choroby, która była spowodowana niedoborem witaminy C –szkorbutu (scorbutus).
W przeciwieństwie do wielu gatunków zwierząt i roślin, człowiek nie posiada szlaku metabolicznego syntetyzującego witaminę C. Dlatego ten ważny składnik musimy dostarczać naszemu organizmowi z pożywieniem.
Działanie witaminy C wiąże się z silnymi właściwościami redukującymi i charakterem kwasowym jakie posiada ta cząsteczka.
W stanie stałym jest bezwonnym białym proszkiem, stosunkowo trwałym. Natomiast w postaci roztworu wodnego jest wrażliwa na wiele czynników tj. alkaliczny i obojętny odczyn, wyższa temperatura, tlen, jony metali. Dlatego ogrzewanie/gotowanie i dostęp tlenu są przyczyną największych strat tej witaminy w pożywieniu.
Witamina C dzięki swoim właściwościom chemicznym bierze udział w wielu procesach biochemicznych jakie zachodzą w naszym organizmie. Jej obecność warunkuje prawidłowy przebieg kilku szlaków metabolicznych i syntez. W warunkach nie zakłóconych chorobami lub innymi czynnikami patogenicznymi z pożywienia wchłania się 70-80% witaminy C.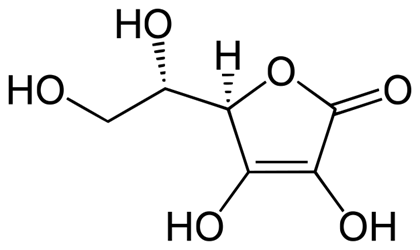 Chemicznie witamina C jest ƴ-laktonem kwasu 2,3-dehydro-L-gulonowego.
Witamina C jest jedną z najbardziej popularnych substancji przeciwutleniających. Właściwość ta pozwala jej pełnić rolę ochronną w chorobie wieńcowej serca, w chorobach wieńcowo-naczyniowych oraz hamować negatywny wpływ palenia tytoniu na nasz organizm.
Bardzo ważną w dzisiejszych czasach i stale rozwijaną kwestią działania witaminy C jest jej hamujący wpływ na czynniki pronowotworowe. Działanie to polega na "wymiataniu" wolnych rodników, które odpowiadają za m.in. zmiany w DNA prowadzące do kancerogenezy. Wolne rodniki mogą powstać podczas przemian metabolicznych w komórkach naszego organizmu lub pod wpływem czynników zewnętrznych takich jak palenie tytoniu, stres.
Również w funkcjonowaniu układu odpornościowego witamina C ma swój udział. Zwiększa naszą odporność stymulując komórki NK, limfocyty T, bierze udział w procesach immunomodulacyjnych i produkcji interferonu i niektórych klas immunoglobulin.
Ważną kwestią odnośnie wpływu witaminy C na nasz organizm jest jej udział w syntezie kolagenu. Białko to jest istotnym składnikiem naszego ciała, znajduje się ono w skórze, zębach, kościach, rogówce oka, tkance łącznej i chrząstce.
Do innych istotnych funkcji witaminy C warto dodać również:
udział w syntezie hormonów i przekaźników, np. noradrenaliny
metabolizm tłuszczów, steroidów, niektórych leków
poprawa przyswajania żelaza niehemowego (pochodzenia roślinnego, słabiej przyswajalnego) i wapnia- dlatego przy suplementacji tych składników warto dodatkowo zażyć witaminę C
udział w regeneracji uszkodzonych tkanek
regulacja ciśnienia tętniczego
u diabetyków: obniża poziom cukru w krwi na czczo
w stanach hiperglikemii obniża stężenie glukozy we krwi
działanie przeciwalergiczne i przeciwzapalne poprzez hamowanie syntezy histaminy czyli jednego z głównych mediatorów procesu zapalnego i odczynu alergicznego
zapobiega powstawaniu w przewodzie pokarmowym groźnych N-nitrozwiązków (np. nirtozoaminy) o działaniu mutagennym.
Przeciwutleniające działanie witaminy C znalazło zastosowanie w produkcji żywności. Przeciwutleniacze dodane do środka spożywczego przedłużają jego trwałość. Zapobiegają niekorzystnym procesom jak np. jełczenie tłuszczy, utlenianie owoców i ich przetworów, zmiana barwy. Również zakwaszający wpływ witaminy C na środowisko ma znaczenie przy konserwowaniu żywności. Na etykietach produktów spożywczych znajdziemy informację o zawartości witaminy C pod symbolem E 300. Przeciwutelniaczami są również sole kwasu askorbinowego. One również są stosowane w przemyśle spożywczym jak konserwanty o symbolach : E 301, E 302, E 304. Działanie soli kwasu askorbinowego na nasz organizm jest takie samo jak kwasu.
Spośród postaci witaminy C jakie możemy spotkać na rynku ważną wspomnienia jest postać estru kwasu askorbinowego. Nie spotkałam się z użyciem tego związku jako konserwanta lecz postać ta jest wysoce korzystna dla naszego organizmu jako forma suplementacji witaminy C.
Witamina C znalazła szerokie zastosowanie w produktach pielęgnacyjnych na skórę. W drogeriach i aptekach dostępne są całe gamy kosmetyków zalecane do różnych problemów z cerą m.in.:
zmarszczki
cera naczyniowa
przebarwienia posłoneczne
uzupełnienie terapii kwasami złuszczającymi naskórek
przyspieszenie regeneracji po zabiegu dermabrazji.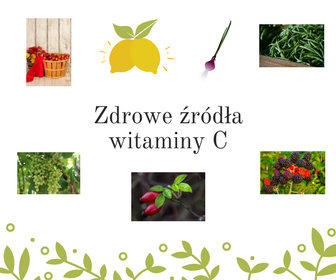 Jak wspomniałam we wcześniejszej części artykułu, witamina C musi być dostarczana do organizmu z zewnątrz w pożywieniu, suplemencie diety lub leku. Najlepiej przyswajalną wersją będzie ta w świeżych warzywach i owocach. Zawartość witaminy C w poszczególnych produktach jest różna w zależności od pory roku, od kraju pochodzenia surowca. Za najbogatsze źródła witaminy C uważa się: acerolę, paprykę, dziką różę, owoce cytrusowe, zielone warzywa (brukselka, brokuły, groszek, szczypiorek), ziemniaki, cebulę.
Istotną kwestią w spożywaniu witaminy C jest dbanie o jej jak najmniejsze straty w trakcie obróbki i przechowywania żywności. Sposobem na zapobieganie rozkładowi jest mrożenie lub kiszenie. W czasie gotowania może dojść do nawet 50% starty witaminy C. Podczas gotowania należy uwzględnić dobrą rozpuszczalność witaminy C w wodzie. Dlatego zaleca się gotowanie warzyw na parze aby zminimalizować starty tego cennego składnika jak i innych witamin rozpuszczalnych w wodzie. Na stratę witaminy C w pożywieniu ma także wpływ sposób jego podawania. Wszelkie przeciery, papki i rozdrobnione formy będą sprzyjały szybszemu rozkładowi witaminy C. Dzieje się tak z powodu obecności w komórkach roślinnych enzymów rozkładających witaminę C, które zostają uwolnione podczas mechanicznej obróbki jedzenia.
Zapotrzebowanie na witaminę C zależy od wieku, płci, stanu naszego organizmu, chorób, stylu życia, przyjmowania używek. Wraz z wiekiem zwiększa się zapotrzebowanie na witaminę C i jest ono wyższe u mężczyzn niż u kobiet. Ponadto choroby takie jak zaburzenia przewodu pokarmowego, choroby układu naczyniowo-sercowego, miażdżyca, przebyte zabiegi i operacje, urazy wymagają zwiększonej podaży witaminy C. Osobom palącym papierosy, nadużywającym alkohol, w podeszłym wieku, stosującym niektóre leki (np. aspirynę), kobietom karmiącym i w ciąży zaleca się dodatkowe przyjmowanie witaminy C by nie doprowadzić do jej niedoboru. Dla zdrowego, dorosłego mężczyzny zaleca się przyjmowanie ok. 100 mg witaminy C.
Toksyczność witaminy C nie jest znana. Objawy zbyt wysokiej dawki pojawiają się w postaci biegunki. Najczęściej dzieję się to po przyjęciu kilku-kilkunastu gramów w ciągu dnia- w tej duże znaczenie mają tutaj kwestie osobnicze. Wysokie dawki witaminy C nie są zalecane u osób z anemią sierpowatą.
Przyjęcie dużych dawek witaminy C objawia się również zwiększoną zawartością kwasu moczowego wydalanego przez układ moczowy. Ma to zastosowanie we wspomaganiu leczenia infekcji dróg moczowych. Jednak wydalane również wówczas szczawiany mogą spowodować pojawienie się kamieni nerkowych. Zwiększenie dawki Witaminy C ponad zalecaną nie ma wpływu na częstość pojawiania się tej dolegliwości. Stosowanie więc dawek 500mg czy 5g nie będzie zwiększało możliwości pojawienia się kamieni nerkowych.
W ostatnich latach rozpoczęto badania nad stosowaniem witaminy C w leczeniu różnego typu nowotworów. Terapie te polegają ogólnie na podawaniu w wlewie dożylnym dużych dawek witaminy C (do kilkudziesięciu gramów na dobę). Istnieją publikacje naukowe z pozytywnymi wynikami badań w tej kwestii. Daje to zachęcające rokowania na rozwój terapii nowotworów opartych na witaminie C.
Mimo podjętej próby nie wyczerpałam w tym artykule wdzięcznego i szerokiego tematu witaminy C. Mam nadzieję, że choć części z Was przybliżyłam jak istotna jest to cząsteczka i skłoniłam do refleksji nad zmianą diety w kierunku składników będących bogatym źródłem witaminy C lub zmianą przyrządzania potraw. Zwiększenie dzięki temu przyjmowanej dziennej dawki witaminy C o nawet kilkadziesiąt miligramów może ustrzec nas w przyszłości od wielu poważnych chorób.
Dziękuję za dotrwanie do końca i życzę dużo zdrowia:)/Thank You for keeping to the end and wish You a lot of good health :)