Hashkings Recent Updates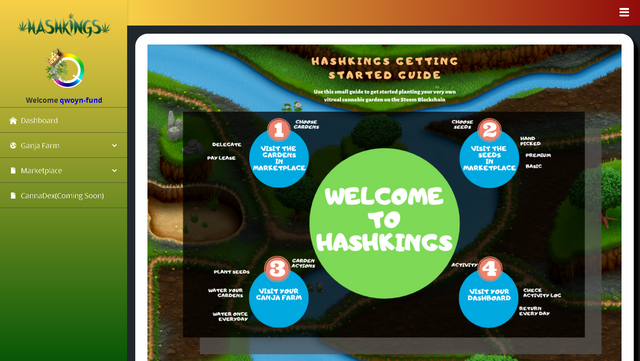 ---
Hashkings Continues to Evolve
Long nights are starting to pay off as Hashkings continues to evolve. This post is part of a series of updates that I have been posting since Hashkings inception. With constant updates and changes to one of Steems top games, currently #3 and #20 out of all Steem apps, I figure it would be a great Idea to keep writing about it.
---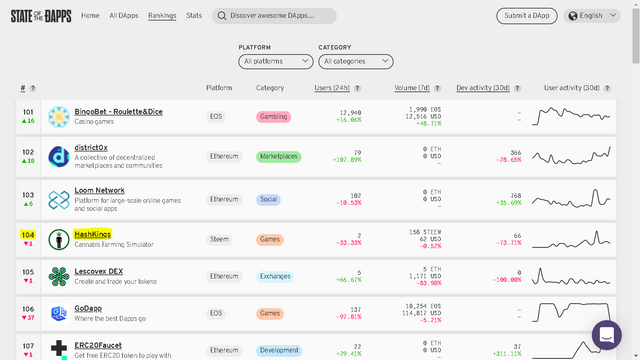 Total Ranking
Out of the 2667 dapps on this platform Hashkings is proudly at #104 and still moving up. We have past some major names in the Blockchain world and all this completely self funded with nearly 0 budget.
Game Ranking
Out of the 413 Games reported by State of the Dapps an multiple blockchains Hashkings is #20.
Steem Ranking
Out of the 74 Steem apps reported by State of the Dapps Hashkings is #21.
Steem Games Ranking
We are happy to report that Hashkings is the #3 Steem game on State of the Dapps!
---
Interface Updates
We are always working on different updates, many of which were suggested by our community. I have said since the beginning that I created Hashkings with the community in mind. You are the ones who benefit from this game and as many of you know I only make 2.5% on the seed sales and the 0.5 Leasing fee both of which are divided up between three of us working on the game.
Recent Updates
Launched HashCord Bot on Discord which allows you to water your gardens from within the server. Add it to your own server to water from there!
Added Steemconnect for mobile support
Added Multi-Garden Water
Added ability to see other users gardens go to Hashkings Garden and add replace username with the gardeners username like in the example https://www.qwoyn.io/garden/USERNAME | if you want qwoyns gardens visit https://www.qwoyn.io/garden/qwoyn
Added instructional landing page
Coming Updates
Frequently Asked Questions
Graphical Inventory
Map of planted and available plots
Number of available plots on Dashboard
Limited number of special Steem OG seeds with High XP
CannaDex, our internal exchange
Grow shop for buying supplies (These will be used to acquire new traits)
Much more which will be mentioned in coming updates
---
Excited to Join the growing community of Hashkings Gardeners? Come over to the Hashkings Web App and start growing.
Need help getting started? Check out our detailed tutorial
Would you like to meet the dev team and many of the other gardeners? Join us in the Hashkings Discord Server and say Hello!
---

---