Write a Horror Story in 5 Words in Comments - Writing Contest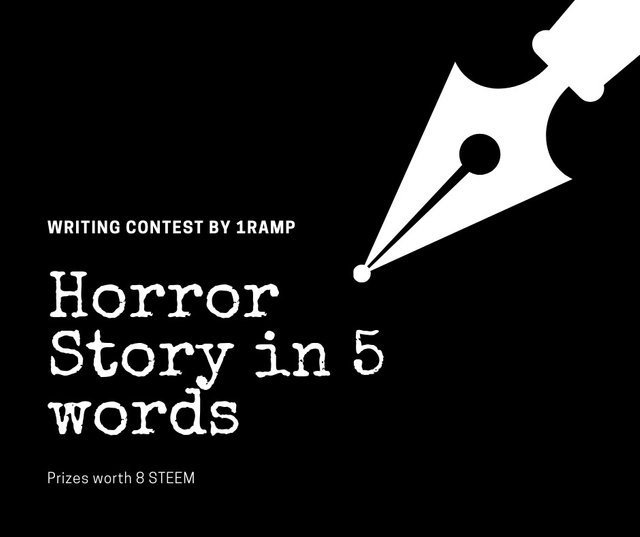 Contest Category:
Literature
---
Prizes:
1st: 4 STEEM
2nd: 3 STEEM
3rd: 1 STEEM
---
Judges:
---
Description:
"The 3 types of terror: The Gross-out: the sight of a severed head tumbling down a flight of stairs, it's when the lights go out and something green and slimy splatters against your arm. The Horror: the unnatural, spiders the size of bears, the dead waking up and walking around, it's when the lights go out and something with claws grabs you by the arm. And the last and worse one: Terror, when you come home and notice everything you own had been taken away and replaced by an exact substitute. It's when the lights go out and you feel something behind you, you hear it, you feel its breath against your ear, but when you turn around, there's nothing there..." - Stephen King
---
Rules:
Reblog this contest. (optional)

Entries will be judged based on the creativity, originality, and in accordance with the contest theme.

Plagiarized entries will be disqualified. (Even if the plagiarism is reported/detected after the results declaration)

The prizes will be sent to accounts from which the user participated in the contest.

Contest winners will be declared within 1 week from the end of the contest.

The final call on the winners will be made by 1Ramp.

The prizes will be distributed within 3 days from the winner's announcement

If you are not satisfied with the winning entries, please write your concern at [email protected]
---
How to Participate?
1Ramp users can directly participate by tapping on the 'Participate' from the 1Ramp web-app.
Use tag #c-cbx5wpndolhqnolrrur1 to participate from any other Steem platform.
Contest begins:
07 Jan 2019 - 08:45 AM GMT
Contest ends on:
15 Jan 2019 - 12:00 AM GMT
---
Get on 1Ramp to create and discover exciting contests.