As many of you know, I am a father of three children and carry my gun with me almost everywhere. Since I have children that are around me and my guns, I take gun safety very seriously, as you can see from some of my other posts (listed below). I also recently started driving for Uber and wanted to discuss different methods of safely carrying your gun in your car concealed. I am currently researching a few different methods and suggest you do the same to find the best and safest solution for you.
Obviously, there is always the 'carry it on you' method in a concealed holster. I personally do not like doing this in my car as the impression from my gun tends to put some unwanted wear on my seats and does not leave me with easy access to my gun if , God forbid, I ever need to draw it while in my car. Another option is to get a vehicle mount like the one shown below. This is a great, safe, easy to access option, however, it does not do much to conceal the handgun, which is something I would prefer since I will have strangers riding in my vehicle and do not want to alarm them.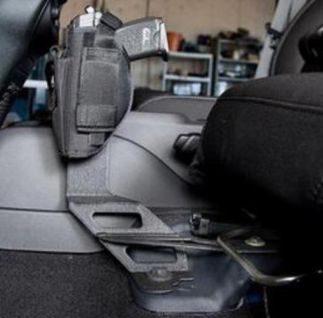 So far, I am leaning toward a magnetic mount system that will allow me to store my gun out of sight and still give me easy access. I am considering the below system and either mount it inside my center console, on the side of my center colsole near where my seat meets it, or under my steering column.
| Side of Center Console | Under Driving Column | In Center Console |
| --- | --- | --- |
| | | |
I would love to get some feedback or other solutions from my fellow conceal carriers out there.
Check out some of my other posts on the topic guns and keeping children safe around guns.