I need a fat cat resteem @grumpycat, wanna dance pussy? You & Nog, losers of a feather. Come say hi! :)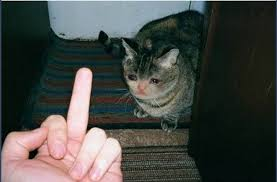 Hey @grumpycat...
You suck! And we are all aware of it. How does it feel to be as low or lower than @noganoo?
I think I will go use every single bid bot available on this post just for fun. :D
Have a nice day, that is all.
Edit/Update:
23 seconds ago Transfer 5.000 SBD to upmyvote https://steemit.com/grumpycat/@sircork/i-need-a-fat-cat-resteem-grumpycat-wanna-dance-pussy-you-and-nog-losers-of-a-feather-come-say-hi
53 seconds ago Transfer 5.000 SBD to upme https://steemit.com/grumpycat/@sircork/i-need-a-fat-cat-resteem-grumpycat-wanna-dance-pussy-you-and-nog-losers-of-a-feather-come-say-hi.
1 minute ago Transfer 25.000 SBD to jerrybanfield https://steemit.com/grumpycat/@sircork/i-need-a-fat-cat-resteem-grumpycat-wanna-dance-pussy-you-and-nog-losers-of-a-feather-come-say-hi
2 minutes ago Transfer 2.000 SBD to smartsteem https://steemit.com/grumpycat/@sircork/i-need-a-fat-cat-resteem-grumpycat-wanna-dance-pussy-you-and-nog-losers-of-a-feather-come-say-hi
2 minutes ago Transfer 1.000 SBD to chronocrypto https://steemit.com/grumpycat/@sircork/i-need-a-fat-cat-resteem-grumpycat-wanna-dance-pussy-you-and-nog-losers-of-a-feather-come-say-hi
4 minutes ago Transfer 15.000 SBD to boomerang https://steemit.com/grumpycat/@sircork/i-need-a-fat-cat-resteem-grumpycat-wanna-dance-pussy-you-and-nog-losers-of-a-feather-come-say-hi
4 minutes ago Transfer 20.000 SBD to booster https://steemit.com/grumpycat/@sircork/i-need-a-fat-cat-resteem-grumpycat-wanna-dance-pussy-you-and-nog-losers-of-a-feather-come-say-hi
5 minutes ago Transfer 5.000 SBD to aksdwi https://steemit.com/grumpycat/@sircork/i-need-a-fat-cat-resteem-grumpycat-wanna-dance-pussy-you-and-nog-losers-of-a-feather-come-say-hi
6 minutes ago Transfer 1.000 SBD to nado.bot https://steemit.com/grumpycat/@sircork/i-need-a-fat-cat-resteem-grumpycat-wanna-dance-pussy-you-and-nog-losers-of-a-feather-come-say-hi
6 minutes ago Transfer 1.000 SBD to bid4joy https://steemit.com/grumpycat/@sircork/i-need-a-fat-cat-resteem-grumpycat-wanna-dance-pussy-you-and-nog-losers-of-a-feather-come-say-hi
8 minutes ago Transfer 1.000 SBD to sneaky-ninja https://steemit.com/grumpycat/@sircork/i-need-a-fat-cat-resteem-grumpycat-wanna-dance-pussy-you-and-nog-losers-of-a-feather-come-say-hi
8 minutes ago Transfer 1.000 SBD to smartsteem https://steemit.com/grumpycat/@sircork/i-need-a-fat-cat-resteem-grumpycat-wanna-dance-pussy-you-and-nog-losers-of-a-feather-come-say-hi
8 minutes ago Transfer 0.050 SBD to voterunner https://steemit.com/grumpycat/@sircork/i-need-a-fat-cat-resteem-grumpycat-wanna-dance-pussy-you-and-nog-losers-of-a-feather-come-say-hi
9 minutes ago Transfer 0.100 SBD to mrswhale https://steemit.com/grumpycat/@sircork/i-need-a-fat-cat-resteem-grumpycat-wanna-dance-pussy-you-and-nog-losers-of-a-feather-come-say-hi
9 minutes ago Transfer 0.100 SBD to adriatik https://steemit.com/grumpycat/@sircork/i-need-a-fat-cat-resteem-grumpycat-wanna-dance-pussy-you-and-nog-losers-of-a-feather-come-say-hi