Frankly, I do not know exactly how it happened but yes, since a couple of days I have become a new Gridcoiner, so a Gridcoin Miner.
A few days ago I was "surfing" in the internet, searching comfortably ways to mine cryptos.
I found some articles speaking about how to mine using the small and super economical Raspberry Pi devices and it came to me one article that shown one of this devices mining coins using just a small solar cell as a source of power.
Something similar to this: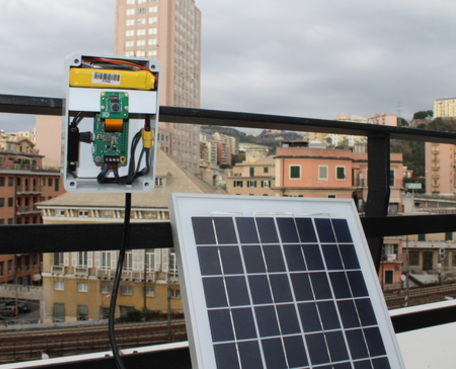 ( Source )
So, instantaneously I get hooked and I searched more about using these devices.
I launched a question to one steemit colleague and runner ( @scalextrix ) regarding using BOINC in order to mine Gridcoin with a Raspberry. His answer opened my mind to start using BOINC platform in my computers.
But what is BOINC:
BOINC is an open-source volunteer computing grid which combines the processing power of all individual users for the purposes of scientific research. It's free, production ready and many projects already harness volunteered computing power to attempt to cure cancer/AIDS/Ebola/malaria, map the Milky Way galaxy, crack Enigma machine codes, etc.. (from http://www.gridcoin.us/)
Basically, if you install the BOINC software in your computer or android device, you can assign some of your CPU/Graphic Card power for running complex Science computational projects.
and What is GRIDCOIN:
Gridcoin is an open source cryptocurrency (Ticker: GRC) which securely rewards volunteer computing performed upon the BOINC platform in a decentralized manner on top of proof of stake. (from http://www.gridcoin.us/)
So, I follow the instructions explained at http://www.gridcoin.us/ ( a liitle bit complex at the beginning I would say) and then I started joining some science projects which could be used on my available devices (not all the projects can be run, it depends on your computer characteristics...)
So, for the time being I set up two computers:
an Intel(R) Core(TM) i3-5005U CPU @ 2.00GHz
an old Pentium(R) Dual-Core CPU E5200 @ 2.50GHz
Both running with UBUNTU and, they are working and earning GRIDCOINS. I have as well a couple of old android devices and, very surely, I will install BOINC on them as well (LoL).
This is today status:


I hope it will improve with the days. I will report on it on the coming weeks.
I appreciate comments and suggestions from everybody and specially from the GRIDCOIN wise people.
I do not know if I am going to earn so much but I am very excited with the idea that I am collaborating to help science researchers on getting results faster