This is my first steemit post, so please be gentle :)
Introduction
Coming in contact with Gridcoin, or any cryptocurrency/blockchain project, goes (as everything else in life, if you believe google search) through 5 stages:
Enthusiasm - this new tech/coin/getting rich opportunity is AWESOME!!!
Discovery - and here is how it all works
Doubt - but is it going to work FOR ME ?
Denial - damn it, that's way too complicated and confusing, I'll never be able to make it work!!!
Acceptance - yeah, it kind of works
Enthusiasm - I'll get rich in no time!!
...
Ask anyone, they will say steps 3 and 4 are the hardest and most time consuming to go through. But you also learn the most, and if you keep at it you will get to step 5 eventually. 
Where am I, you ask? Well, I'd say I'm almost out of stage 4, and working hard to fully unlock stage 5.
The 4x4x4 challenge
To that end, I am challenging myself to a month (4 weeks) of Gridcoin Research to prove that even a normal human being, with exactly one old-ish laptop and no access to server racks, NVidia Radeon XX999 Ultra Super GT, ASICs (OK, I admit, I have some running shoes by that name) can at least have fun, get some science done, and cover some of the electricity costs without having to kill their 3rd degree auntie to inherit her beloved solar panel.
To keep things fun, I selected 4 BOINC projects to run in parallel, all with equal shares. I know, I know, the only comment this post will ever get will be about how wrong and inefficient that is. More on that later.
The above-mentioned laptop is equipped with an i7 3517U CPU. That's a 2 cores, 4 threads, an awesome 5 generations old mobile beast running at a whopping 2.8GHz in Turbo mode while sipping a maximum of 17W of power (17W is the TDP, it probably burns slightly more watts). You can stop laughing at any time you wish, you 16 core Xeon schmucks!
Thus, the 4x4x4 empty marketing nonsense is born.
The Projects
Remember the 5 stages? Last month I quickly went from 1 to 3, then spent a lot of time in stage 4 while discovering that my machine was not fit for many of the BOINC projects available. That said, I did learn that with my machine anything other than CPU-only projects is a waste of grcpool's and BOINC's resources to keep stats with such low numbers.
For some reason, VBox projects also seem to be rather slow for me, and tend to make the system less responsive for daily use. 
So after some rather empirical testing I ended up choosing:
Latin Squares (ODLK) - the most productive for me
SRBase - second most productive
World Community Grid - my first number crunching love, even before the BOINC days, and the one doing the most "serious" research. If it proves to be efficient enough, I might keep this as my only/main project after this challenge
[email protected] - I needed a 4th one, seemed like a good candidate, we'll see how it goes

So why run 4 projects at a time? 
First because 4x1x4 wouldn't sound so cool ;)
But on a more serious note, I'd really like to see which of them is more efficient over a long-enough period of 4 weeks, and if there are any quirks that would make me choose one over the other in the long run.
I plan to also compare with February data, to see if the total Mag from 4 projects could match or surpass the Mag from a single project.
The Setup
I'm using grcpool.com as my account manager, both because of the awesome site and statistics and, to a much lesser extent, because I'm cheap and don't want to invest enough in GRC to go solo (yet).
I have all 4 projects added with equal share (100) and no gpu checks in place (not really needed, but in case they add GPU WUs in the future).
Since I had some work done in the past on some of the projects, I waited a while for the Mags to settle and become almost equal, while low enough to have room to grow. In the process I also got my payment so the owed amount starts nice and clean from 0. This is how things looked Wednesday morning, March 7th:
![2018-03-07 17_28_17-Gridcoin Pool start from 0.png](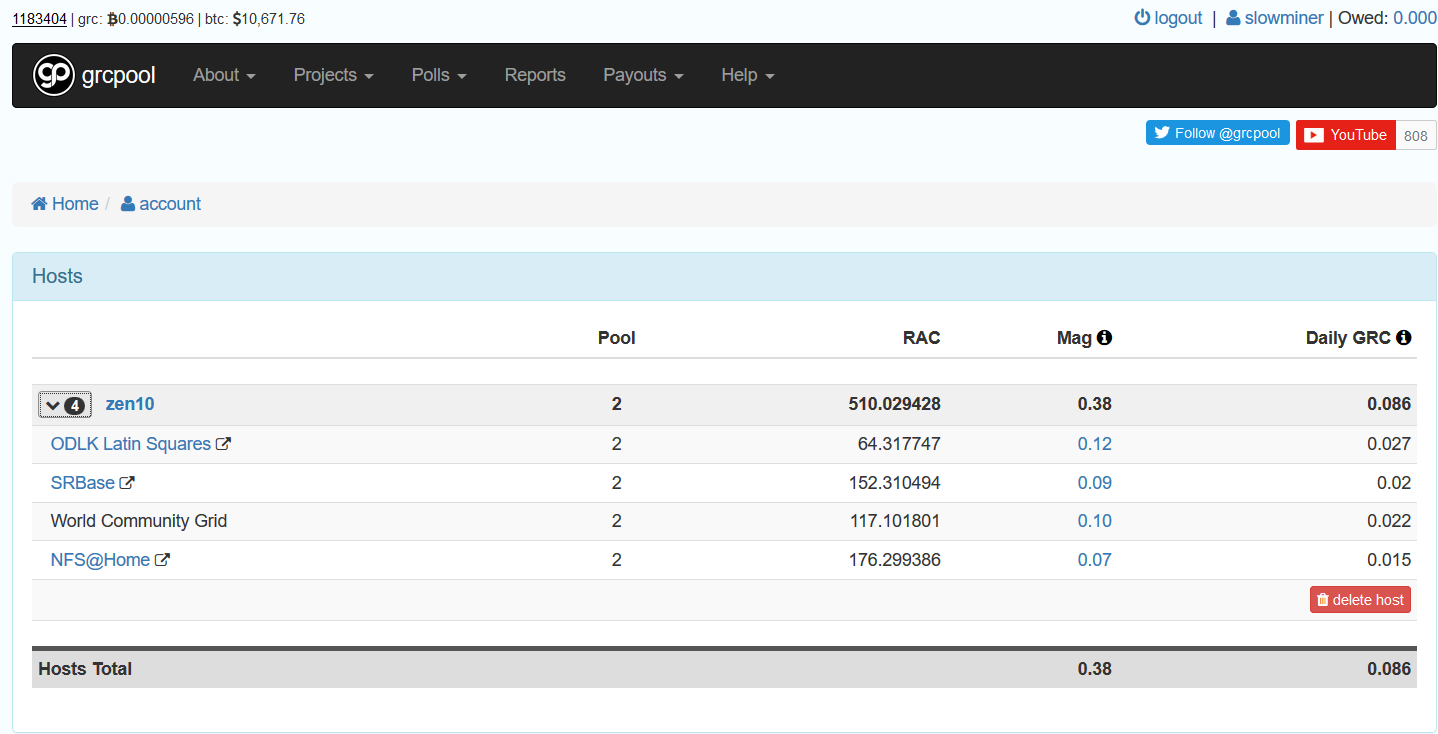 )
Just to get a glimpse of the glorious past we're up against, the total Mag graph looked like this:
![2018-03-07 17_29_12-Gridcoin Pool total mag graph.png](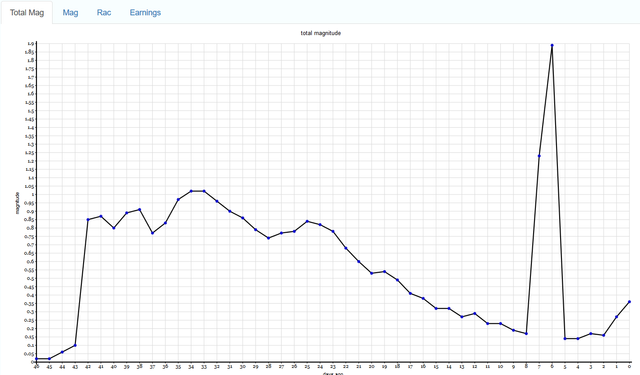 )
The spike you see is from Sourcefinder, which I had sitting idle with no WU's for 2 weeks, until one day before blacklisting it decided to spit 3 WUs in my direction. I'm not proud of it, but it was a nice bonus
The middle of February also marked a 10-days holiday for me, so the Mag slowly dropped from there to the start of the challenge
Finally, the per-project Mag graph shows that ODLK was the most efficient project when running solo (no other projects in parallel). Let's see if that will still happen when it has to compete for CPU with 3 other hungry projects.
![2018-03-07 17_29_35-Gridcoin Pool mag per project.png](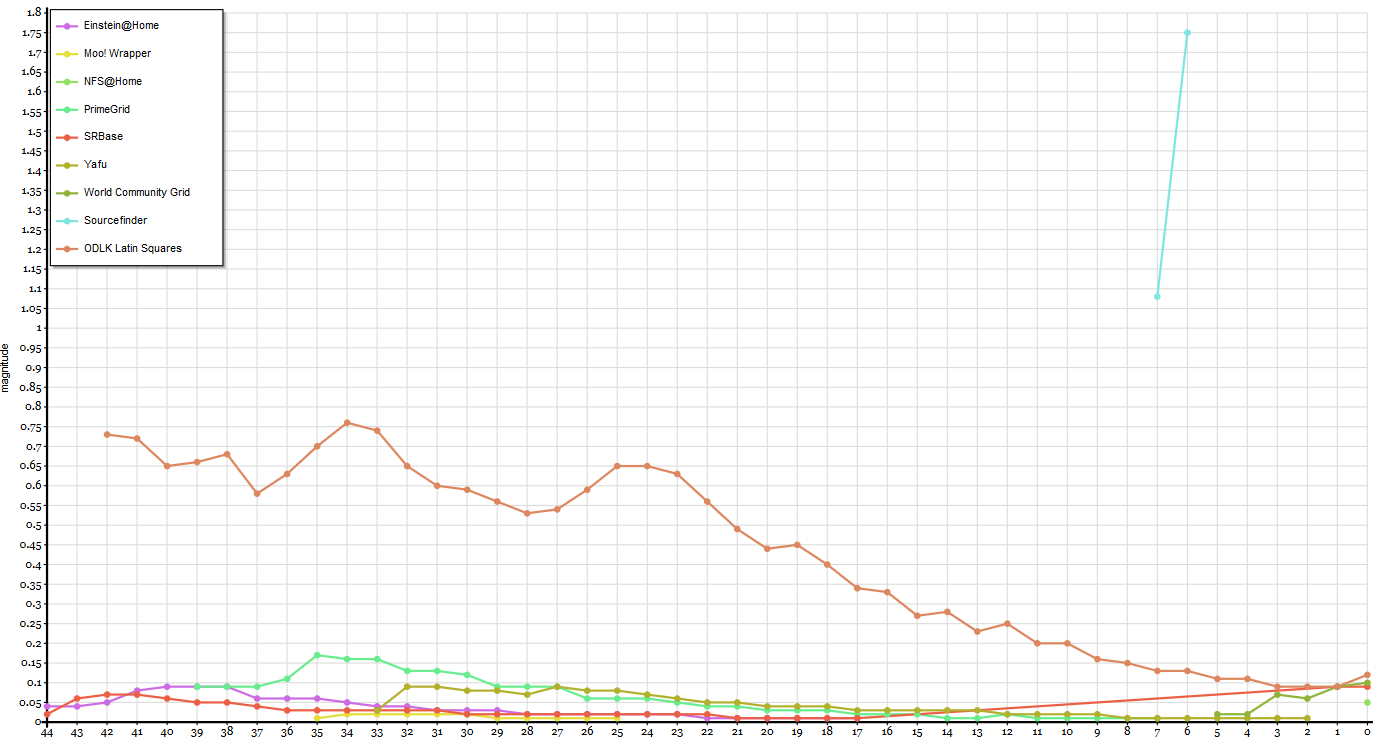 )
Wrap-up
That's it for the start. The plan is to have one post/week to check how it goes. Thank you for reading or at least scrolling all the way down here. Any comments, votes, STEEM, GRC, kWh, NVidia GTX1080 or beer donations are most welcome. Happy crunching y'all ! slowminer