During the past weeks we have seen the Bitcoin market skyrocket. It's a good sign and great development for cryptocurrency. The smaller altcoins will always dip when assets are on the move and people are trying to turn some short sighted investments into profits.
Gridcoin is, in my eyes, one of the better coins on the market. It even surpasses Bitcoin now days. Let me explain what Gridcoin is and why I do think so.
Supported by real scientific work
It's backed by real work done on the BOINC platform. Since the coin is a PoS coin it needs some work made, and this is trough the open source scientific platform BOINC, that has been around for a long time. It's making real contribution to real life problems that we all face, and rewards accordingly. No silly mathematical problems that gives nothing back!
Gives an investor interest for holdings
It's a PoS coin with 1.5% yearly interest, paid out with every block you stake.
Low fees and quick transactions
The fees are low since its not a PoW coin. Lately the Bitcoin network has been crazy, taking almost 10% for my transactions since all the blocks are full. This is no problem for Gridcoin and with a block window of only 90 seconds you do nkt have to wait forever for your coins to be verified. Bitcoin has in best cases 30 minutes and up to 90 minutes for a transaction to be verified, while Gridcoin has 15 minutes!
Takes practically no energy resources
The coin itself takes virtually no energy resources to function. The BOINC platform does, but in turn it gives back real work. Bitcoin gives back, well, nothing.
Stable community with great ideas
The gridcoin community has great ideas, public hangouts and various places for communication. There are among other places a slack channel, twitter feeds, IRC channels and their own forum.
There has been great development and just recently a second public pool has started, GRCPool.
The coin may not be as spread out and adopted as Bitcoin, but it's expanding and it's a coin I believe will only get stronger by the day. If you are interested in the future of cryptocurrency, take a good look at Gridcoin.
It's featured on several exchanges, like C-Cex, and also available at CoinPayments for taking payments.
Join us at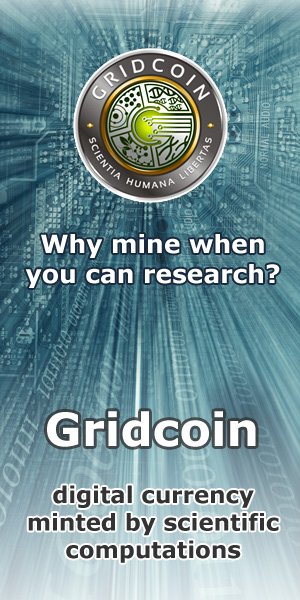 Please vote and share
If you like my content, please upvote and resteem.
Thanks for reading!