Gridcoin - The Cryptocurrency with the Power to Drive Modern Science
Since around mid-2011 researchers like myself, and many others like me, have been following the rise of crypto-currencies from the sidelines with a piqued interest. Yet, the longer we watch, the more disappointed we are getting with where the field of crypto-currency is headed. There are articles applauding this coin's mining network doubling its hashing power, and that coin's new ASICs that yield even higher mining profits. But what are we actually achieving? Where is the benefit to society from this gargantuan endeavor?
Now, don't get me wrong. Crypto-currency is a necessary step to decentralize power in our monetary system, and to break away from the control banks leverage over us with fiat. But that is not the point. My beef is with how these digital currencies are generated, or minted. Every day we are pouring more and more of the world's compute power into a black hole to generate tokens to sell and invest in. That compute power is going to waste.
I am a third year biomedicine PhD student at the University of Canterbury, New Zealand. In a nutshell, my work is to model the cells in the brain to such a level of detail that we can simulate brain function digitally - on a machine. In my specific case, this allows me to observe the effects of neurodegenerative diseases such as Alzheimer's Disease to enable and advance drug development. That might sound far fetched, but the problem does not lie in the complexity of the brain's functioning like most people think. The chemical pathways in the human body are well understood. The problem I face on a daily basis is that myself and my colleagues cannot simulate our models due to an acute lack of compute power. Allow me to illustrate the problem as I encounter it every day in the lab. This is a single instance of the smallest functioning unit of the brain, as we model it: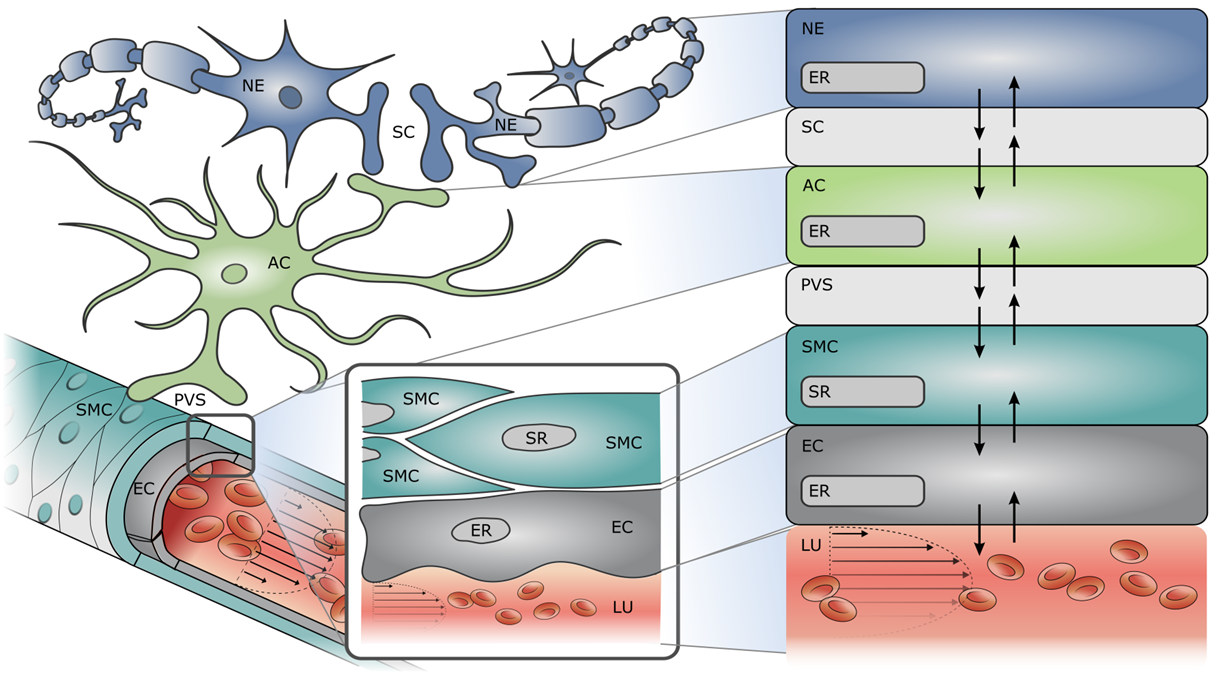 This unit (think of it like a LEGO brick) is made up of four cells: a neuron (NE), an astrocyte (AC), a smooth muscle cell (SMC), and an endothelial cell (EC). The model tracks all significant chemical channels that affect brain function, and the behaviour of this sytem can be comfortably simulated on my workstation in several seconds. Unfortunately, understanding the behaviour of several cells on this tiny scale is pretty useless when is comes to treating macro-scale disease.
To make this model useful to medicine, we need to build a 3D lattice of these LEGO bricks to map out the topology of the entire brain. We do this by linking the bricks together in a space filling H-tree, where every dot is a LEGO brick, like so: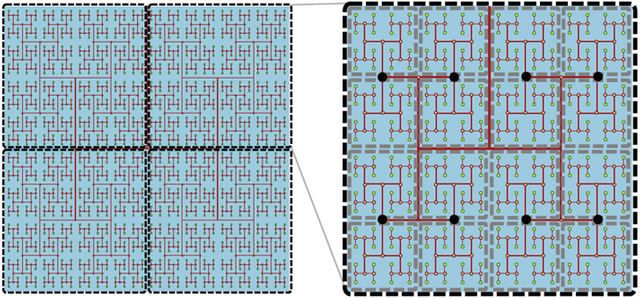 Suddenly, the compute problem becomes a lot more demanding. I could still run this simulation on my workstation. However, a 2D tissue slice of 1 square millimeter will have to be simulated overnight. If the tissue slice were any larger (or, God forbid, 3D like a real brain) I would need a research cluster or a supercomputer to run the simulation and have it finish before I am dead and buried. Buying such powerful hardware is prohibitively expensive for all but the largest labs, as is buying time on someone else's cluster.
When I try and explain this problem to people outside the field, they treat my colleagues and myself like an unfortunate subset of the research community that happens to have a unique problem. But, our problem is not unique! Hundreds of thousands of researchers in innumerable fields will be meeting this compute roadblock over and over in their careers. This goes beyond disease research, and includes material science, polymer research, even art! We have a professor at my university who has written software that can reliably detect fakes vs true works of many great masters with incredible accuracy. It boils down to a massive compute problem.
If I had access to the collective compute power of the BTC network for 3.8 seconds, I could simulate the entire brain topology per the model presented above for 3 years. To put this in perspective, the outcomes would result in so much data that our entire lab would need to spend months analyzing it all, and would result in numerous papers being published. If we are lucky, the results of such a simulation would be a significant step towards drug development.
Enter BOINC. Thanks to BOINC, many compute based research projects are suddenly within the realm of feasibility, where before the cost to run the analysis was insurmountable. This might again sound like a tiny corner of science, but the further science advances the more we realize the universe is based on quantifiable mathematics. Computers solve quantifiable mathematics. Every day, the BOINC network is folding proteins, mapping space, working on proving previously impossible mathematical conjectures, and much more. If only we could harness the compute power being wasted on mining cryptocurrencies, imagine what would suddenly be within the realm of possibilities. So the question then becomes: why is everyone so self-centred to continue to waste their compute power on mining cryptocurrencies? The answer is a fundamental problem with human nature: the unrelenting drive for personal gain.
Enter Gridcoin. Thanks to Gridcoin, some of the compute power that was previously being poured into the void has now been re-purposed for science. Even better, while BOINC only appealed to the altruistic minority of the population, Gridcoin appeals to the much larger profit-driven subset. It might not be an ideal motive, but who cares? Irrespective of what drives the individual crunchers, collectively they are making a much bigger difference than most of us can comprehend. Nothing would propel society towards goals such as cures for AIDS as fast as re-purposing the crypto mining compute to benefit research. And one step at a time, that is exactly what Gridcoin is doing.
To researchers like me, you are making all the difference in the world from your own home. Thank you.
Keep crunching.