It's no use wanting to go viral, unless you know what you intend to do, once your first post has gone viral!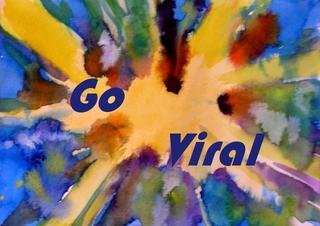 "But everyone wants their thing to go viral"
I can hear you say that! 
But… for what purpose? 
Maybe it's to put your website on the map BIG time? 
You want to sell stuff on your website and earn mullah bucks? 
Build a great following. 
Become well-known for what you do and become famous? 
Up your business and sale ratings? What? 
Don't work dilly-willy forever and a day!
Up till now you have been working on possibilities! Doing the same old stuff, day after day, year in and year out and getting nowhere. Why waste all that time?! It's like you are just playing around. You could be doing better things.  
You must have a purpose for what you're doing, to drive you. That is, an important element that gives you a direct shot at your goal. And what inspires others to continue following you. 
So what is your motive?
  You must have one. You must know what it is that grips people attention. 
That gives them a motive,
...for coming back to your website, over again and again. Otherwise there is no reason for been on the internet?! 
Once you know what it is:
You can aim more directly into the heart of the internet. 
Know what type of group of people to aim at, who will most probably `buy into' what you are posting or selling. 
If you know their type of background, or career,  you will understand what they needs are, and be able to accommodate their desires and cravings. 
You'll more likely be able to cipher and use their jargon. For each type of career or skill there is a certain trend of words they use. 
Using that knowledge:
Once you know their jargon `language', the way they think and their behaviour pattern, you're more likely be able to reach their intellect and get through to them. 
When someone talks the same jargon `language' as yourself, you can easily relate to what they say and do. Isn't that so?! Well that's how the public also relates and response to you. 
Using that knowledge, you can bridge the gap between you and the people out there on the internet. 
Now what are you going to do with what went viral?
Are you going to let it be a once-off bit of fame? Something silly, that is forgotten in a few days! 
Or are you going to use it? Even promote it? 
Think like a billionaire:
Get organized and put things into action. 
Continue to produce exciting stuff. Give people value and quality for money. Stuff that will reach out to the ends of the earth! 
What you produce says a lot about you. It will be recognized, and that is what you will become. 
Whatever you do, that becomes your hallmark and brand. Because people have long memories when it suits them!