You need the winning numbers, not so! And we have the winning facts to share with you… on how to do it.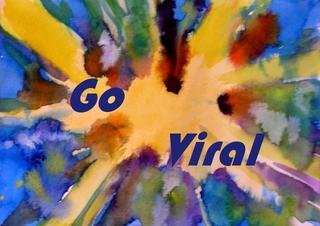 So much to tell you though:
I have a really long list of facts that will help you go viral. But I can't tell them all in just one post. It will make this post too long, somewhat like a fat book.  
So I have only one choice… that is, to show only a few things at a time, per post.  
And… giving more in depth study into each concept! So there is a better understanding of the whys and cons of going viral.  That is why I'm making a whole series out of it. 
…..So here are today's hints on going viral: 
We always need to remember we're dealing with people!
Oh yes, I've mentioned that before. But very few people seem to comprehend its importance! 
The fact is:
We're not appealing to dogs, mice or even ants. They can't read, link-up to the internet or even use a phone! 
When we write something or post an image… we're appealing to humans… even though they may seem like they act like aliens! 
How people relate to things:
If you understand humanity, their emotions and how their senses work, you have a better understanding of how they relate and respond to what's posted. 
· People are more likely to respond to real situations, from real life. Usually things most people struggle with. So they understand where you are coming from, because they too know what it means to experience it and cope with it. 
· It could be silly things we do or mistakes we make. Turn it into a hilarious action packed event. People laugh because they know all about it and how it feels to be in that situation. 
· And people love their pets and the cute things they do. And because of that, they also appreciate wild animals and what they get up to. 
Emotions spread faster than news!
Always consider people's feelings. How will they relate to your posts emotionally? 
Know your audience and their backgrounds, where they come from and why people do the things they do. 
People use their senses to connect with your photos and images: What they see, hear, feel and action. And also colour combinations and contrasts that affect people senses. Those things are bound to strike a chord with them. 
The power of empathy:
Empathy pathos evokes high arousal emotions in people. 
When we see something that touches the heart, we suddenly want to help anyway we can. 
And because we're not right there, or aren't professional enough, we want to pass the message on, either to phone the police or the ambulance service. 
With things we see on the internet, we're like gossipers; we instantly want to share the experience with someone else. Why? Because it's important to be the first one to have known! 
Persuasion:
To transfer feeling into action, play on people's desires, ego and pride. 
Let me give you some examples: 
"If you use this shampoo, you can feel the cool breeze run through your hair!" But the important thing here is to show a photo of just that, a woman wearing a cool loose dress with the wind blowing her hair and her dress. Added to that, wild flowers, like cosmos, blowing in the wind. Make it look like its great fun to have that sort of carefree lifestyle. 
Use snob appeal: "If you wear this lovely formal evening gown, you will feel glamorous and desirable!" Show a photo of a slinky flowing dress worn on a slim graceful curvy model. Added ti that royal colours. Status power and confidence goes along with the feeling it portrays. 
Action-packed:
Since films and TV have been invented (some time ago) people expect action and drama. 
They get bored with slow-moving stuff. They want to see what happens next! 
They're too lazy, to sit through long drawn out stuff. We all know people go to sleep on long sermons! 
So keep things short and sweet!!
And of cause, cute!