Know what you're about and have joy in doing it. Go out there and do your thing big time. And let negative people fry in their own juice, of their own making.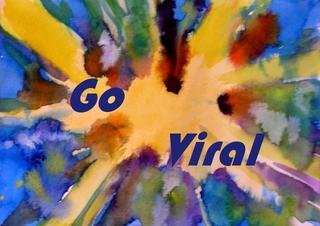 Your go viral objective:
To stay on track and go viral you must know what you're about and why. 
What is it that you are aiming at? 
And how you will handle it.  
And what perspective or foundation are you working from? 
Valuation:
How much do you value your time and what you do? What does it mean to you? 
You must have passion:
Once you have confidence in what you do, you won't be intimidated by what your critics may say. 
To boost your ego:
Remember you are the special key that will make your ambition to work. 
Think and act positive. That generates good things. You are more likely to get inspiration that way. 
Your passion is your strength. And it puts joy into your life. 
Positive people write positive stuff. People feel that positivity and respond to it, because subconsciously they want it to rub off onto them too. 
What really hinges on been successful? The secret of success? 
Is boosting other people's egos!
Find ways to help people. 
Find stuff to post that makes people laugh and feel happy. 
Make people feel important and good about themselves. 
Praise the good things they do.  
And a hug and pat on the back goes a long way! 
To go viral you must put passion into other people:
Use sensational words like awe, anger, excitement, magic, drama, amusement, silly nonsense, something cute that brings empathy, etc.  
A very useful tip: 
Don't dwell on sadness.  
You aim is to lift people up, out of their sombre serious and dutiful everyday lives. 
What to write about:
Write about what is lacking in this world: 
Write about what no one else is doing, but the world so badly needs. 
Think down different avenues and ways to say it. You need an element of surprise.
People are looking for exciting news. `Give it to them in spades'. 
Add magic: Make it dramatic, fantastic and out of this world. 
People love to gossip, so naturally they share what's new and happening. 
The magic lies in you:
All you have to do is bring out that special person you really are. 
You are the ingredient that makes things happen. 
Search for what is fantastic and great in your life. And use it to your benefit. 
Show people what you are made of.  
Do the things you love doing and that thrill will be transmitted to others.