McElroy Winning Player Of The Year Has Made That Chip On Brooks Koepka's Shoulder Even Larger
Rory was a surprise PGA Player of the year pick. Well, when I say surprise , it really wasn'.t but most people thought Brooks Koepka was going to win it. But Rory won the Players Championship, the RBC Canadian Open and the Fed Ex cup last year. Winning 3 times in a season is an amazing feat by any standards but Rory didn't win any of the 4 majors so Brooks Koepka who has won 4 majors in 2 years was a shoe in for the award and his major at the PGA Championship would of gave him enough to win the player of the year award. But the PGA Tour officials gave it to Rory and Jack Nicklaus surprised him with the award at a lunch. Here is a video of it.

source
Since the last Ryder cup Brooks has been increasingly salty with the press. He says it how it is and he is now becoming an outspoken player on the tour which is great for us. The reason for this is when he hit down in France for the last Ryder cup the press were straight over to Tiger , Rory and Dustin Johnson. None of them wanted to talk to poor Brooks who at that time won 3 out of 4 majors. So when the press did interview him , he started giving them soundbites. But not boring ones. Proper good quality headline makers. Wow.
He is now the poster boy for fast play. He even admitted that when he is playing with slow golfers he goes to the toilet on the first hole, arses around for 7 minutes, gets a warning for slow play. Two warnings and there are stroke deductions so the rest of the round the players are all on the clock and they play at "Brooks speed". I love this. Genius.
So Brooks came out this week and was asked about a rivalry between him and Rory. Here is what he said.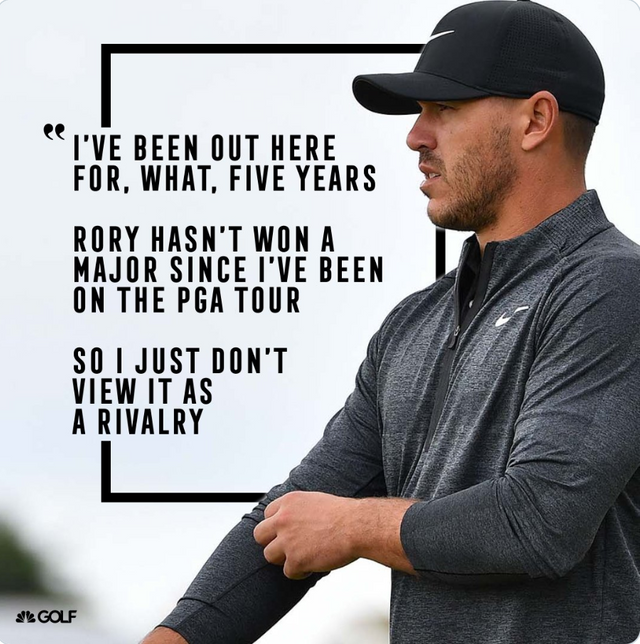 source
Hahah. Now if this doesn't motivate Rors to win a big one then I don't know what will. Rory needs to win a major this year. It is ridiculous how good he is and he only has 4 of them. The masters is the tournament that matters to him most so fingers crossed he will do it this year. Take a look at this shot. I love the shot marker guy whose has one job not knowing where the ball went and just shrugs his shoulders while the ball lands right behind him. Unbelievable shot. The season has started by the way but it will not be until next March until the big competitions come into play. I am looking forward to the rivalry. And after what Brooks said Rory will be looking forward to it too.