Finally! 🐦 Now you won't miss a super-duper-joker-post as on GoldVoice appeared section Popular.
At the moment the most rewarded posts are displayed there in the last 24 hours 🦊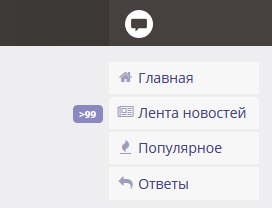 What ideas do you have for improving this section?
Other news
The popularity of the experimental anonymous bot @Q-Q is quite unusual so it was decided to create a friend for it: @u-u with posting the key 5JFvf2hc2cARPXYdxmeaBvMZq6zepJNKPm8hYvSrm8uH5dp1YiP
Both have increased the Golos Force by 100. Enjoy. If you want, you also can increase Golos Force to them ;)
We also added a save tick for automatic voting for the post.
🖖 Thanks everybody for your attention, we will be glad to receive your ongoing support. 💌 Put upvotes, subscribe to @on1x and go to GoldVoice.club - bset Golos blockchain client.
Read our previous post about a new opportunity to monetize traffic from your blog through the service a-ads.com.