You can earn not only with the help of Adsense. It's simply the most popular and can play well in targeting with users. And there are a plenty of advertisers from all over the world. But we are looking at the birth of a new world. And in this world there is already an anonymous advertising network, which has been working not only for the first year but also on bitcoins. Here comes A-Ads.com!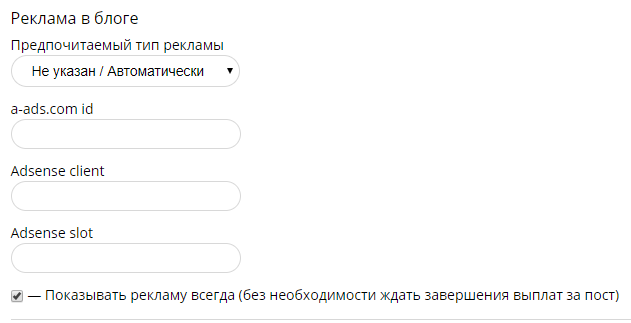 Of course, there are few advertisers there, but it all starts from now on 🐘 Now in your profile you can connect the id of your ad unit (taken from the iframe code) and choose which ad unit to show in your blog. When there is enough people wishing to sell advertising on GoldVoice, you can buy it anonymously in the same place. Cookies to everyone! 🍪
Other changes
✔️ - Now in the settings you can specify the preferred width of the block when viewing posts. Not everyone liked hiding the menu in the upper feed. Let's just say: I want to give more customization to users. For that it's necessary to expand the unit responsible for the width of the post. Some things should be corrected but everything gradually (yes, @aleos, the proportions of the iframe with the YouTube are also on the line for correction).
✔️ - The wallet now immediately loads the transaction history even without entering the active key.
✔️ - Now when sending posts, automatic voting for the post will work with a force of 100%.
Fixed a lot of minor bugs, one of the visible ones - earlier in the editor the drop-down menus were moving, now everything is displayed normally.
🎄 We built in support for the popular Coub.com service, you know what to do!
🖖 Thanks everybody for your attention, we will be glad to receive your ongoing support. 💌 Put upvotes, subscribe to @on1x and go to GoldVoice.club