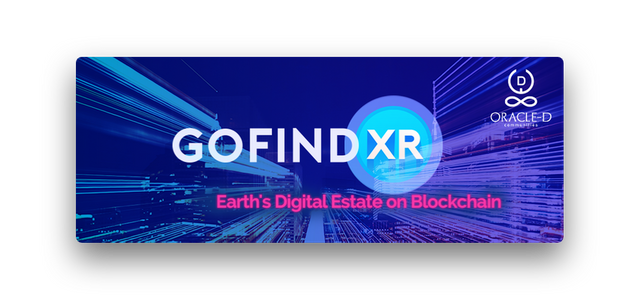 Blockchain is evolving at a very fast rate, many innovations in blockchain technology have turned heads, solved many problems and improved life politically, socially and economically through decentralized social media, digital assets ownership,voting, and so on. Another great change yet to happen to blockchain is the implementation of argumentative reality one of the latest and effective technology that eases the way we interact with the real world digitally. Finally someone has done it, we can now use AR(augmented reality) on blockchain to own assets, trade assets and post real time 360 pictures and videos and earn rewards.
Go Find XR is setting up a decentralized extended reality platform on the blockchain connected to the Earth's geolocation. It uses AR to interact with the world in real time through our digital devices.The platform will have both 2D as well as AR/VR content. This blockchain project will support Virtual reality(VR),Augmented reality(AR) and Extended reality(XR).The GoFind XR will integrate with the steem blockchain and this will allow steemit users to post their content and earn XR coin in addition to their STEEM earnings. This will be accomplished by letting users post through the GoFind XR app which is easily accessible on the android playstore and apple's appstore. In fact when you do look around with the app's camera you will be able to view content all around you in XR which you will submit 2D/XR posts to earn tokens. Beyond social media, XR ecosystem will be also used in games, real estate, and other applications.
The GoFind XR platform Supports AR/VR/ 3D Photos & Videos,literally it will display social media in a new augmentated reality format by geolocation of posts.Users can also easily post and view 360 degree photos and videos and AR/VR content. This content can later be posted and the rewards will consist of both STEEM rewards as the usual upvotes and XR tokens.It will carry regular Steem functions and reward systems. In addition to steem rewards
XR token
XR token is the currency used on the GoFind XR platform It will be used by GoFind XR users to do things like;
Buying XR land; XR land is a digital space within AR geolocated on earth and can earn revenue for it's owner.
Trade for assets; as a medium of exchange XR token will be used as a means exchange for land assets. These tokens will be available on various exchanges after the ICO where they will be traded for other coins like BTC, ETH and so on.
Holding more than 500 XR tokens will get you rewarded when GoFind XR benefits from the advertisements. This revenue will be shared by the big share holders, holders can stake their XR tokens from the XR Estate web app
Holders can also trade digital assets (including XR Estate) for trade on fixed price or highest bidder. Unstaked coins can be traded in top crypto exchanges.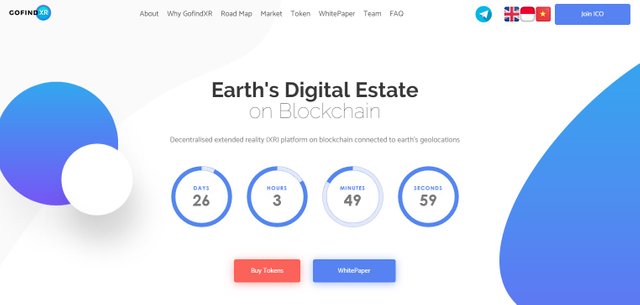 Currently there is a chance to invest in GoFind XR through an active ICO activity that will run until April when XR tokens will be distributed. The distribution of XR tokens will start in April and end in May.
To purchase XR tokens go to the [main websitehttps://www.gofindxr.com/), sign up for free and join the ongoing ICO.
GoFind XR partnership with Oracle-D.
Gofind XR and Oracle-D are now taking this to the next stage by building the world's first Decentralized Extended Reality (XR) based social media platform powered by Steem & Gofind XR blockchain. It's a blessing that Oracle-D, a company that builds communities through a blockchain network has decided to make a partnership with the Augmented Reality platform. This is great especially for already interested and established individuals and various communities on the STEEM blockchain. Am hopeful this partnership will open more doors for the progress of augmentated reality on blockchain and steemit users as well. This has right away opened up opportunities for steemit users during the ICO phase.
Steemit users can purchase 10 XR tokens at 1 STEEM(about $0.4 now), a great deal considering that others are going to pay about $1.5 for the same XR tokens.
Here's how the XR platform will run on steemit.
Users will post and view media (can be 2D / AR / VR)
Advertisers will bid on ads by locations and demographics
When users view the AR Ads, that will count an impression and bill the advertiser
Steem rewards that will be shared between the stakeholders (as per Steem rules)
XR tokens will also be shared with all users (who stake a minimum of 500 XR tokens)
To get the limited discount as a steemit user, here's what you have to do
transfer the amount of steem to @gofindxr
Fill this form
The tokens will be deposited in your ERC-20 wallet. if you don't have a wallet, you can create one for free here
Get 60% discount by registering through this link
For more information, go here.
Disclaimer:
This is not a financial advice. Please do you own research before investing in cryptocurrencies or any digital asset. This blog post is done for entertainment and knowledge purpose only.
Important links
GoFind XR https://www.gofindxr.com/
Oracle-D https://oracle-d.com/
Join ICO (https://ico.gofindxr.com/