World's first Decentralised Social Media platform on Extended Reality powered by XR and Steem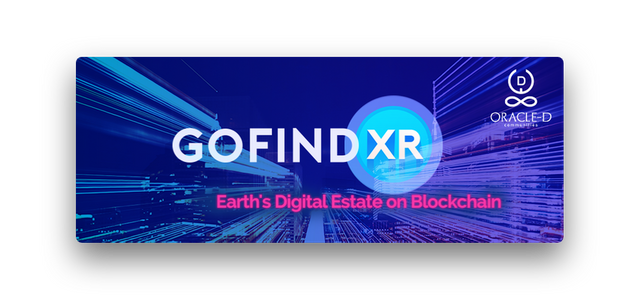 ---
World's First Decentralized Social Media Platform on Extended Reality Powered by XR and Steem
Steem has already broken new grounds by making social media decentralized. Gofind XR and Oracle-D are now taking this to the next stage by building the worldís first Decentralized Extended Reality (XR) based social media platform powered by Steem & Gofind XR blockchain. This platform is accessible by any smartphone with the Gofind XR Portal app. Just look around you with the appís camera and you will be able to view content all around you in XR and submit 2D/XR posts to earn tokens. Time to get creative and extend the reality.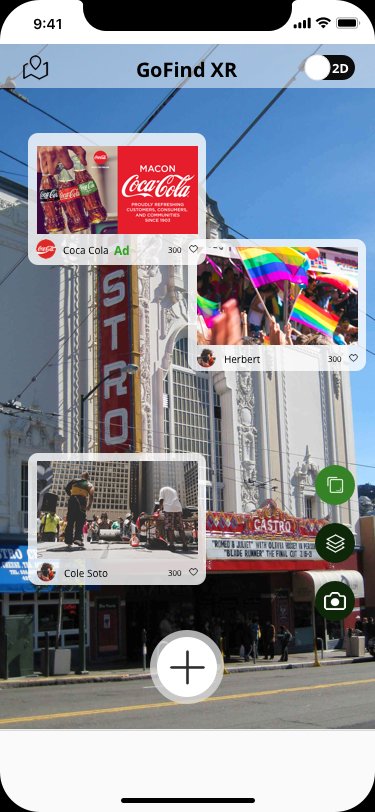 ---
What is different in this platform
- Supports AR/VR/ 3D Photos & Videos
The Gofind XR app will display social media in a new AR format by geolocation of posts. In addition, users can easily post and view 360 degree photos and videos and AR/VR content. All standard Steem functions are supported including upvotes.
- Advertising and revenue sharing
This new platform will be monetized using advertisements to create a sustainable business model that scales as the community grows. In addition to standard Steem, the revenues from the advertisements will also be shared with the content creators (holding minimum 500 XR).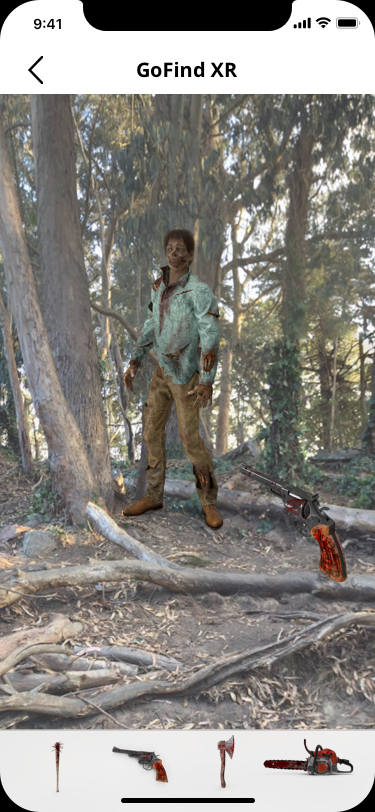 ---
Gofind XR Blockchain Platform & Oracle-D
Gofind XR blockchain platform is the first platform to enable monetization and development of location-aware AR/VR/XR apps. Gofind XR has tokenized earthís geolocations. Holders of XR coin stake their coin via an XR Estate web app and they earn a share of advertising and other activities on the network via the unique PoGS (Proof of Geo-Staking) algorithm. XR tokens will be issued in an ICO (April-May) and will be tradable on crypto exchanges. Currently, limited private investors and communities (including Steem ) can get discounted XR before ICO starts. Beyond social media, XR ecosystem will be also used in games, real estate, and other applications and XR token holders earn their share from activities all apps. More info is at https://www.gofindxr.com and XR Token Purchase portal is at https://ico.gofindxr.com.
See video link
Oracle-D builds online and offline communities and is a prominent member the Steem community. Our partnership is working hard to build the new AR based experiences in Steem. https://oracle-d.com/
---
How XR ecosystem work on the Steem Social Media app?
Users will post and view media ñ (can be 2D / AR / VR)
Advertisers will bid on ads by locations and demographics
When users view the AR Ads, that will count an impression and bill the advertiser
Steem rewards that will be shared between the stakeholders (as per Steem rules)
XR tokens will also be shared with all users (who stake minimum 500 XR)
---
Current project status
We are in the initial stages of building out the Steem based social media app. The demo is available on Android. iOS coming soon. Link below
Currently the app is showing the Twitter public feeds & Points of Interest feeds by location which will be replaced with Steem posts shortly. We are creating a new internal backend service for Steem to make advanced location-based Steem API queries. We are in the final stages of integrating to Steem blockchain
We are currently fundraising for our seed round. Please contact at visit at https://www.ico.gofindxr.com if you invest in startups on private seed rounds.
AR Social Media Twitter / Google places
360 Video / Images / VR : Watch Video
---
How can you help:
Test Beta App
Swap Steem
For a limited time, Steem Community can swap 1 Steem ($0.40 at time of writing) for 10 XRs ($1.5 total for 10 XRs as per ICO price ). XR tokens can be staked for passive tokens or traded at crypto exchanges after ICO.
To swap Steem, send Steem to @gofindxr
Fill this Google form AFTER swapping or delegating https://goo.gl/forms/jTkpxaxLKCE0ph4B3
XR tokens are deposited in your designated ERC-20 wallet within 2 days of Steem transfer for swaps. If you dont have a Ethereum ERC-20 wallet, then you can create one for free at https://www.myetherwallet.com or any any other service
This offer is only available for limited time. Until the above Google Form link is available, the scheme is available
Purchase XR Direct
Buy XR with BTC, ETH or credit card with 60% Bonus (special deal ) at https://ico.gofindxr.com/sign_up.html?referralCode=YWM1NmUzOWQ4ODUzYTNkM2RlMjZhYmY2ZWY3Y2NiZGY=
---
In summary
Gofind XR with Oracle-D is launching an XR platform for social Media on Steem. The platform will have both 2D as well as AR/VR content

The platform will carry regular Steem functions and reward systems. In addition to steem rewards, the platform will be monetized with advertisements and revenue will be shared with content creators (with minimum 500 XR)
Exclusive offers for Steem community
---