LET'S LOOK INTO THE HISTORY OF MODERN GLASS:
Once known as Moretti glass, it is a kind of glass used in Lampworking. It is also called "Soft Glass." A much older style of Lampworking. If you already read the short intro to #glass that I wrote up in my first giveaway then you know that I work with a modern form called Borosilicate glass. I talked a little bit about the older forms of the trade, but did not get in to the specifics of "Soft Glass." I think it is high time that we dive into this topic, and I think many will enjoy to learn the roots of modern Borosilicate work. These two sides of the industry are a bit different. If you missed my intro in to Borosilicate glass I highly suggest you check that out. It will certainly help you get up to speed.
The picture below shows Effetre vs Borosilicate. Notice Bob Snodgrass the man who discovered how to fume glass on the right? Also notice SALT from my other posts? Such inspirations, both of them! If you have not watched "Degenerate Art" on Netflix or somewhere else on the internet I highly recommend it.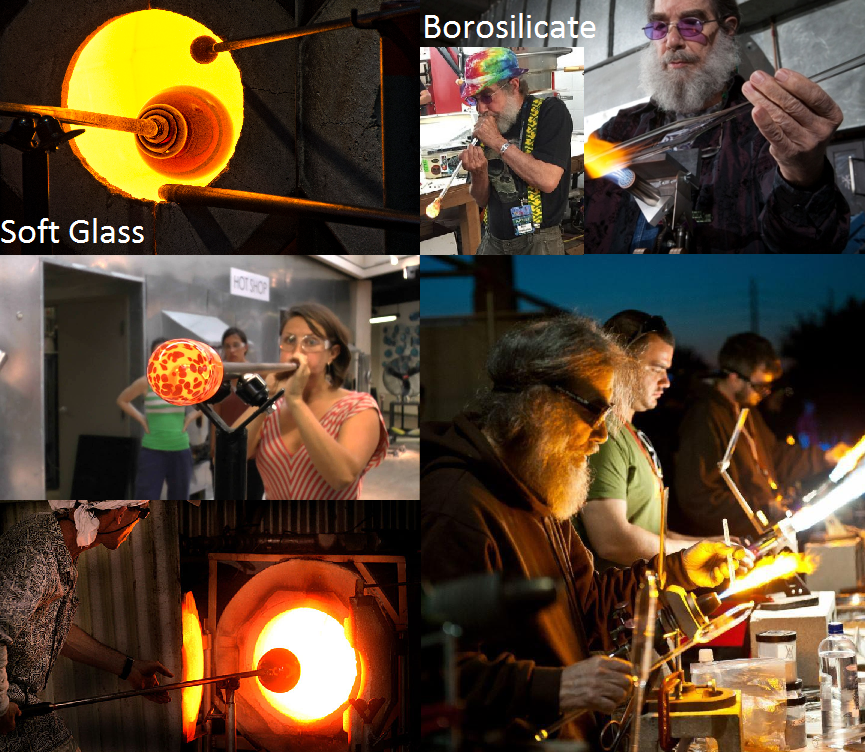 SO WHAT IS THE DIFFERENCE?:
Effetre is considered a medium-soft glass and is popular because of its wide range of colors and the ease with which it is manipulated and shaped when hot. This is an Italian word, abbreviated form of fratelli tre, three brothers. Keep in mind this type of glass is not ideal for the scientific use such as glass in a laboratory. The use of soft glass tubing has been fading due, somewhat, to environmental concerns and health risks, but mainly due to the adoption of Borosilicate glass by most lampworkers, especially since colored glasses compatible with clear Borosilicate were developed.
"Soft Glass" is sometimes useful because it melts at lower temperatures, however it does not react well to quick temperature changes like Borosilicate glass does. It is perfect for artwork, and has a much more diverse color palette, but is not near as stable as Borosilicate. This type of glass expands and contracts a lot more than Borosilicate when heated or cooled, and must be kept at an even temperature while working with it. This is especially critical if the piece being made has sections of varying thickness. Thin areas can cool below the "stress point", and shrinking caused by this can crack the glass. "Hard glass," or Borosilicate, shrinks much less, so it is more forgiving. Borosilicate is just like regular Silicate glass [SiO2], but it has a more flexible molecular structure from being doped with boron.  
Although lack of a precise definition for lampworking makes it difficult to determine when this technique was first developed, the earliest verified "Soft Glass" is probably a collection of beads thought to date to the fifth century BC. Lampworking became widely practiced in Murano, Italy in the 14th century. In the mid 19th century Lampwork technique was extended to the production of paperweights, primarily in France, where it became a popular art form, still collected today. This old style of Lampworking differs from the #glassblowing techniqes I have been trained in. This type of glass work uses a furnace as the main heat source, and torches are not used as much. One could say that it is very pretty, but easily broken. Very different from the extremely hard Borosilicate glass which has a very limited color palette even today. This is why pipes and waterpipes made out of "Soft Glass" are beautiful, but are an accident waiting to happen. Borosilicate was quickly selected as a replacement for the industry I work in, which is the mainly the crafting of #glass #marijuana smoking devices and jewelry. As my Borosilicate intro from the beginning of this thread stated, there are many other scientific uses for Borosilicate, but I am not blowing glass for chemistry applications ETC. at this time.
Genuine Effetre glass is made in Italy by the Effetre International Company on the island of Murano. It has a working temperature of 1,733 °F (945 °C) and a coefficient of expansion value of 104. Effetre is a variety of soda-lime glass. The triple mix torches that I use personally are made by Glass Torch Tech and are far too hot for this type of glass. While I have never worked with it, I do respect it, and I am very happy that I am be able to share the subtle differences that deserve appreciation. I feel compelled to share the "Soft Glass" that inspires me even though I do not work the same medium. Effetre will never die, and pioneered us into the modern glass industry that we know, love, and take for granted. Many amazing glassblowers throughout centuries literally gave their lives to discover, and lead us to where we are now. We salute you! Let's enjoy the fruits of their labor together.