FREE CRYPTO - Airdrops & Giveaways - September 15th Update
I love getting free stuff, so claiming cryptocurrency airdrops has become my new hobby. I posted a list of the current airdrops at the beginning of the month, but some of those are no longer current and some airdrops have popped up since then. Here is my updated list for September 2017!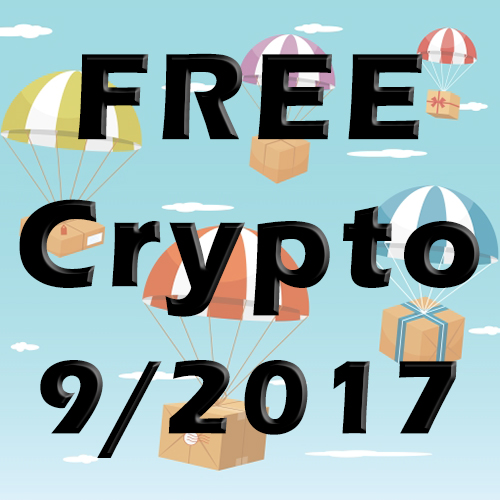 Airdrops
Authorship - The Authorship airdrop has ended so if you did this you need to fill out this form to receive the tokens.
CoinStarter - Get free 10 CoinStarter tokens for signing up and 1 for logging in every day.
COOL - This "fundrop" is for members or above on Bitcointalk.
Datum - Get 100 Datum DAT tokens free and earn more for tasks such as following Datum on Twitter and retweeting them.
eBTC - A version of Bitcoin that runs on the Ethereum blockchain. Sign up for their airdrop with one of the compatible wallets listed on their site.
Engima - Get one Enigma token free with this link.
Masternodecoin - Get a Windows wallet and then sign up for the 2nd round airdrop. You must be a Bitcointalk user.
My Big Coin - If you have a Bitcointalk account you can private message the My Big Coin account to receive the airdrop.
Nodum - Sign up for the airdrop here. You can put NOD12690433717 as your referral.
Sphere - This is a new facebook-like decenteralized social network that is free from corporations stealing your data. This will be like Steemit in that you can earn crypto for using the platform. Get free 200 SAT tokens for signing up (worth $10 at ICO).
Universa Blockchain Protool - Get 50 free mUTN for creating an account.
WCX - Get 50 WCX for verifying your email.
Giveaways
Adzbuzz - This is a reddit-style social media website that you can get free coins by logging in every day and using the platform.
Bitrad.io - Listen to radio stations of all different genres and from all over the world and get rewarded with cryptocurrency.
Quoinpro - A multi-crypto wallet that gives you free small amounts of 13 coins daily with no deposit necessary.
Swift Demand - An experiment in basic universal income where you can claim 100 Swift coins per day.
Let me know if you know of any other airdrops and giveaways! Also let me know if any of these airdrops expire. FYI some (but not all) of these links are referrals.
Faucets
Faucets give you free satoshi but most of the time they're not worth your time. Here are the only three that I still use.
Bitfun - The satoshi will build up in your account so I claim from this every few days. Has dice and other games.
Free Bitcoin - Claim hourly. This one gives you 4% interest on your balance over 30K satoshi. Has a dice game and a pay/free lottery.
Moon Bitcoin - You can claim every 5 minutes, but I find it's only worth it to claim daily to get the bonus.
Join the Free Crypto Facebook Group where we share info about the latest airdrops and giveaways or like the Free Crypto Facebook Page.