1000 FOLLOWERS! Thank You! 10 SBD Giveaway!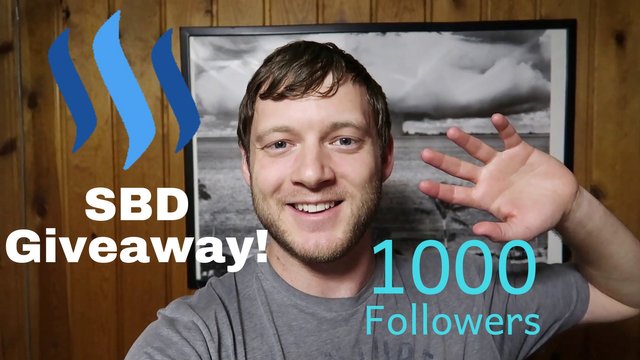 Wow. I really did not expect to get such a big boost in followers this week. I was sitting stagnant for quite a while so it came as a surprise. But now I am at over 1000 followers and counting!

I think a thank you to @dtube is in order. The jump in followers came after that account gave me a 100% upvote on my latest video. Check it out here. I never saw that upvote coming, but thank you, DTube.
I am so grateful to all my followers, both the brand new ones and those that have been sticking around for a while. 1000 seems like a big number here on Steem.
To celebrate this milestone I want to give back. So I'm doing a giveaway of 10 SBD. 2 Steemians will get 5 SBD each.
Here are the rules:
1. Follow my account on Steem if you haven't already

2. Resteem this post

3. Write a comment on this post giving me a constructive criticism about my videos.

That's it. Yes, for the constructive criticism you'll have to watch at least one of my videos. If you're new to my stuff and haven't seen any, hey, I linked one in this post so watch that one.
I'm always looking to improve my videos, so what do you think could be better about them? Would you like to see a different style? Do you think I could groom myself better? What should I do differently? Let me know.
Make sure it's constructive criticism and not destructive or it won't qualify. Those that have obviously not watched any of my videos will not qualify.
How I'll pick the winners
After the 7 day period is complete, I'll confirm that each entry followed the rules and each person that enters will get their username written down on an individual piece of paper. I will then draw two names out of a hat and those two will receive 5 SBD each. I will record this process on video and post it to DLive.
May the odds be ever in your favor. ;)
Happy Steeming and see you next week with the results.