4500 Followers Giveaway - Comment To Win!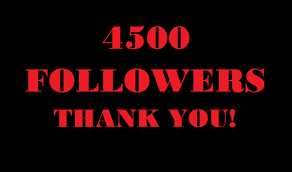 Once again, my Follower numbers have crept up and I am looking at another significant milestone.
Anyone who wants to claim a share in the SBD earned by this Giveaway Post, please leave a Comment below and you will receive a share in, not just the SBD earned, but also the interest that is gained from investing these earnings in Smartcash Smart Rewards after a month. At present we are looking at a 1.67% gain for the month ending August 25.
As always, Upvotes and Resteems are welcome, to boost the earning capacity of this Post, but are not necessary to qualify for the Giveaway. All I need to see is a Comment to show that you are an active Follower...