This is something that in 2 years I have never done, but I want to do it because i think that people will actually appreciate it more than me reviewing "Bird Box" for example (which, consequently is something i will do tomorrow.)
I spent 3 hours waiting for my dog's beauty salon treatment to be complete and well, i think and my pal over at @bdmillergallery (follow him, he is awesomer than me) would appreciate.
This morning I had to wake up early to take what is, quite simply, the most important thing in the world to me, to get a haircut... She was nervous but honestly she had no idea why she was going on a trip - perhaps it was me that was nervous.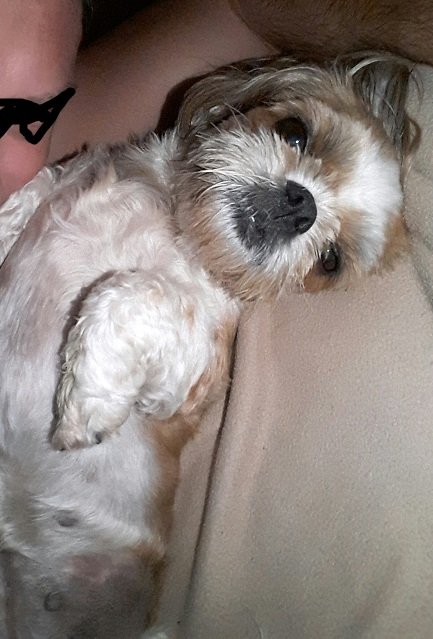 This is the before picture. I give her bunches of treats and belly-rubs because i know that she hates going to the haircut place. I hate taking her there. She was none-the-wiser. But it had to be done because it is too hot in this country for her to have long hair.
I went and had a nervous breakfast because i knew it would take 2 hours. She was getting the full haircut and also nails done (cut-i am afraid to do this at home.) and well, she was very nervous when i left her, scratching on the glass and what not. But when i went back to pick her up i also bought like nearly $50 worth of doggie-treatie-pies!!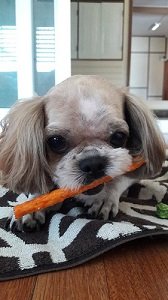 )
Now despite the fact that she is, right here, enjoying a cheesy-poof I can assure you that my punishment is not over. She remembers that I made her disappear to the evil hair-cut den for several hours and I paid for it for several more hours. I bought so many treats for her and trust me when i say that i needed to dispense them liberally for many hours after the return from the haircut shop.
It has gotten to the point that when i take her to the haircut shop she can smell it from blocks away and despite the fact that she is contained in a doggie carrier (the same one that I take her for long walks in) she knows the difference and will actually try to shake us off the road and kill both of us on the road rather than go through the haircut procedure.
This is something that has to be done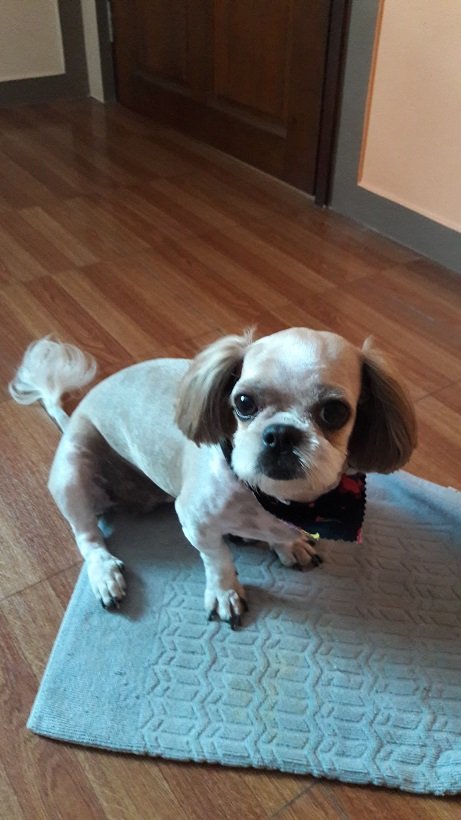 So there she is, in all her glory, after her most hated experience that happens once every 3 weeks or so. I suppose the good news is that she is a dog and has no concept of time and can not therefore pre-determine when her next visit to the doggy haricut place is going to happen. She will be just as enthusiastic to jump in the doggy carrier tomorrow as she was 4 days ago because i think that she knows that a vast majority of the time, getting in there means a trip to the park and that is just a "roll of the dice" about how once out of every 20 or so entries is going to lead her to a place that she really doens't want to be.
At the end of the day, she is my angel and I only make her get haircuts for her own good and if she has to hate me for a little while after doing them that is ok.
plus, even though she knows about as much as any dog knows about money and the purchasing of items, she always ends up getting a bag of snacks that are most likely meant of Golden Retrievers rather than 6kg Shih-Tzu's.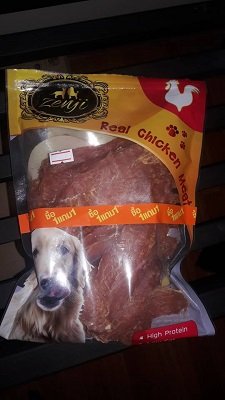 just one of these keeps her occupied for half an hour