UK & France blatant geoengineering: photographic evidence
I returned to the UK this month for the first time in over three years and was shocked by what I saw in the skies. There can be no doubt that the intensity has increased there. My partner Sabrina (who has lived in the South of France all her life) confirmed the same thing when we returned to France this year after two years in Bali. It used to be endless blue skies here, but not any more. Now it looks like this most days and it isn't hard to see which 'clouds' are man made.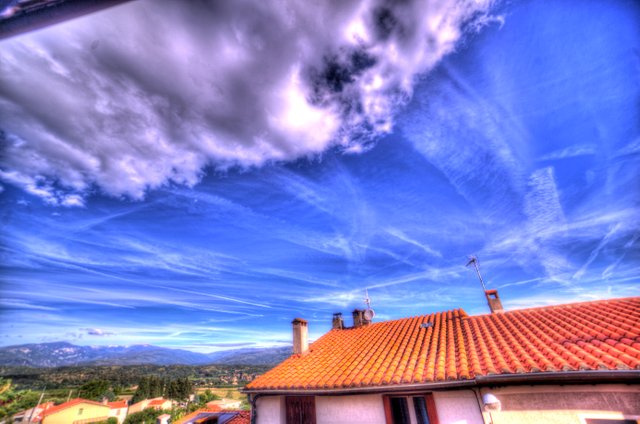 I flew Ryanair from Perpignan to Stansted and noted that while we were over the ocean there was no evidence at all of trails in the sky.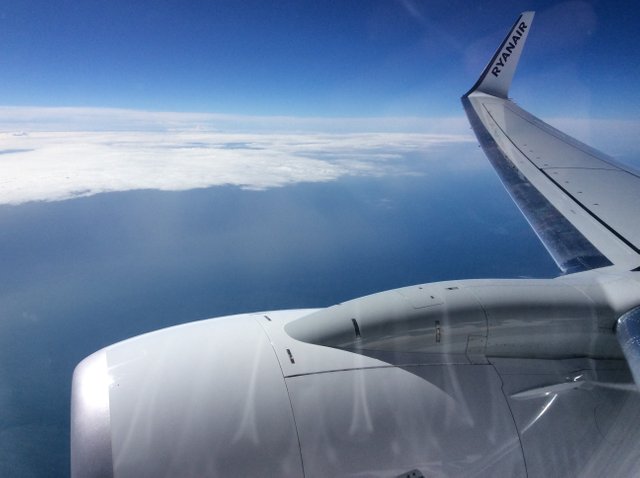 Waiting for my mother at Stansted airport I shot this. Very different to how it looked out at sea.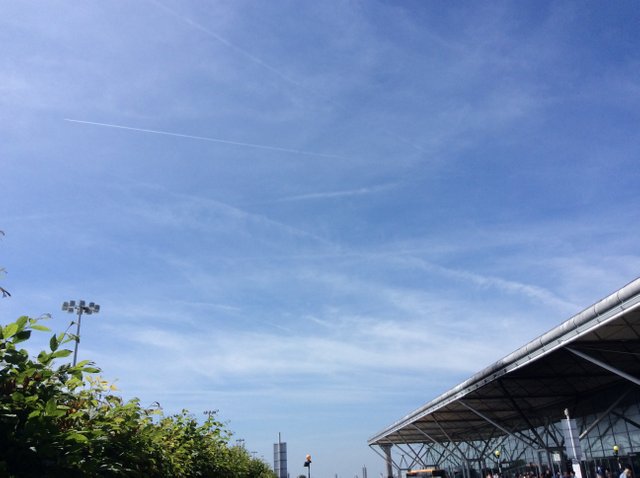 I mentioned the chemtrail story to my mother (somewhat tentatively) and she assured me that her home (where we were going) was not near any airports or on any flight paths. Yet when we arrived there, just like everywhere else I visited in the UK, the sky was full of lines which appeared to be creating a general haze in the air.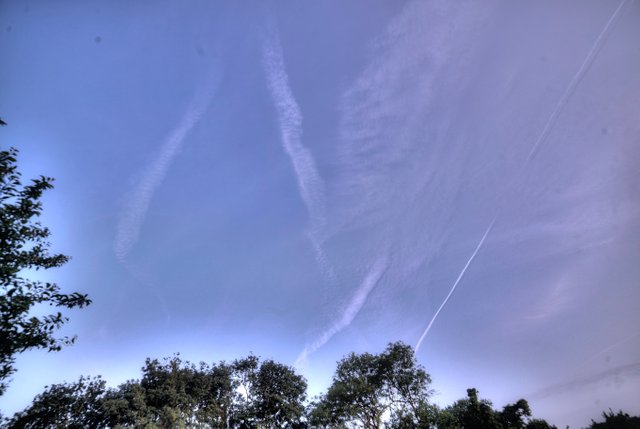 Fresh lines kept appearing in the sky above her home right through till sunset.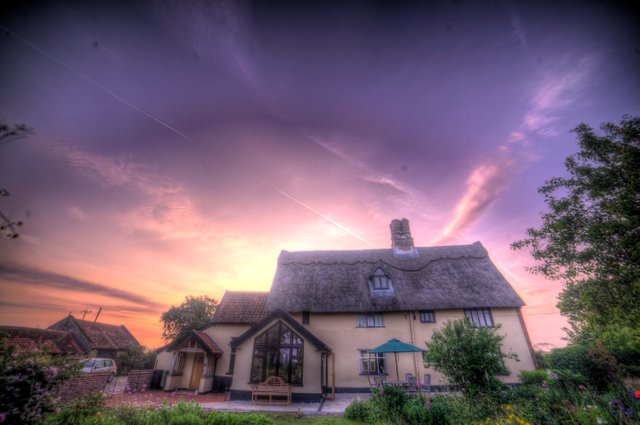 I visited London but have to admit I was too busy having fun with @dannyshine to take any shots of the sky. It was the usual London hazy/smog.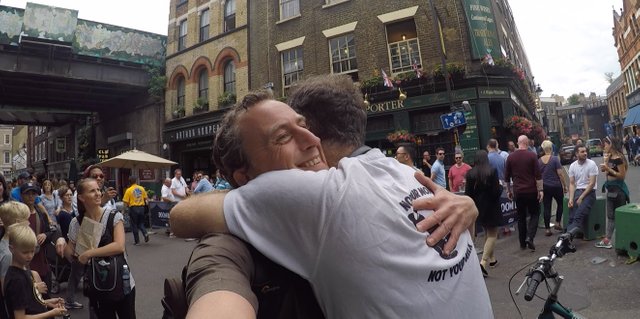 After this I spent my time in Kent which is Southern UK and again I was shocked by what I saw.
The sky was a perfect blue on this particular afternoon by the river but then out of no where the planes arrived, leaving this complete mess.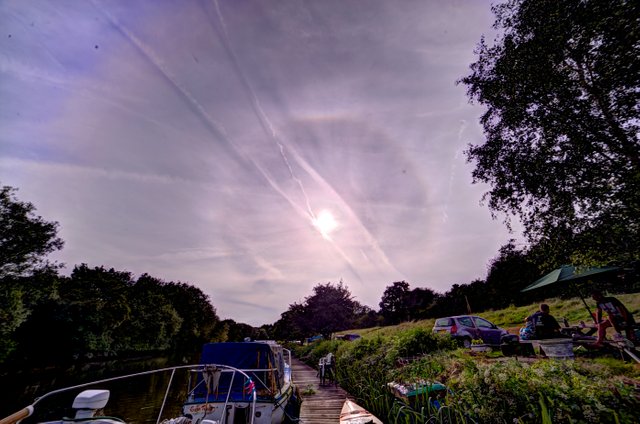 There is absolutely nothing natural about this sky and what's with the multiple rings around the sun???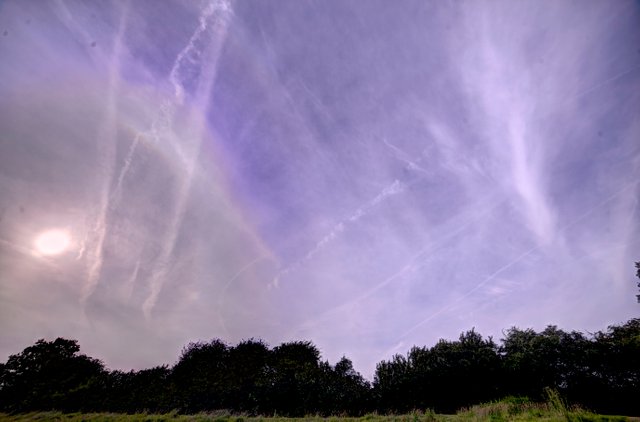 On the day I returned to France there were lines as far as the eye could see.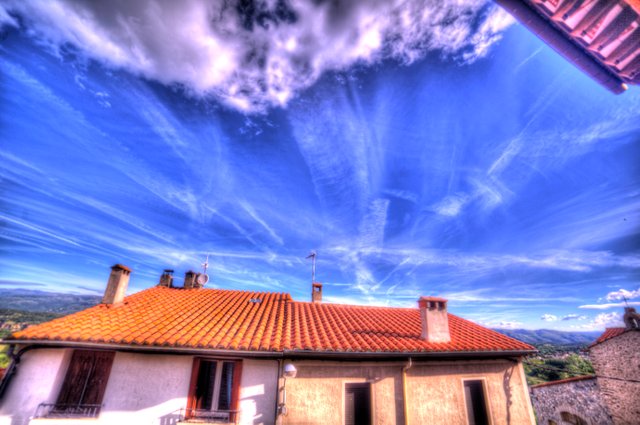 When it isn't like this, the skies are clear blue as they should be and there are no planes at all.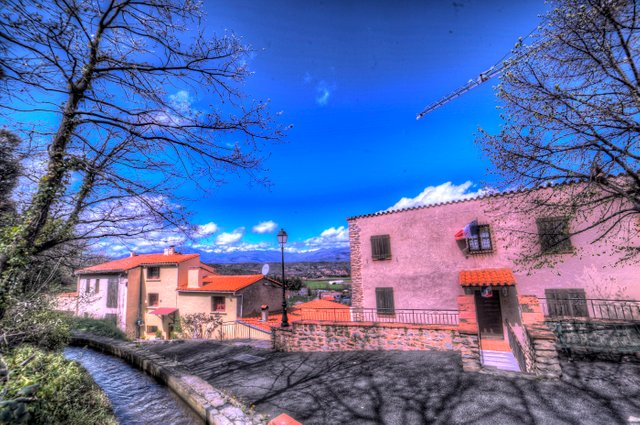 Strange don't you think that (supposedly) domestic flights simply stop operating some days. Or could it be that what we are looking at here are not domestic flights at all?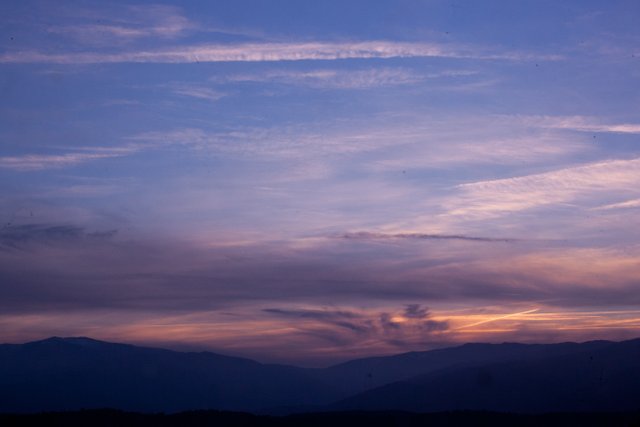 My attention from all this madness was thankfully relieved when I spotted this lenticular cloud formation... swirling in the high mountain winds.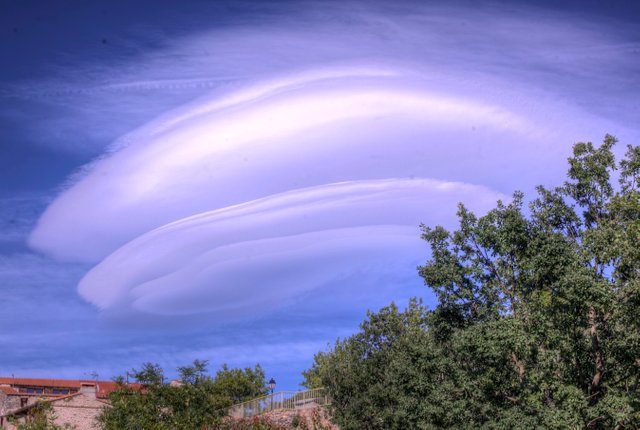 A beautiful sight to behold and fine way to get back to the important feeling of appreciation for my immediate surroundings.
There are plenty of mad things going on in the world, most of them hopelessly beyond our control. So... have an awareness, share your truth and then get back on with having fun!
If you want to learn more check out this great post by @teamsteem and this one by @an0nkn0wledge both on the subject of geoengineering.

He was a London based filmmaker until he sold everything and set out on a barefoot journey around the world, currently based in the south of France.

He is travelling the world with his partner & two children and with no bank account he has been living on STEEM & crypto for over a year.

All content created for this account is 100% original (unless otherwise stated), produced by @samstonehill who invites you to use & share freely as you wish.
@steemshop account where you can buy or sell anything you like using your steemit wallet SEE MORE
@steemmasters which provides FREE TUTORIALS, personal training & resteeming services. Website HERE
Contact me directly on steemit.chat if you want to know more about this
@steemholidays which encourages resort owners to offer holiday packages in Steem or SBD
@steemtv which aims to provide the best in decentralised films, exclusive to Steemit & DTube
The dailyquotes tag initiative designed to encourage steemians to share their most life changing quotes with the community on a daily basis.
The Aspiring Steemit Whales & Dolphins group on Facebook which seeks to help newcomers make the transition from Facebook to Steemit, providing them with detailed notes and personal assistance with their posts... resteeming them when he can.

---
Here is a list of Steemit Witness I have voted for & recommend you do the same:
@teamsteem @timcliff @jesta @good-karma @someguy123 @blocktrades @pfunk @klye @krnel @blueorgy @ausbitbank @thecryptodrive @ura-soul @pharesim
Without them our beloved Steemship would not fly.
Learn what this means HERE and place your vote HERE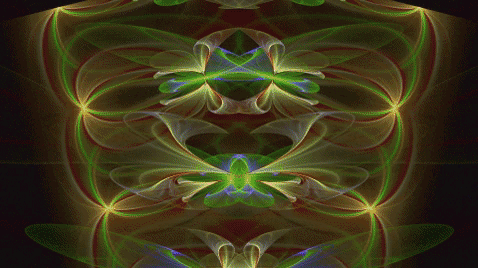 All non original photo sources can be found by clicking on the image