Genesis Network | Welcome + Masternode Info & Block Reward Restructuring | $GENX

Welcome Steemians! 
First and foremost, welcome to the Official Genesis Network Steemit account. We will utilize this account for our blog and major announcements. To keep users engaged on Steemit and in true Genesis fashion, all funds generated via upvotes, reposts, etc. will be distributed back to the community or utilized for Steemit promotional reposts.
Also, keep an eye on our Steemit for yet another way to get free $GENX for participation. We'll be doing promotion giveaways, upvote/repost giveaways, etc. Find out other ways you can get free $GENX by visiting our social media links below.
If you've been following us for a while, you know Genesis is a fair-launch, Equihash PoW cryptocurrency with a robust roadmap and plans to create multi-payment processing and point-of-sale platforms.
On our roadmap, we discuss implementation of Proof-of-Stake (PoS) and Masternodes. PoS allows users to get involved that do not have access to hardware for PoW mining and allows a "green" form of solving blocks. Masternodes are required for Genesis to reach its future goals via instant send, dynamic checkpointing and governance.
We will get into why these (along with other) benefits are important in a future blog post, but right now, let's get into PoS/MN info along with some specs.
Genesis Future Block Reward Restructuring
For PoS/MN release, Genesis will no longer utilize randomized block rewards. Instead of a randomized 20-1000 $GENX Proof-of-Work (PoW) block every 60 seconds, the $GENX block reward will be structured as follows:
1 PoW block of 500 $GENX every 60 seconds
1 variable Proof-of-Stake (vPoS) block with a max of 500 $GENX every 60 seconds

The PoS reward will be a pro-rated percentage of the stake input, based on the age of the transaction that will satisfy our required annual return for PoS

This allows a fixed annual return rate instead of a fixed reward  
Genesis General Masternode Information
We've decided to look at the two masternode "kings" $DASH and $PIVX in order to get a general idea of what would be best as far as masternode specs and requirements goes. By utilizing this info, along with some of our base needs from masternodes, we have determined that the best collateral amount for Genesis Masternodes will be set at 750,000 $GENX 
For chart simplification, we've added assumed maxes of PoW and vPoS into a 1-minute timespan to show Masternode emission rate.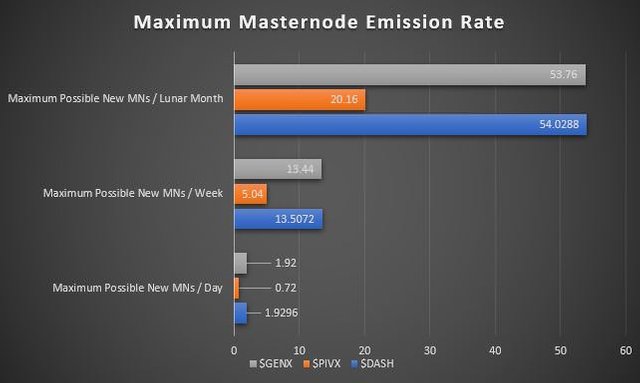 As this would be the "max" amount of masternodes that can be emitted, it can be safely assumed that this number will be significantly less due to variable PoS. This will put our emission rate comfortably in the middle of the pack. From an ROI perspective, governance (your count voting) aspect, and dynamic rewards (will discuss in future blog post), we believe that masternode owners will be comfortable with these ratios. 
Final Thoughts
As for a release date for PoS/MNs, we cannot provide that info at this time. This is due to the need for more development and extensive testing. Coin supply needs to be factored as well. Per the collateral requirements, if all coins were locked into masternodes, there would be only 71 masternodes available at the time of writing. Until the release date, there are multiple ways to get involved in the Genesis Network community and earn $GENX. Please visit our website and social media links down below for more information. 
- Shelby Sowell
Genesis Founder/Project Manager
Website - Mining Pools - Exchanges - Forums - Faucet
Twitter - Discord - Reddit - Facebook - Github