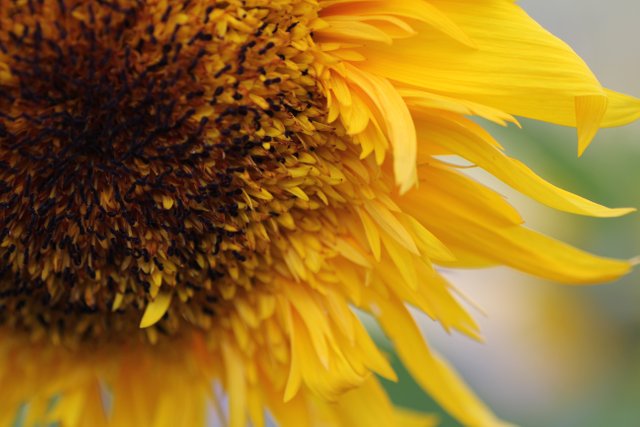 Dramatic and cheerful the sunflower (helianthus annuus) is one of my favourite flowers.
It is actually quite a practical homestead crop, with a lot to offer. It can help improve soil, provides nutritious food, attracts pollinators and lifts the human spirit.
Sunflowers also act as an excellent trellis and provide valuable shade in gardens. You'll often find vine plants like cucumbers growing up the stalks of the sunflowers in our gardens.
We started growing sunflowers simply to have an army of faces gazing east towards the sun. Over the years we have learned a lot more about this amazing plant and the long list of benefits it offers and so we just keep planting more and more of them every year.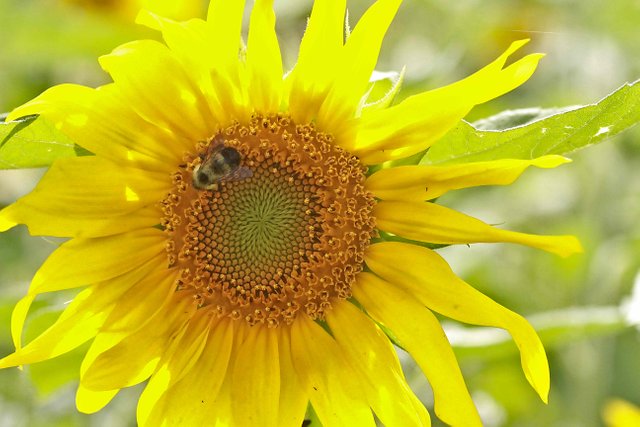 Look at that amazing geometric pattern. Sunflowers as just such cool plants! Just think about how remarkable it is that this beautiful creation came from a tiny seed.
Draught Tolerant, weed suppressing, pollinator attracting warriors
We use sunflowers to protect and build up our soil. They create an excellent green manure and do a wonderful job of suppressing weeds. This year we sprinkled the sunflower seeds quite heavily over a freshly broken area of land. Although they are a bit on the small side, they did quite well considering this is heavy clay soil and we had drought like conditions most of the summer.
We will harvest the heads, and hull them for the seeds - something that will take quite some time considering the number of heads we've grown this year. The stalks will be left to break down over the winter. Next year those seeds will get planted again. Its a great way for us to build up our seed stock, enjoy the sunflowers and improve our soil.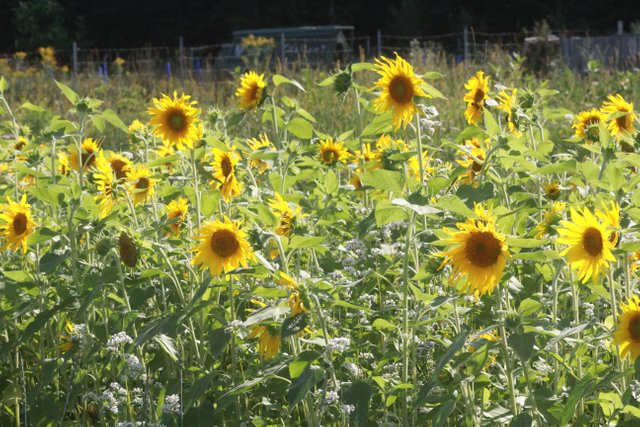 The Peredovik Sunflower offers plump black seeds rich in oils. This is great for growing oilseeds or wild bird/poultry feed. It is also a gorgeous yellow sunflower around 3-4 feet tall.
This is the Mammoth Russian Sunflower
This sunflower grows huge single heads on top of thick sturdy stalks. Some of the heads are about the size of a dinner plate. They produce a LOT of large striped seeds are excellent food. Sunflowers are loaded with healthy fats and are a good source of fiber, protein, iron, vitamin E.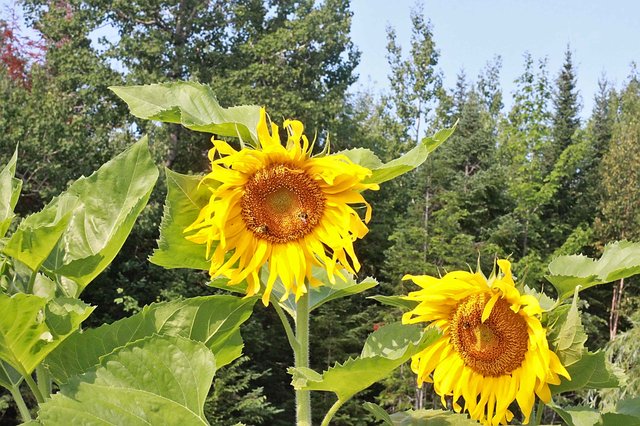 Versatile seeds
Sunflower seeds are versatile although some are better for oil and others food. The seeds can be transformed into a nut like butter, flour or used as a nut substitute. We find that pine nuts are really expensive so we'll use sunflower seeds instead when making pesto.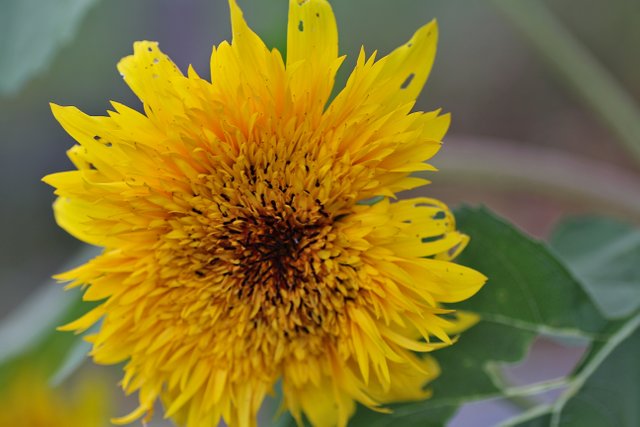 Hello little sunflower. I must admit I have no idea what type of sunflower this is. I have a bad habit of forgetting to label my seed jars and packets!
Under alkaline conditions, such as mixing sunflower seeds with baking soda, the seeds will undergo a dramatic transformation in color. Those pale brownish seeds will turn a vibrant blue/green. This article explains more of the science and shares a fascinating recipe that takes advantage of the green sunflower seeds and their savoury, nutty, almost shrimpy flavour.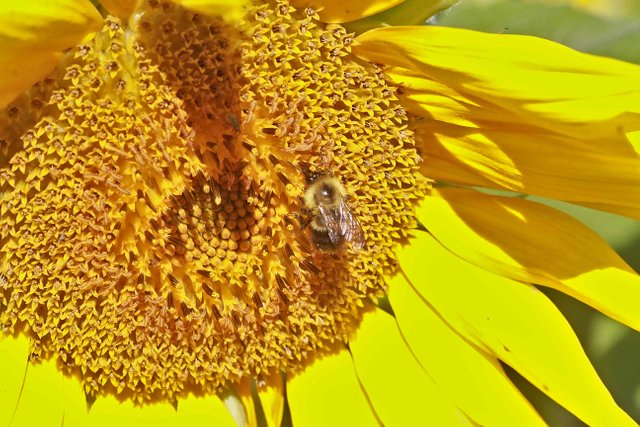 You can make a yellow dye from the petals and a a purple-black dye is obtainable from the seed of certain varieties.
The leaves and even stalks are edible although some caution is warranted. They must come from organic, soil free of toxins. I like the young leaves and LOVE eating the tender shoots when thinning the crop but the stalks are an acquired taste/texture that I have not learned to love.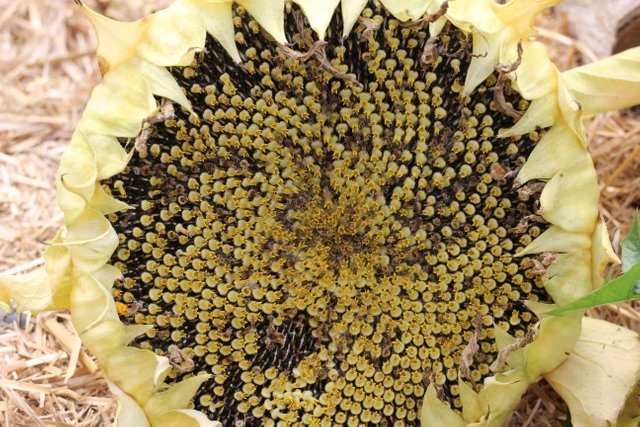 When the sunflowers are ready for harvest you simply brush away all of the dried plant material to reveal all of the seeds.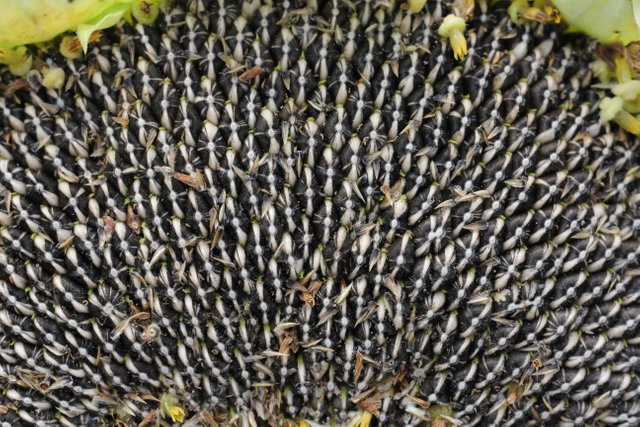 Look at all those seeds nestled in there! Each of the mammoth sunflowers provides hundreds of seeds. This is one of the reasons we love this version of sunflower.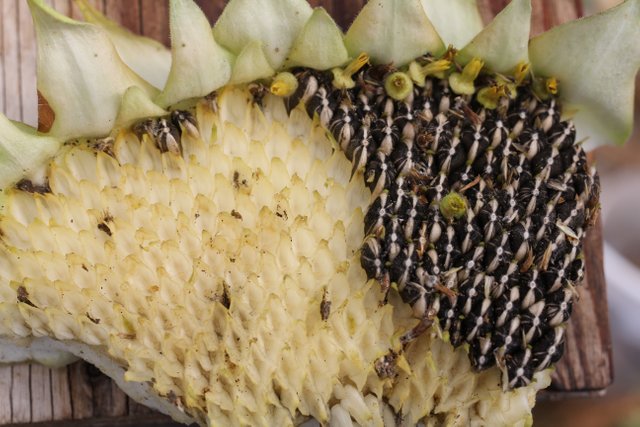 We break the sunflower into pieces and gently work at dislodging the seeds. Once you get a section going, they flick out very quickly. The seeds are laid out flat on a mesh rack and allowed to dry for 4-5 days before they are stored in mason jars.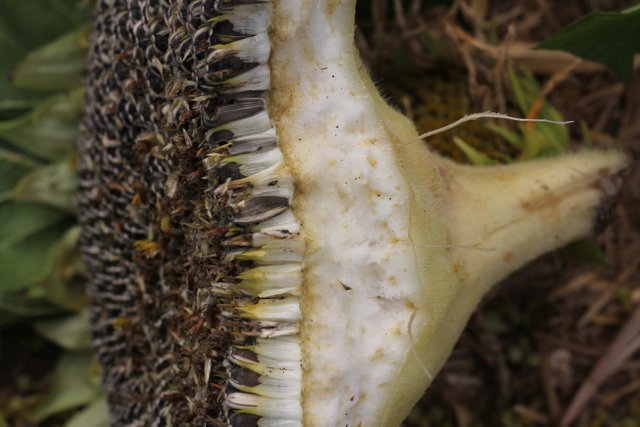 The inner part of the sunflower and stalk contains a very light pillowy substance. Apparently the husk fibre can be used to make paper and one company has used it to make biodegradable plant pots.
Here at Walkerland, we love sunflowers and have benefited so much from including them in our natural approach to growing food and nurturing the soil.
[@walkerland ]
Building a greener, more beautiful world one seed at a time.
Homesteading | Gardening | Frugal Living | Preserving Food| From Scratch
Cooking|

You can also find me at: walkerland.ca |
Facebook

Photo copyright: @walkerland