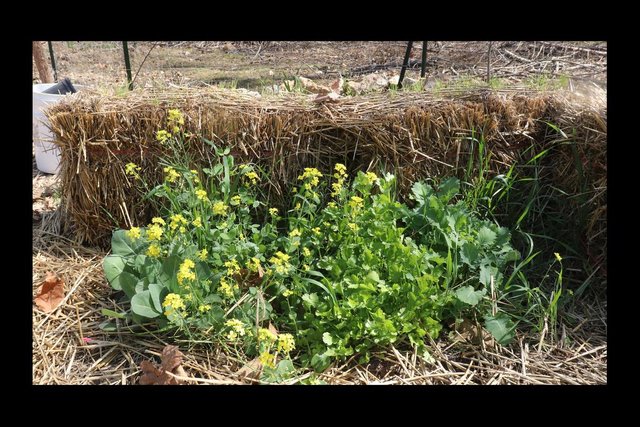 Another experiment, more experience gained, and another lesson learned.
---
Some months back I built my first cold frame ever out of some straw bales and a sheet of glass. It was an experiment, and I think that it went rather well. With the fluctuating temperatures all winter long where it varied between 30 and 80 degrees, I wasn't able to vent it every time that it got too hot...
For that reason my Canton Bok and Pak Choy bolted, but the Cilantro, Dwarf Siberian Kale, and Greyhound Cabbage did rather well. I've learned a few things, grew a few things, and now have a story to tell. Enjoy the video!

STRAW BALE COLD FRAME UPDATE VIDEO

PREVIOUS VIDEOS OF THIS PROJECT
Just in case you wanted some backstory on this experiment, I've pulled up the two previous videos I made for your viewing pleasure. Check them out if you are interested!
---
SIMPLE COLD FRAME BUILD VIDEO
To extend our growing season, I built a simple cold frame. Cold frames are basically small structure with a transparent lid. This allows the inside of the frame to be warmer and therefore keep plants growing longer into the cold season, and possibly even all winter! Mine is simple, made from just six straw bales and some glass from a window.
---
PLANTING THE STRAW BALE COLD FRAME VIDEO
About two weeks ago (at the time), I made this straw bale cold frame. Anyway, since my life moves at the "speed of life" it wasn't until yesterday that I finally got it planted. I had asked for suggestions of what to plant on the last video, and three of you chimed in with some good suggestions. In the end, I planted some Bok Choy, Cilantro, Greyhound Cabbage, & Siberian Kale. Now, it's time to wait and watch my winter food grow!

Until next time…
STEEMIT LIKE YOU MEAN IT!

Want to sell sustainable, handmade products in the Homesteaders Co-op?