As soon as I heard that there was a storm on the way to the UK I prepared my garden for the worst, I made sure that everything that needed to be put away was away.
But there was something that I did't prepare for, the wind was to destroy some of my greenhouse glass.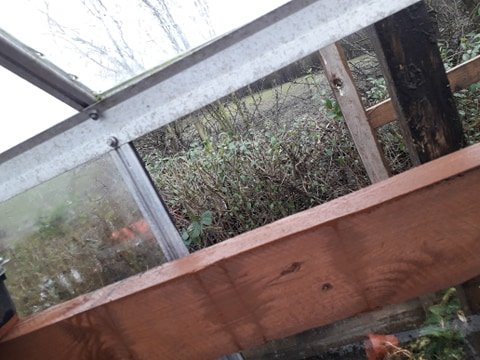 Something had blown against a panel and smashed it and I could do nothing to stop it, that was a panel down and what could I do.
Something that I had in my greenhouse caught my eye, bubble wrap. I had got it free with the greenhouse when I went to collect it and I was going to use it to wrap around my plant bases to keep them warmer from frost.
I decided to use the bubble wrap to fill the hole, this kind of worked as the panel didn't swing around as much which would reduce the damaged to what was left of the glass.
I pushed it in the metal greenhouse frame to hold it in place. this blocked the hole but didn't stop the rain from dripping through.
I had another idea. lets use the dripping water to water my plants that I had in the greenhouse.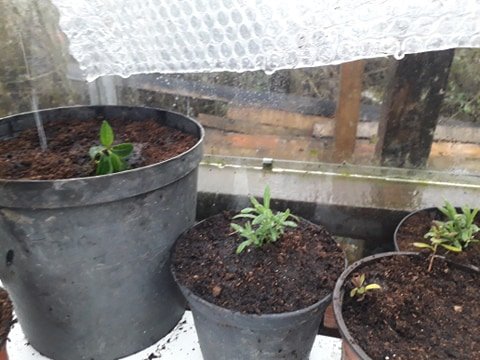 As the water ran in it was making small drips, so I place the plants that needed a much needed water under the drips, this was great as I was then on a mission to take my seedlings and pop them in 6 cell trays.
I thought to myself that I needed to take advantage of the situation as the rain and wind would stop me from digging and turning over the soil that I had planned on doing this weekend.
I decided to take my freshly growing petunias and pick them out one by one and plant them in their own cell, this was all I could really do while the rain and the wind hit the greenhouse.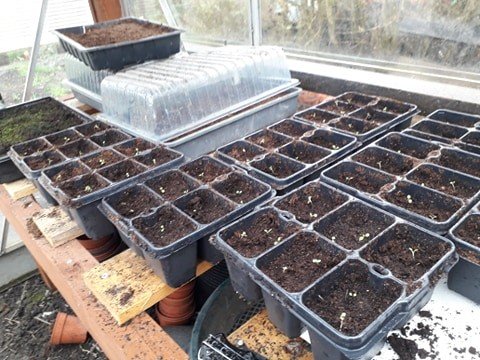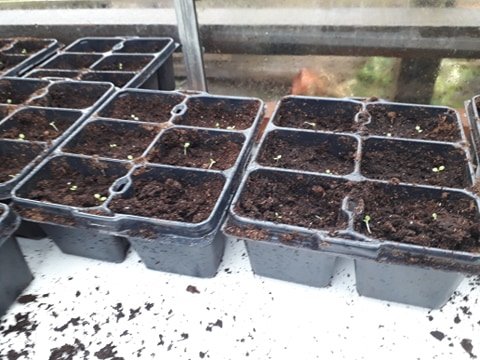 Last year I had taken cuttings of my lavender plant and they took root, I had pretty much left them in the greenhouse all winter and neglected to look after them and water them, there was a surprise when I took them off my top shelf, they had lived, and so had my butterfly bush cuttings.
It turned out that while in the greenhouse they had grown a moss that had covered the top leer of compost and that had kept the soil moist, nature had found away to keep them alive without me been there which was pretty cool to see.
Another plant that had made it though was a cutting that I don't even remember keeping and that was from the privet bush, I did take some cuttings and I thought that I had used them all to put around the garden, but their it was standing there in all its glory saying look at me I made it through winter.
I have had to come in now as the rain has turned to hail and it has turned cold out, I hope that there is no more damage as this will have a massive impact on what I can grow early this year.
maybe I will have to buy some more glass pains to make up for the damage that has been caused so far.
gutted but at least I made good from a bad situation.
happy steeming folks