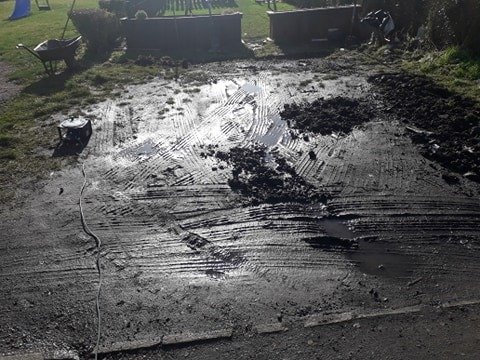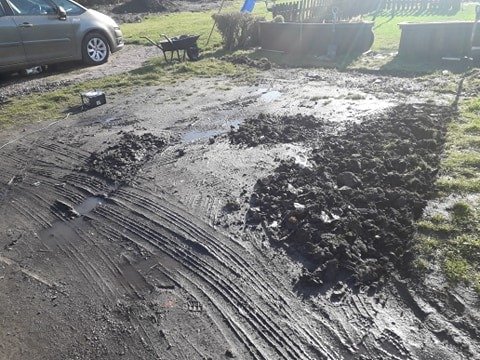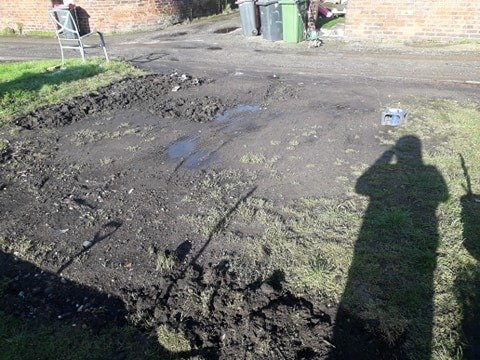 I love where I live, I really do but there has been one thing that has been driving me mad since I moved here and that is where I park my car.
The 3 images above are in fact my drive way and as you can see it is a sloppy mess.
2 years I have been thinking of ways to fix the slop problem and everything is either too expensive or weighs too much to put in the car.
My first thought was popping concrete slabs down, this is a great solid base that would last a long time, but the more I looked into it the more it put me off, there would be sand to buy and the prep work would be way to much of a task.
I then thought about adding pebbles to it, pebbles look nice I kept thinking to myself, but then when I looked into the price it was going to cost me on the amount calculator over 300 quid, who has that kind of money?
I went back to the drawing board and have sat and thought about it for a long, long time.
The storm the other day made it pretty much impossible to park on my drive, it was like a river of sludge and when I did park on there me my wife and 3 kids then walked the mud into the house and in to the car.
It was driving me nut.....
My uncle came to visit the other day, he has never been to my house before and I took him for a walk in my garden to show him what I have been doing for the last couple of years.
Impressed he was, but what came out of his mouth was and eye opener for me, why is your drive a mud swamp? why don't you do something with it?
Like in the above I explained, and he told me that I was thinking in the wrong direction.
"Road planing's." he said, I had never heard of this before so I listen to him explain to me that the cheapest way to lay a drive is with road planing's.
Now it turns out that when old roads are dug up they take waste to land fill or to a aggregate yard where people like myself can buy it for small to large jobs.
It was the answer I was looking for and after ringing around a few places I got the information I needed and a good price delivered to my door.
Now the only problem was the prep work.
I knew I had to level the ground off, so I went to work with my little electric tiller and turned the muddy slop of a drive over.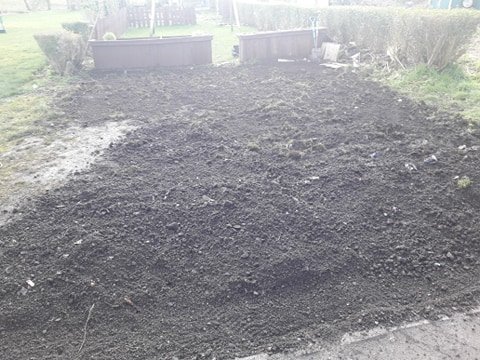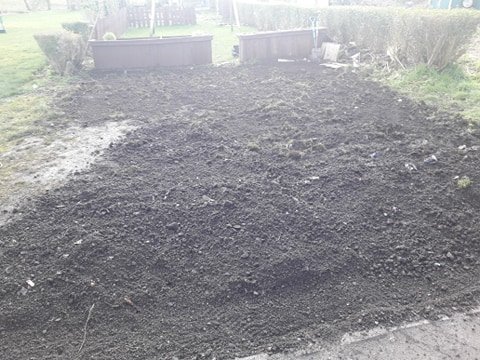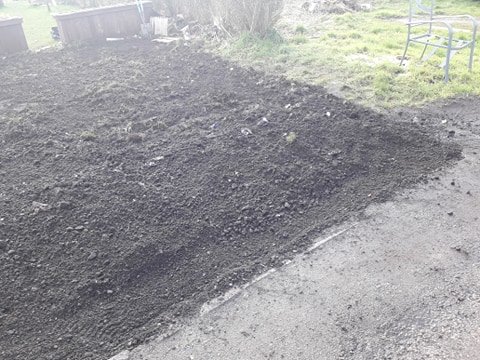 Hard work, it was. I was living the dream, tilling the soil to the depth of around 4 inch and it took a long time, as the tiller did the work of turning the soil I had to then go over it with a rake and make sure that it was as level as it could be.
finally after 5 hours of grafting I was done.
tomorrow morning at 8 am I have my road planing's been delivered and I am not looking forward to moving that mound.
4 tun of road planing's and I am a man on a mission it should be a day to remember for a long time.
I will update you all tomorrow how I got on.
happy steeming guys