My New Garden Project - Day 3
So... some days ago I got assigned piece of land. A 100 m2 plot that I can use as I'd like. Today was day 3, and I've now spent six hours weeding. Here an update. (Or read my first post on this project here)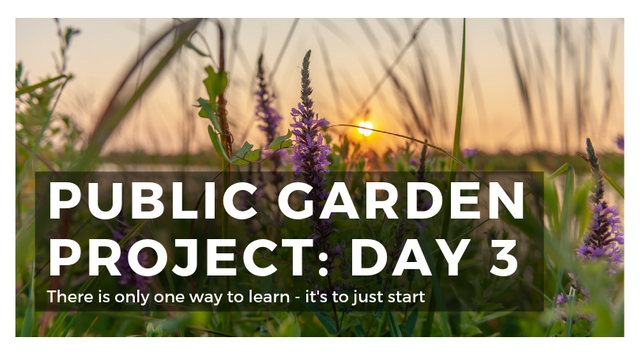 The Weather
I'm trying to do a lot these first couple of days. Weeding, mostly. Creating a path so I can actually get to the end of the plot. It's 5 meters wide, and 21 meters long, so it is a lot of work to get to the end.
The first day, two days ago, I posted about my first failed attempt to get to the plot, when it strated to rain and thunder. A bit dangerous to be out in the fields without protection when thunder and lighting is happening close by, so I went home. But then it stopped raining, and I went back.
This is what the garden looked like as I got it: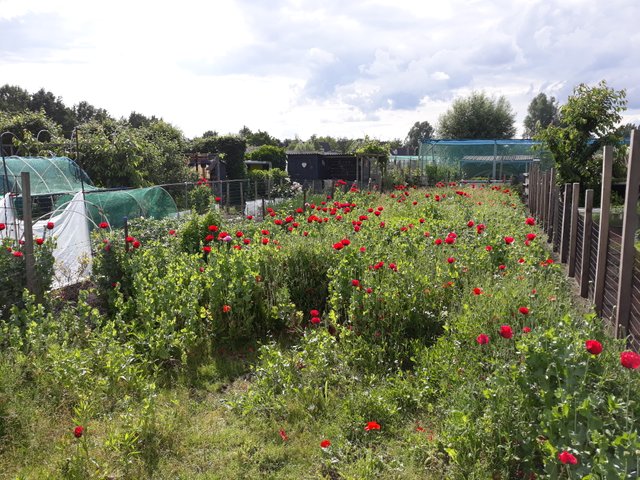 This is my public allotment garden.
I decided to first of all weed myself a pathway towards the end. I decided to do this on the left side, where there were already a lot of empty patches and most of the poppies were on the right. I decided to leave the poppies as they were, as much as possible, because they're so nice. And I dug up and transferred the ones that were in the way to make a border on the far left.
After three hours of work on the first day, with a lot of sweat and pain in my muscles afterwards, this was the result: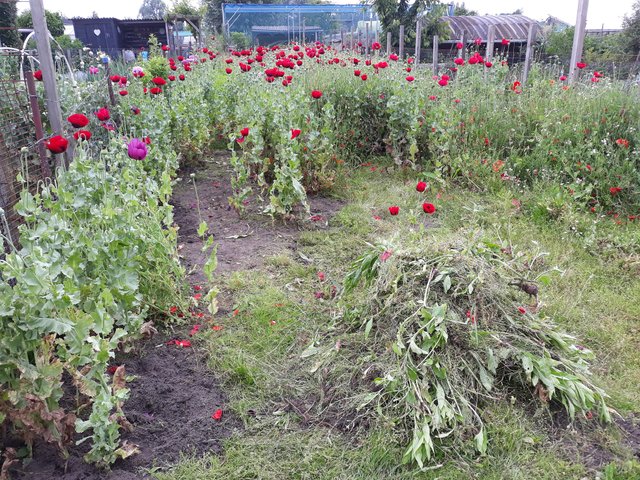 After the first three hours of working in my garden.
Today
Today I went back again, and I worked on expanding the path more. Three hours later, the path is about 15 meters long. My sister joined me, she sat in a chair to keep me company, and helped me figure out what some of the plants were. Turns out, there is quite some radish that has grown to be huge plants. I took out some of it and my sister fed it to her guinea pigs. There were hardly and bulbs left, most of it had grown into large green plants with small white flowers and green drops where next yera's seeds where already growing.
This is what it looked like as I left earlier today: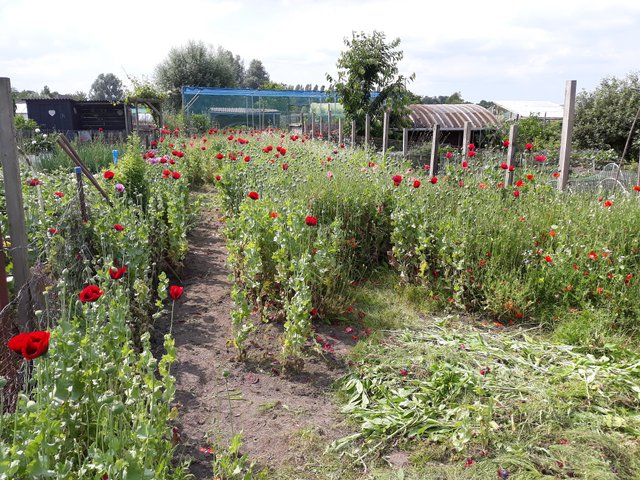 Sme 15 meters of pathway made on the left side.
There is still a lot to be done. But there is a path! And I can almost see the end of the garden :)
Next week there will be a heat wave, so I'm trying to get as much done these few days as possible, so that all the weeds and the roots I pull out can die in the heat. I won't get it all done, but I can tryi to get as much done as possible.
Choices
But. Most of all, choices have to be made.
This plot of land was completely empty at the beginning of the year. All the plants grew in one year only, the seeds and pollen coming from the gardens around, probably. So the question is, what should I do? A fellow gardener advised me to take out everything as soon as possible. Before the poppies and radishes produce their own seed. Otherwise next year there will be even more poppies.
But then... I do like the poppies. I need to empty the borders, the land that borders the other gardens. But I think I'll leave one part of the poppies. And see what happens. Perhaps I'll cut off the heads, to prevent the seeds from going everywhere. And maybe I'll just sow the seeds in that part of the land where I'd like to have more poppies next year. Who knows?
Lots of work to be done, lots of choices to be made.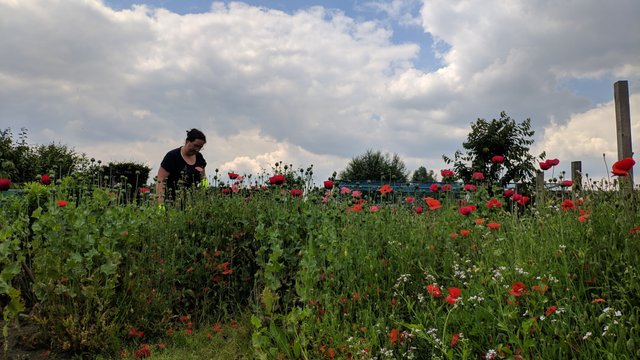 Me, working in my newly obtained garden (public allotment).