Weekly & Monthly Lotteries For Top 20 Players Of Weekly & Monthly Leaderboards - Reward Pool Adjustments - Super 8 Ball Club - The Multiplayer Pool Game
The crypto market is down from quite a long time now. Most of the currencies are keep going downwards including STEEM and that caused a lot of inactivity, not only on Steemit but also in our game. Many users were active just because of the price of STEEM that it was above $1 but as we are going more downwards, we're experiencing more inactivity.
We can't blame STEEM for anything as we all can see that most of the currencies are affected by its long bearish trend. STEEM didn't perform either good or bad as compared to others, but we all hope that things will change in our favor sooner than later.
Due to this very same inactivity, it's been quite difficult to run tournaments as it demands activity of players. After giving it thoughts for so many times, we've finally decided to temporarily stop all the tournaments and replace it with "Lucky-Draw" contest because it sounds exciting and gives everyone an equal chance to win the prizes.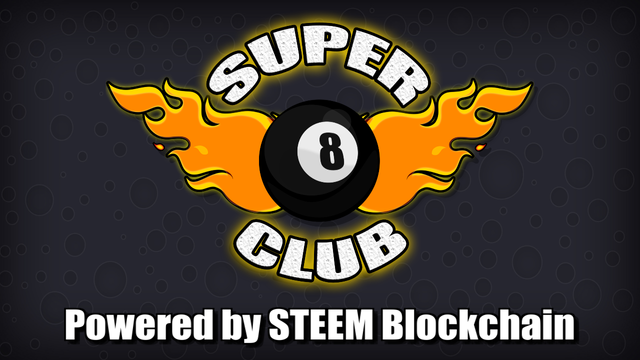 Super8BallClub's Official Website
Google Play Store
Free Lottery for Top 20 Players:
This is an awesome opportunity for every active player because they can simply try their best, win the matches and participate in this lottery by gaining the Top 20 positions in the weekly and monthly leaderboards. The greater is your XP score as compared to other toppers, the higher will be your rank in the leaderboard.
I'm glad to announce that we're starting this Lottery for everyone as a replacement of tournaments. In this Lottery, you can participate by ranking in the Top 20 position and get a chance to win good amount of SBD. By ranking in Top 20, you get lottery tickets and you can also win multiple tickets by ranking in Top 3.
Tickets:
Tickets are unique IDs and that's how we give each player a chance to win the prize. Let's understand this by using the lottery example, you buy more lottery tickets to increase your chances of winning. Similarly, the 3 Toppers will get multiple tickets which would increase their chances of winning the lottery. But there's one big difference, here you don't "buy" these tickets, you "earn" them for free by ranking in Top 20 of the leaderboards.

No. of Tickets according to the ranks:
1st Rank - Player will get 7 tickets.
2nd Rank - Player will get 4 tickets.
3rd Rank - Player will get 2 tickets.
4th to 20th Rank - Each player will get 1 ticket.
There will be the total of 30 tickets with their unique IDs which will help us choose the winners.
Prizes to 3 Lucky Players:
We will pick 3 lucky players by using randomizers such as www.random.org in which we will put your ticket unique IDs and randomize the list and then pick the winners. The actual method will be announced with the first lottery winner post and the verification code will be given in the public so that you all could make sure that lotteries are genuinely happening and we are not cherry-picking anyone based on our personal likings.
The following is the prize percentage of each winner:
1st Winner - 60% of the jackpot
2nd Winner - 25% of the jackpot
3rd Winner - 15% of the jackpot
Jackpot:
You may ask what's the total jackpot of the lotteries. As we are temporarily stopping all the tournaments, the funds and the methods that we used to generate for tournament winners will now be used to fund the lotteries.
Lottery schedule:
Lotteries will take place every week and every month. If you rank in the Top 20 of Weekly leaderboard, you participate in the weekly lottery and if you rank in the Top 20 of Monthly leaderboard, you will simply participate in the monthly lottery.
The weekly lotteries will take place every Saturday and the monthly lotteries will take place on every 20th of the month.
Overall Pool Adjustments
We've decided to increase the daily reward pool a bit and reduce the monthly lottery prize a little bit since it's just an extra source of prize which players will get without any special efforts. The monthly lottery jackpot will still remain handsome and enough to motivate players to play more.
From tomorrow, we'll publish the following number of comments for each reward pool:
All the liquid rewards will fund the reward pools and jackpots and all the Author SP rewards of those comments will go to delegators as usual. Curation will be the profit of @super8ballclub.
How to win the lottery?
In case you're wondering how to win, it's quite simple. Play and score as much XP as you can and do your best to rank in the Top 3 of the leaderboards to get multiple lottery tickets which will increase your chances of winning. The player who ranks 1st will get 7 tickets from the total of 30 tickets which means his chance will be a bit higher than others.
Does it mean that I can't win the lottery if I don't rank in the Top 3?
Not at all. The purpose of this lottery is to give an equal chance to every participant to win. Since everything is random, it is quite possible that Top 3 players won't be able to win anything. Everything is purely random and fair-enough for all the participants. Make no mistake, we pick three winners in total, so the winner could be you.
I hope you all are excited for it. Don't forget the rule of thumb, if you won't play fair, you won't rank in the leaderboards. We'll be doing weekly and monthly audit of all the activity before counting in any participant. If you successfully grab 1st rank in the leaderboard by unfair means, you will not only be kicked out of the lottery, but may also get banned either temporarily or permanently.