Mobile Legends why Fanny is crucial in the early ranks?
Hi guys! Today I'm gonna tell you why Fanny is crucial in early ranks! Fanny is really an OP hero, but hard to master. Anyways, let's start.
Fanny is an OP hero in the early game, having two within just 6 minutes can give many kills that can make you stronger. Killing or having an assist grants you some gold.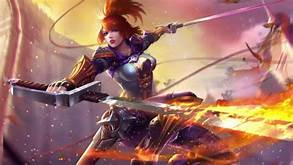 Having this big advantage can give you a high chance of giving you team mates kills, that grants them gold and can makes them stronger! Plus, when your whole team has a big advantage, securing 6 turrets can grant you the Victory!
What makes Fanny OP?
Fanny is a high mobility and damage hero. This means she can go to the bottom lane to the top lane within 10 seconds! Her damage in the early game is also a big threat to your enemies. Especially when they are light heroes and are easy to kill! Always focus on your enemies items to know who to kill first.
Having to master this in the early ranks can make you rank up fast! Master this hero in the classic mode to ensure that there is no big loses in your team and in your dignity! Always invite friends to be able to adapt in any situation depending on the heroes your team is using and your opponents. Just always balance your farming time and pushing. Always attend team fights.
And that's all for today. Thanks for stoppin by!
Please up vote and follow. Appreciate it!