Free Battle Pass Challenges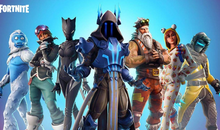 If you have heard of Apex Legends then you know why Epic Games is being so nice to the FortNite player base right now. They don't want to lose more players to Apex so they are showering us with gifts. First they gave us the cuddle hearts wrap and then they gave us the free glider. Now these "overtime challenges" are available that allow you to get next season's battle-pass for free.

I'll help you on the first challenge to give you a head start. The challenge is "collect 15 coins in featured creative maps and the easiest to do do this in are "MOVE" and "SKY SNIPES V2".
May the lord bless you all!

Remember to check out @whalegaming and vote @nepd-witness for WITNESS!

Thanks for reading and I hope you enjoy all of my future content.