Earthworm Jim 2 - An hilarious classic
I remember playing Earthworm Jim 1 and 2 when I was a kid on a Sega Megadrive (Genesis). At the time I thought it was only a silly platformer game, but many years later, as an adult, after playing Earthworm Jim 2 again, I realized that at the time I lacked the maturity to understand all the humor and genius behind this game. This game is pure nonsense humor, reminding me of what Monty Python used to do. You can play it on the Sega Megadrive/Genesis, SNES, MS-DOS, Sega Saturn, PlayStation, Game Boy Advance and Wii.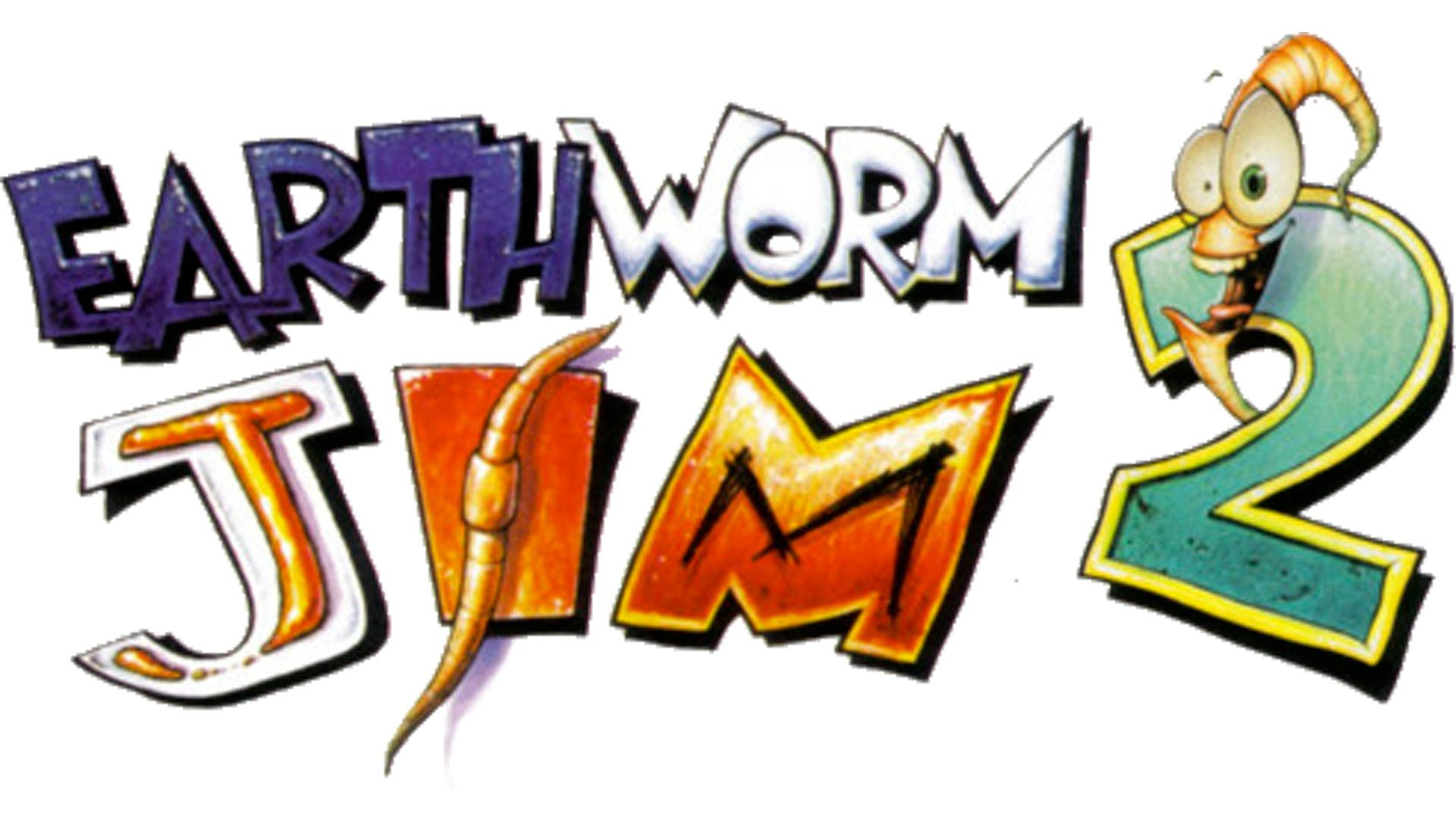 After an excellent first Earthworm Jim videogame and later an awesome cartoon, the next logical step would be to create Earthworm Jim 2. So, not too long after the cartoon, the new game was launched and it intended to be better than the original game. In my opinion, not only it succeeded, but it is also the best Earthworm Jim game ever.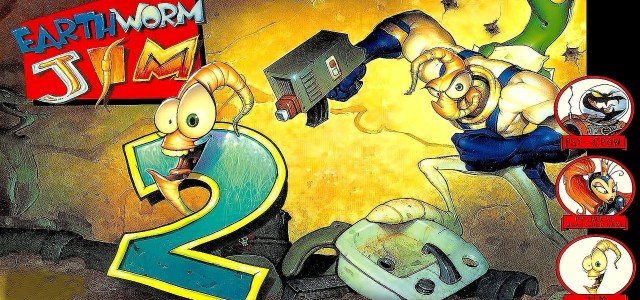 As Queen Slug-for-a-Butt was defeated at the end of the original game, she does not appear in this one. So, the role of main antagonist in Earthworm Jim 2 was handed down to the second biggest villain, Psy-Crow. The plot is really simple: Princess What's-Her-Name (Jim's fiance) has been kidnapped, again, and it's up to Jim to go through several extremely weird environments to defeat Psy-Crow and get her back.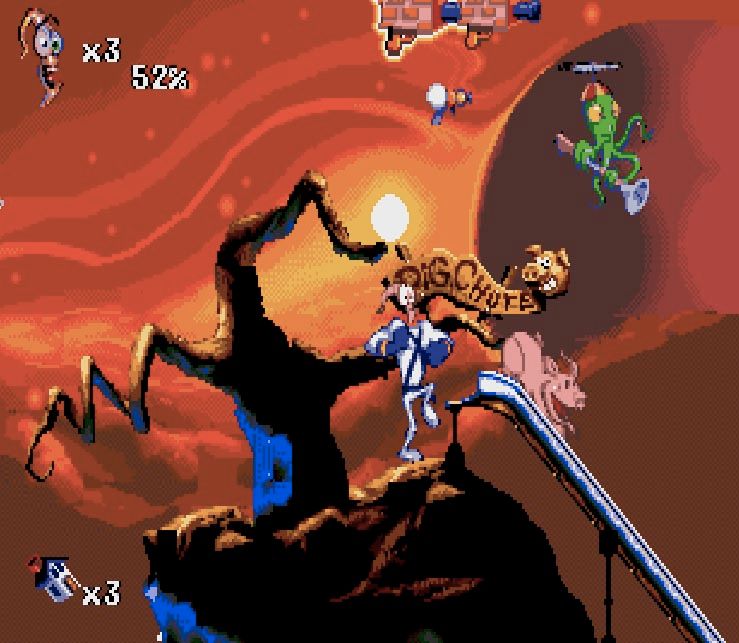 At first, the gameplay in Earthworm Jim 2 is pretty much the same as in the original game. Jim must go through each level blasting and head-whipping enemies he comes across while avoiding obstacles and picking up items. But as soon as you beat the first few levels, you'll find that unlike in the first game, which only had a few levels with different gameplay, this one is completely the opposite. Platform levels are actually a minority here. This contributes to a great variety in gameplay. Also, every other level relies in very specific thing/gimmick. In one levels you need to blast through sand to carve your path from start to finish, so you can get out before you suffocate, while in another, Jim is a salamander inside a bling flying cave, which is actually the inside of some intestines, and you have to fly him through carefully without touching the hazardous edges, and the boss battle is actually one of those TV shows where you have to answer some questions, but these ones are completely crazy and make no sense at all. XD Pretty funny if you ask me...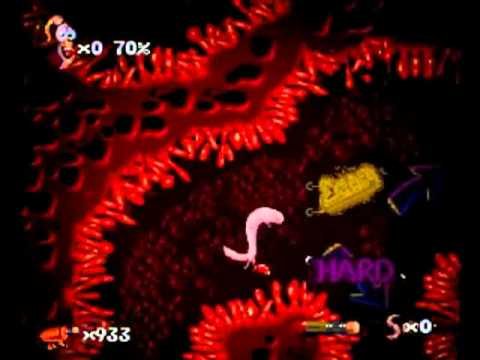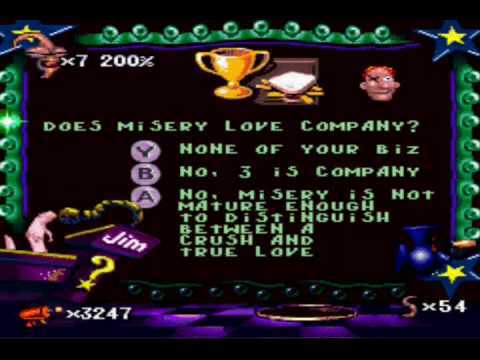 There's also this level where you have to bounce puppies on a marshmallow trampoline in order to save them or else they will splatter on the floor and another one where you have to get up the stairs taking one of those elevator chairs for old people while actually avoiding the old grandmas that are falling down. This is simply a deliciously wonderful nonsense humor at it's best with a slight twist of dark humor.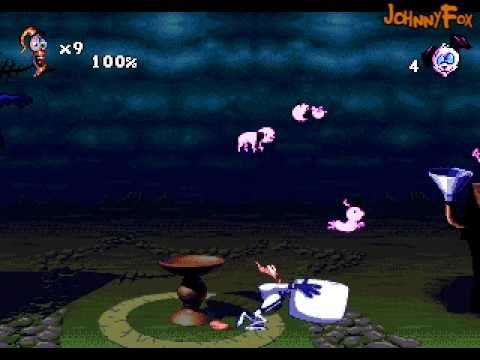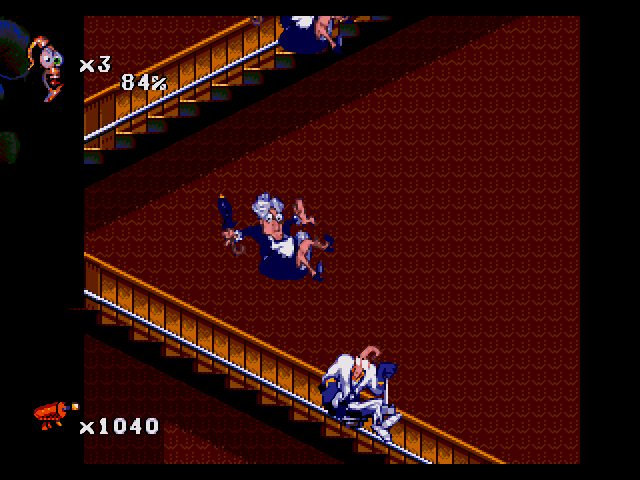 In another level, Earthworm Jim 2 becomes an isometric shoot 'em up, requiring you to bounce an explosive tied to a balloon from start to finish while trying not to die. Snot bombs will come at you continuously while ships fire at you and catapults throw sumo wrestlers at you (which if you're hit, you have to shake off by changing direction multiple times). Just hilarious! XD. Of course you can shoot at the enemies, but be advised that if you accidentally hit the balloon, it'll explode and you will go all the way back to the start to get a new one!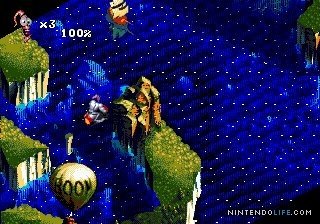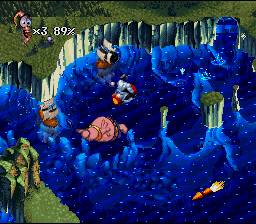 Of course some levels might require a little bit more of trial and error and some might even be a little annoying compared to others. For example, at the carnival level, you must continuously use air machines to inflate Jim's head so you can fly upwards towards the finish. But the air doesn't last forever and Jim starts to deflate eventually, slowing down greatly and requiring him to put his thumb in his mouth and re-inflate himself, which costs precious time and often means he's hit while doing so. Some fragile light bulbs line up on the sides of the path (which can become quite small) and Evil the Cat's identical cousin, Flagitious, will sometimes pop out and shoot darts at you. Getting hit will cause you to deflate rapidly, and if you lose all your air there is of course the possibility of falling all the way back down also hitting light bulbs on the way and taking further damage. Depending on your point of view, it might be annoying, or simply challenging. I think it's a little bit of both.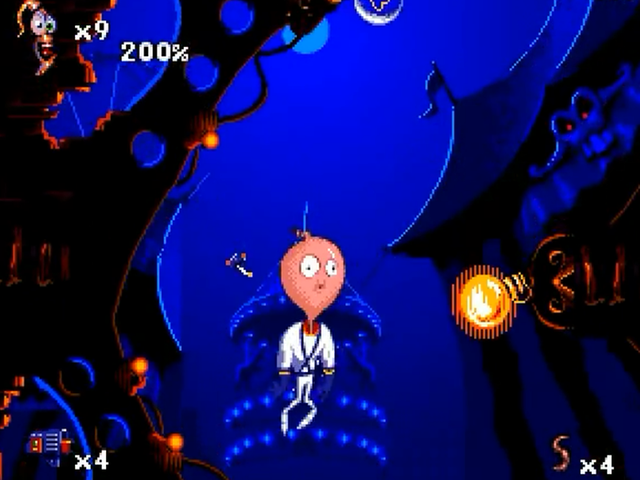 Earthworm Jim 2 tries to be better then the first one and in my opinion, it succeeds. The graphics and music are once again excellent. The gameplay varies greatly and in my opinion, that's a good thing. With all the variety, you won't get bored. The standard platforming levels are still brilliant, while all the other levels feel like a breath of fresh air in between. The humor is just amazing and only after so many years of having played it when it first came out, was I able to truly grasp the work of art and genius behind this game. Its bold nonsense humor was only possible in a time where game creators had much more freedom to think outside the box, do whatever they wanted and get away with it. I miss games like these nowadays. Everything looks so goddamn politically correct and that feels like censorship. Do yourself a favor and play this masterpiece, because besides having a good laugh, this is a high quality game. Just wonderful! ^^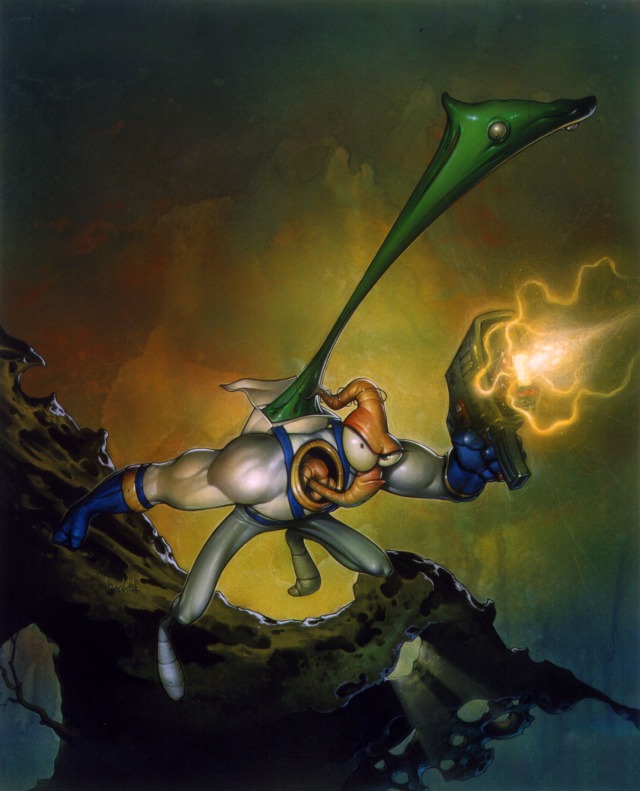 Get More Upvotes by SteemFollower! Please use this referral link and help me out. Thanks! https://steemfollower.com/?r=6423