It all started with the game PELE's SOCCER 1981 on the ATARI platform.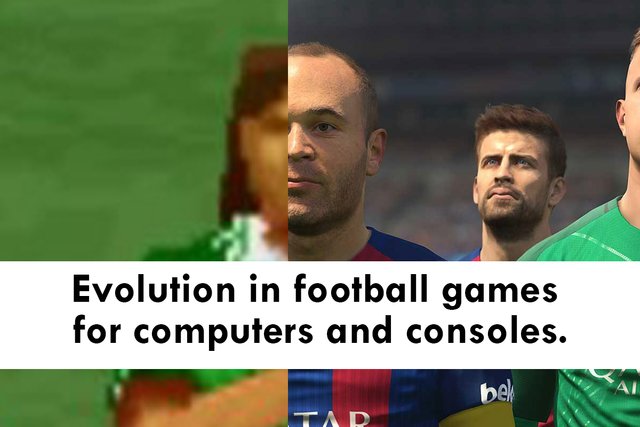 Pelé's Soccer is an Atari 2600 game based on the famous footballer Pelé, and published in 1980. It features realistic, for the time, ball-handing and goal-keeping techniques using the Atari joystick.
Gameplay:
Very similar graphically to the above games were also
INTERNATIONAL SOCCER 1983 and REAL SPORT SOCCER 1984
Little evolution was introduced by NES SOCCER from 1985. It was easy as at that time to distinguish the teams and the emotions of the shot bracelet were close to realism. A joke, of course.
For a time there was a slow change in graphics. The view from above and the increasing computing power of the machines at the time made it possible to create a more detailed form, often located in an isometric view as in the case of FIFA 1994 or ISS 1995.
The first football on computers was ACTUA SOCCER from 1995. Despite the horrible camera, it initiated a revolution in sports games, which after a long time left only two big titles on the battlefield.
FIFA: Road to World Cup 1998 I ISS Pro Evolution from 2000. And even though a year ago, Team SOHO with his THIS IS FOOTBALL turned up to play for the throne of the pits, it did not manage to dethrone the previously given two.
And that's how the battle began, which has been running since 2000 for the title of the best football simulator for computers and consoles.
FIFA 1998 gameplay:
FIFA 2018 vs PES 2018 gameplay:
Which game is better?
Which team will be the World Champion this year?