It's been a while since I last wrote about EOS Knights and there's been a lot of changes which I'd like to cover. Let's have a look at user numbers, first:


(this picture is from DappRadar).
Unlike pretty much any other game DApp in history, the number of users is steadily growing and has reached ~5000 per day. This is very cool, because it shows the general potential of DApps and games on the blockchain. Even Cryptokitties didn't have such a steady increase of users and volume over months.
The main reasons I see for that are the following:
Bada Studios are adding more and more features.
It pays off to keep playing once you've reached a certain level as you can make money with the game.
What's new since last time
There's been a few new and (potentially) cool features since last time I wrote. I'll first cover the functional changes before getting to some strategies and tactics of how to deal with the changed environment.
Craft Quests
Pretty much once a week there's a Craft Quest. There's typically one (sometimes up to four) specific item which you need to craft in a specific configuration to get your share of the bounty pool (typically 100-200 EOS). The quests last between 24 and 48 hours. You can typically submit up to three items of that configuration.
Example:
Craft a level 4 Brooch with a 56-57% score.
Level 6 Items
Items can be upgraded to level 6 now. Upgrading from 5 to 6 requires 16 additional synthesized items but only has a 30% chance. The respective news update reads like this: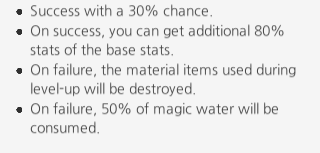 As it's not quite clear from that phrasing whether you'll keep your original level 5 item or lose this as well (as part of "the material items used"), I've tried this with a Wood Ring. "Unfortunately", upgrading succeeded the first time, so I ended up having a Level 6 Wood Ring with 70% ;-) anyone interested in collecting those?
Dungeons
The by far biggest change involves Dungeons. These are like expeditions for your knights. You need tickets to enter dungeons and need to proactively play a round-based fighting game to get through the dungeon.
Dungeons have 3 waves in which you have to defeat either all monsters (in wave 1 and 2) or the boss (in wave 3). If you've defeated the boss, you receive a reward consisting of exactly one material. The likelihood of receiving specific material is shown in the dungeon overview: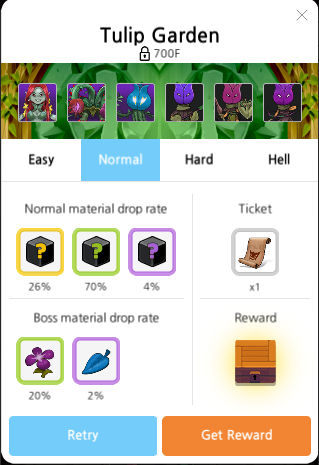 Be aware that only getting tickets, using tickets and collecting rewards is done on-chain. The fights themselves are not.
There are four difficulty levels (Easy, Normal, Hard, Hell) as well as five different dungeons (Knights of Cheese, Devil's Beach, Tulip Garden, Steel Goblin Legion, Red Dragon) You need to reach certain floors to access certain dungeons.
Getting tickets
You can get free tickets (one per difficulty level) every 24h or you can craft them from materials. You cannot more than 8 of any one ticket type.
Skills
In order to fight in the dungeons, your heroes need to have skills. Go to the Battle section of each individual knight and give them at least 5 different skills. You need all the preceding skills to add a specific one. Your knights get one skill point per their level; some of the skills can be upgraded up to level 3.
Be sure you have a sufficient number of attack skills. Those you'll need to damage the monsters in the dungeon. As the skills you can use per turn are selected randomly by the game each turn, you don't want to end up just having supporting skills in the selection.
You can reset your skills, but be sure not to do that too often. First time is only 1 magic water, but the second time each week costs 2000.
New materials
There's a bunch of new materials that you can only acquire in the dungeons. They are ordered in the usual types (Mineral, etc.), but don't really seem to belong there. These types are not necessarily related to the type of dungeon you've conquered.
New items
With new materials come new items. There's a whole lot of them (29 to be precise), but it seems hardly anybody is using them at scale, yet. Let's see how this works out over time.
Strategies
With an increasing number of players and additional features also some strategies and tactics have changed.
Selling Quest material
It pays off to sell material that is needed to craft the items in the Craft Quest. Sometimes, material that are difficult to find trade at exorbitant prices - not necessarily because they're rare, but because they are so common that you hardly ever get them even if you revive right after 120 seconds. That way, Emeralds can trade at as much as 0.05 EOS or more; Pyrites sometimes, too.
It mostly seems it doesn't pay off to try to craft the respective item or buy it on the market. I'd rather just sell the material at a good price.
Dungeon ticket material
Material that is needed to craft dungeon tickets has become much more expensive in general. While this isn't as relevant for Frog Poison (which has been renamed from "Poison Frog" recently), Mithryl Chiffon is now difficult to get on the market below 0.18 EOS. This obviously has an effect on the respective items like King Arthur's Class, so they became much more expensive. As a result, players are looking for alternatives, thereby pushing the price for e.g. Ancient Dragon's Leather rather high, as well.
If you're like me, you'll probably get a ton of Frog Poison, Smilodon Tooth and Velvet. While you can craft Easy tickets from those, I typically try to sell them at minimum price, if I can. I don't typically craft tickets but just wait until I get them for free once a day.
Best dungeons
Use your tickets wisely. Check the material you can get and raid the dungeons that provide the most useful materials. I typically go to Tulip Garden with Easy tickets, and spend the other tickets on the Red Dragon dungeon.
Magic Water
There's another tier to buy magic water: 100k for 7.5 EOS. As this gives you a 25% discount, make sure you buy MW at this rate if you can.
That's it for now
I hope I covered the most important changes. If you feel anything's unanswered, just drop me a comment. If you haven't, also feel free to add me as referral: use guztsnrqhage as the referral for both of us to get 1000 MW for free. You can only do this once, though.