Short Introduction

What's up guys I'm ggteixeira and for today's post I'd thought I'd share a short piece of writing a friend of mine, Babadooks, and myself wrote for the hardcore RP-PvP Minecraft server LoTC.
---
"Dark days loom over the land of Axios, but bright men lead the way for those who would otherwise be lost." - Jacques d'Amaury on The Lotharingian Rejection, 1593.

-=-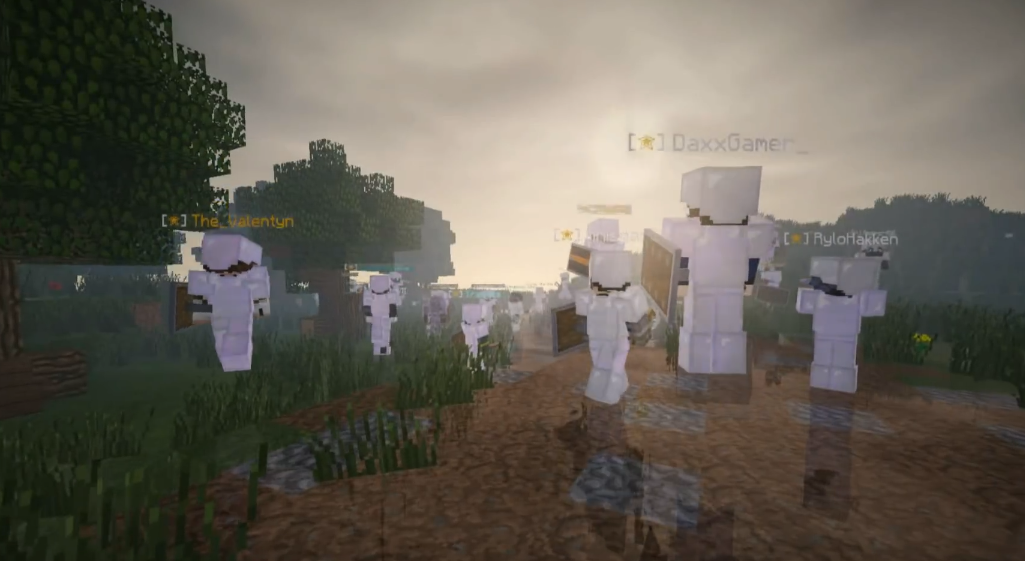 ---
Lotharingian men swearing an Oath of Fealty to Archduke John d'Amaury during the campaigns for Metz.
Missives are sent across the Isle of Tahn, bore by men in yellow and gold dress. Attached to doors, handed to passersby, the message is made largely available to all, reading as follows:
A blanket of dread covers my land during this coming winter, and it is laid by Oren. Not a single man of good sense accepts it lying down though, as we cast it off and seek our freedom.
Lorraine has served the Orenian people faithfully since the Reformed Kingdom of Oren under Savoy, our history proud and powerful. We, the cousins of Horen, laid the foundations of the strong Empire we bear witness to today. But the relation seems to mean little these days; without so much as a letter, Philip had sent a knight named Otto to take an Archduke's place; to take a d'Amaury's place.
What possessed the privy persons of Oren to act against us so quickly, and why we now have to realize we were not among them is both a mystery and point of pain for us. We allowed the Empire its final decision on Lotharingian matters; that of which side we fight for.
And while Horen's cause be for treachery and disloyalty to her vassals, our paths must diverge.
Without time to grieve the divorce, we are pitted against Imperial invaders in the city of Metz, who arrived without welcome or warning. I think it is telling why there is a rebellion in the first place, seeing the central authority impose itself on her vassals as it has. Though we may have been unfairly struck as a friend of Oren, the fight will continue with nothing but animosity.
Perhaps it is Ser Otto's ambitions that saw the act transpire, but my heart is heavy with doubt. Such a disrespectful display, hot on the heels of the tensions that led to the disenfranchisement of Savoy, leaves the only honourable option left be to fight.
Our focus is now solely on the health of Lorraine. We choose to be our own masters, so that we may not again have to suffer abuse beyond our control, and in this, we declare The Archduchy of Lorraine as independent, and I affirm the motions of my uncle. Too craven was the Empire to even declare this war, but as a people who are propped up by a spine and not lies or robbery, it is my duty to assure all of the situation at hand:
The Archduchy of Lorraine is to be established, and the Holy Orenian Empire is to know its wrath on the battlefield. The sons of Augustus set themselves against the children of Horen in war.
-=-
Signed,
Archduke John d'Amaury of Lorraine
---
Conclusion

Thanks for reading and I hope you all enjoyed. Feel free to leave a comment below and as always I hope you all have a wonderful day.