Hi. I'm fizzyflask3. A twitch streamer who enjoys writing gaming articles here on steemit. I would like to try my hand at reviews and would appreciate any feedback. All images here do not belong to me and are here to help visualize the game being discussed. <3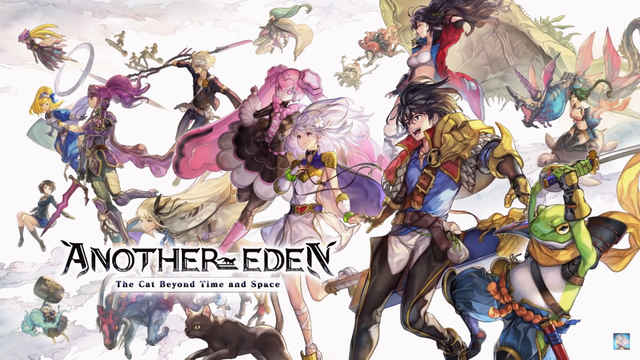 Today, I will be reviewing a fairly new free to play phone game called Another Eden: The cat beyond time and space. The game is an RPG that has some developers in common with Chrono Trigger for the SNES (pictured below).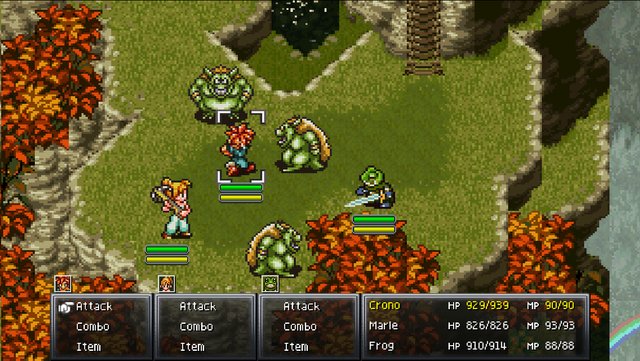 First, lets discuss the gameplay. This game is a pleasant surprise for fans of retro RPGs. Though this game is a free to play game that has a randomized character drawing system that encourages micro transactions, it is a single-player story based RPG & you can easily play through the game without spending any money as the story provides you with enough characters to form a viable team, and the points they give you for drawing characters are enough to fill the remaining spots in your party. Fans of difficult RPGs will feel right at home here. The battle system involves 4 in battle characters and 2 reserved characters that can be swapped in, but regain hp and mp every turn they stay in reserve. Every character has a passive buff or debuff effect that they cast on all allies (for buffs) or enemies (for debuffs) when they are swapped into the battle. So effectively rotating units in battle is the key to getting through boss battles. The game may be grindy but gives you plenty of objectives to chase while grinding whether it be sidequests or finding new items. Each area/dungeon has a recommended level which will be the level of randomly encountered enemies in the area. Every area has monsters that show up on the area map as well that are known as Horrors. Horrors typically are 10 levels higher and either stay in place to guard great treasures or patrol areas, in which case you can avoid them. This system encourages revisiting areas to find treasures. Characters also level up and have their own level up trees that award stats and skills. You also earn materials from monsters and environments that you can use at weapon shops to craft equipment for your party. The gameplay is well thought out and fun but I will admit its not perfect, especially in the department of quests. Some quests have you just talking to various NPCs or solving overwhelming puzzles. One of my least favorite quests involves picking up flowers from a neighboring town for a palace maid. The maid begins describing the flowers she needs but winds up telling a story in which the descriptions of every flower the shop sells are not only present but also jumbled together. I could not figure this out without a guide which I could only find in Japanese (thanks google translate).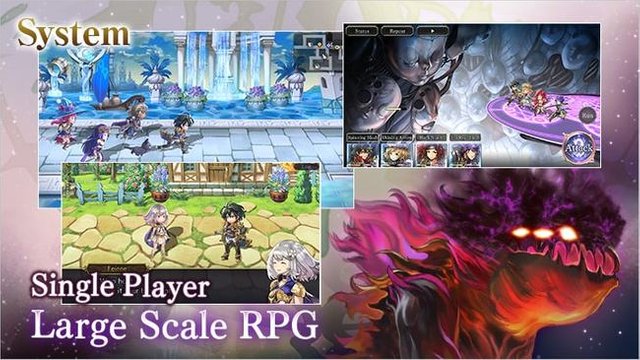 In terms of sound, the game really stands out with an amazing orchestral sound. different areas have their own music and the soundtrack is both varied and pleasing. overworld songs are relaxing and the battle tracks are hype.
Storywise, if you liked Chrono Cross for PS1, you will be very happy here. This game follows abandoned orphans on a complex journey of time travel and deceptive enemies who try to guide the party into changing the past to lead the future down a path of ruin. The story may be complex or hard to follow at times so it might not be for everyone, but its enjoyable if you can follow along. Characters are often clueless and the game has you doing some things in the storylinr that you spend time in the game trying to undo later.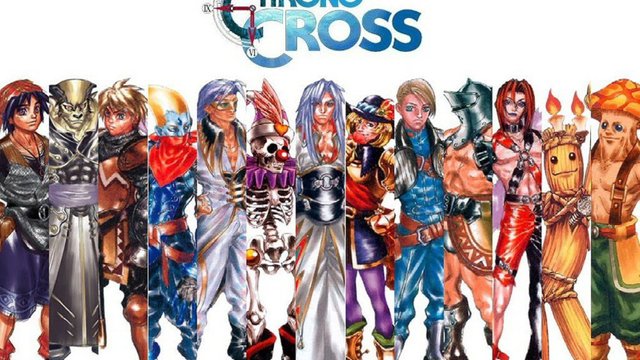 The graphics of this game are enjoyable. Characters are in an anime style that is a mix between 2D and 3D. Backgrounds and scenery are varied and beautiful. From shinning blue forests, to towers of warped metal, and scenic beaches, the art in this game is well done and enjoyable.
Overall I would rate this game an 8 out of 10. The battle system and game mechanics are solid. Music and graphics are great as well and microtransactions are not required nor do they ruin the flow of gameplay for free players. The games main drawbacks are in the quest design and the story may be too complex or frustrating to appeal to everyone.
---
I hope this review is helpful. I may write more reviews in the future and will definitely be posting more gaming related articles in the future. So feel free to follow me on steemit or if twitch streams are more your thing, feel free to watch me on twitch. The window below will take you to my channel or show my stream if live. I do not post my Videos On Demand to steemit. Though they are full videos of my streams, they expire after a month and leave my posts with broken links afterwards, so feel free to visit my channel if you would like to watch videos of recent past streams.